Joe Biden Refuses to Discuss Impeachment Trial, Says He's 'Tired of Talking About Donald Trump'
President Joe Biden said during a Tuesday town hall meeting in Milwaukee, Wisconsin that he was "tired" of commenting on former President Donald Trump.
Trump was impeached in January by the House on one article of inciting violence against the U.S. Government. Members of the Senate voted not to convict Trump during his impeachment trial. Biden has been reluctant to speak about Trump by name, sometimes referring to him as the "former president." When asked to comment about Trump's impeachment trial by CNN host Anderson Cooper Tuesday night, Biden indicated a desire to change the topic.
"For four years, all that's been in the news is Trump," Biden said at a town hall event. "The next four years, I want to make sure all the news is the American people. I'm tired of talking about Trump."
"It's done," he added.
Biden also referred to Trump as the "former guy" while answering a question about his $1.9 billion COVID-19 stimulus package. "I remember you and I talking during the campaign," he said, "and you had the former guy talking about we're just going to open things up and that's all we need to do. I said, "no, you've gotta deal with the disease before getting the economy going."
Newsweek reached out to Trump's office for comment.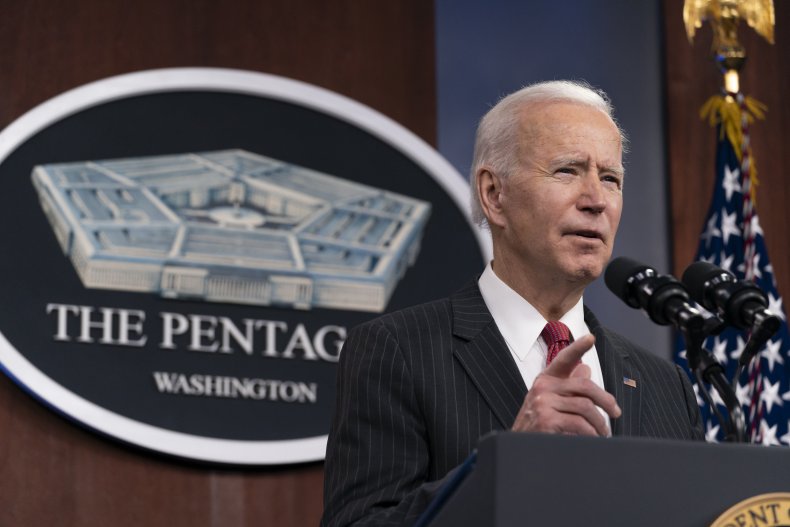 In February, Biden told reporters he would not be tuning in to watch Trump's impeachment trial. "A lot of children are going to bed hungry," he said at the time. "A lot of families are food insecure. They are in trouble. That's my job. The Senate has their job. They are about to begin it. I am sure they are going to conduct themselves well. And that's all I am going to have to say about impeachment."
After being impeached by the House in January for inciting violence against the U.S. government in connection with a riot at the U.S. Capitol in January, Trump was put on trial in the U.S. Senate.
Democratic impeachment managers alleged that Trump's rhetoric of widespread voter fraud and calls for his supporters to "fight" inspired the riot.
In his closing argument for the prosecution, Lead Impeachment Manager Maryland Representative Jamie Raskin said the rioters were "convinced that they were acting on [Trump's] instructions, and with his approval and protection. And while that happened, he further incited them, while failing to defend us."
Senators turned in a vote of 57-43 to acquit Trump on Saturday. Although seven Republican chose to vote with Democrats to convict Trump of high crimes and misdemeanors, the vote failed to reach the required two-thirds majority Had Trump been convicted, he would have been prohibited from holding public office in the future.
In a Saturday statement, Biden called the decision to acquit Trump a reminder that democracy "must always be defended."
"While the final vote did not lead to a conviction," Biden said, "the substance of the charge is not in dispute."