U.S. Has More Chess Grandmasters Than Russia for First Time Ever
The U.S. has more chess grandmasters than Russia for the first time, as a growing number of top Russian players are opting against representing their country following Vladimir Putin's decision to invade Ukraine.
The International Chess Federation (FIDE), the governing body of chess, released its July rankings for the world's top 100 players. It includes 13 U.S. grandmasters, and 12 from Russia, placing the United States on top for the first time.
U.S. grandmasters Fabiano Caruana, 29, Levon Aronian, 39, and Wesley So, 28, are all in FIDE's top 10 players in the world this month, coming fourth, fifth and sixth, respectively, while 31-year-old Ian Nepomniachtchi is the only Russian grandmaster in the body's global top 10 ranking, placing seventh.
Meanwhile, leading Russian chess players, including 32-year-old Dmitry Andreikin, 35-year-old Nikita Vitiugov, 25-year-old Kirill Alekseenko, 28-year-old Alexandr Predke, 27-year-old Vladimir Fedoseev, 20-year-old Andrey Esipenko, 22-year-old Alexey Sarana, 34-year-old Anton Demchenko, and 41-year-old Vladimir Malakhov, have switched to compete under the flag of the game's international body.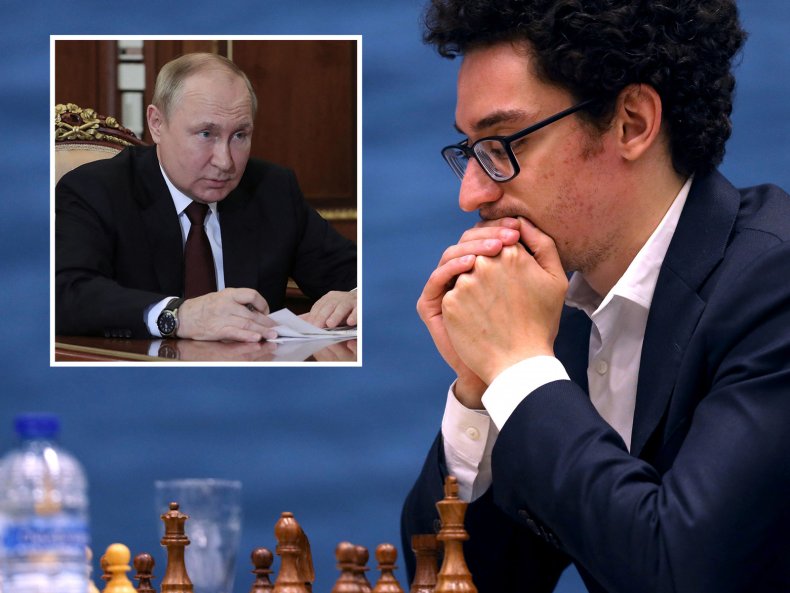 In total, Russia still has the most grandmasters—246, compared to 101 from the U.S.
Emil Sutovsky, an Israeli grandmaster and FIDE's director general, told The Telegraph that anger over Putin's war against Ukraine has prompted many top Russian players to leave the Russian Chess Federation, and make the switch to FIDE's flag.
"Russia had 22 grandmasters in the top 100 five years ago," Sutovsky said. "It's only 12 today. This is not because the older generation led by Kramnik has dropped out of the list, it's because after the war began, many leading Russian chess players considered it right to switch to play under the neutral flag of FIDE.
"In the top 100, there are nine chess players with neutral status. However, the problem is not only in the brain drain - there are almost no candidates for getting into the top 100 among young Russians."
Russia's top player, Nepomniachtchi, is still playing under the Russian Chess Federation despite penning an open letter signed by 44 top Russian chess players to the Russian president in April criticizing the war, which Putin launched on February 24.
"We are against any military action on the territory of Ukraine and call for an immediate ceasefire and a peaceful decision to the conflict through the path of dialogue and diplomatic negotiations. For us, it is unbearably painful to see the catastrophe that is happening these days with our people," the letter read.
"During these tragic days we are thinking of all the people caught in the midst of this frightful conflict. We share the pain of our Ukrainian colleagues and call for peace."
Last month, Putin granted Russian chess grandmaster Sergey Karjakin, 32, a state award after he was suspended by FIDE for six months for publicly supporting the ongoing war.