Trump Is Endangering U.S. National Security With Vacant Positions, Cuts at State Department: Career Diplomats, Experts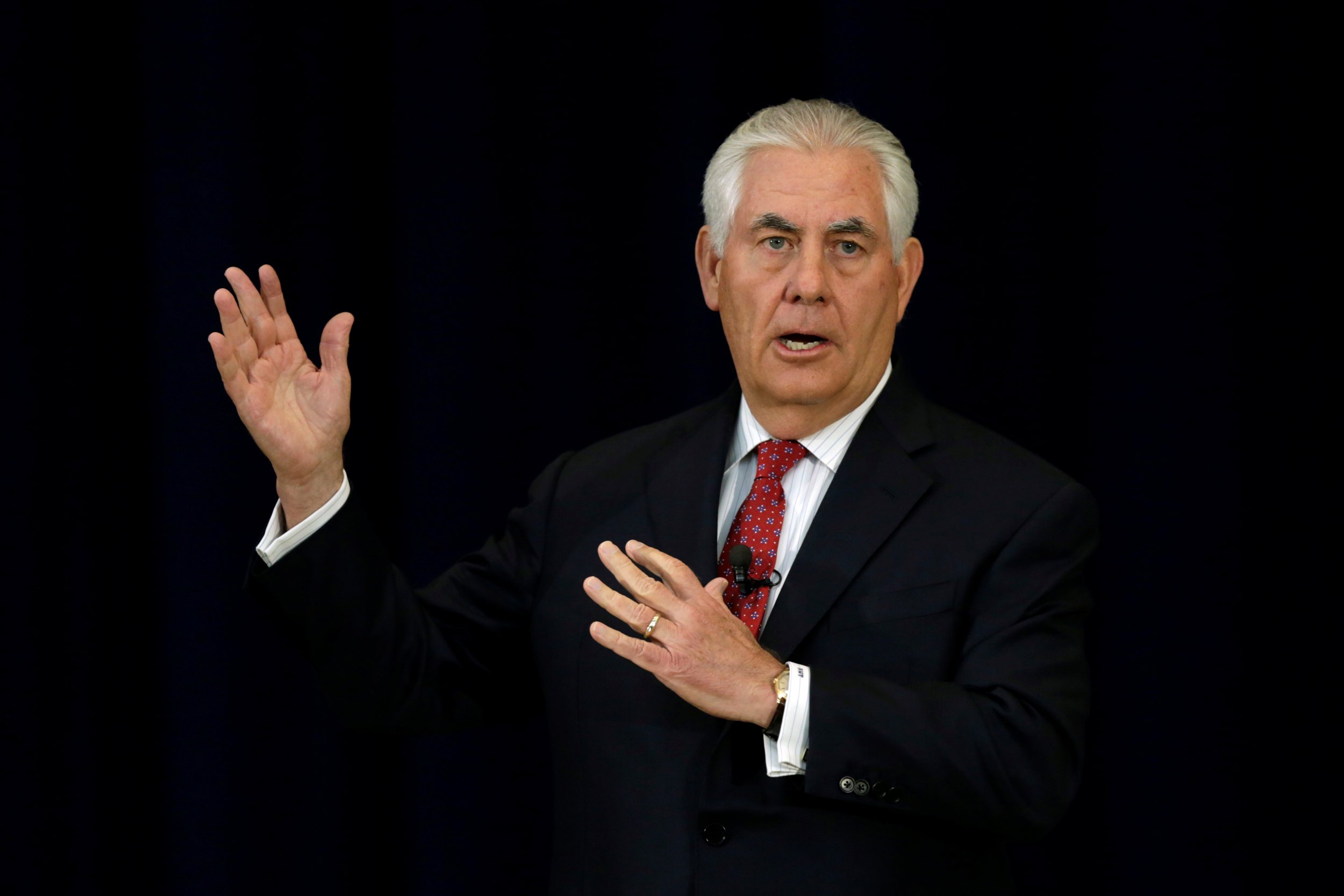 Empty senior positions and deep cuts at President Donald Trump's state department are "dangerous" for national security and have eroded America's power globally, according to former senior diplomats and foreign policy experts.
In an address to civil servants and diplomats in Washington D.C. on Wednesday, Secretary of State Rex Tillerson said funding cuts at the department are on the way. The remarks follow Trump's budget proposal in March calling for a 28 percent slash to Tillerson's department.
The $10.1 billion cut could leave 2,300 U.S. diplomats and civil servants without jobs. The Trump administration has also yet to fill more than 107 senior department positions, according to government data.
"Change like this is really stressful for a lot of people," Tillerson said, adding the department is stuck in the Cold War era and in need of an organizational shakeup that looks at its 21st century goals.
Yet the "proposed cuts are an enormous mistake," says Ronald E. Neumann, a former deputy assistant secretary of state who served as American ambassador to Afghanistan from 2005 to 2007 under President George W. Bush.
Neumann says he understands Tillerson is trying to implement White House priorities, but he thinks "those orders are mistaken." The cuts, he says, need "to be done with a scalpel rather than a meat cleaver." And he questions why important positions have been left vacant.
Read more: State Department issues Europe travel alert over ISIS terror threat
While Neumann believes "a lot of trimming that can be done" at the department, what has been proposed is "dangerous to U.S. national security" and doesn't "understand the role the State Department plays overseas preventing millions of deaths."
Trump's cuts target aid programs that help resettle refugees, prevent mass atrocities and reduce America's contributions to U.N. peacekeeping. And preventing deaths in other corners of the world, Neumann says, can have far-reaching consequences for American national security. These efforts fight pandemic outbreaks like Ebola, which threaten to destabilize the world, and stem flows of refugees from military conflicts like Syria that have impacted the Middle East and Europe, he said.
"After the military defeat of the Islamic State, intensive diplomatic efforts in Iraq and Syria will be essential to stabilization," wrote Neumann, who is currently president of the American Academy of Diplomacy, in a March letter to Republican Senate majority leader Mitch McConnell. Signed by more than 60 other former diplomats, the letter said that without investment in diplomacy, insurgent movements like the Islamic State militant group (ISIS) could reappear.
"We believe the proposed magnitude of the cuts to the State Department budget pose serious risks to American security," the letter said, adding " diplomacy is far less costly than war to achieve our national purposes."
While deep cuts are coming to the nation's diplomats, the Pentagon will get a $54 billion defense spending increase. That means the military will be taking on more roles traditionally reserved for diplomats, according to Andreas Krieg, a political risk analyst in the Department of War Studies at King's College London.
"The ISIS problem is something that if a Pentagon guy is trying to deal with it, he's trying to deal with it using force," Krieg says. "They cannot go to the root cause of what created this ISIS crisis that erupted in 2014. How do you manage the crisis in Syria militarily without coming up with a diplomatic solution?"
Diplomacy is also difficult to achieve when 31 countries don't have ambassadors, including Syria and Afghanistan, where the U.S. is currently involved in conflicts, Krieg argues. Ambassadors to important American allies like Saudi Arabia, Germany, Canada, Australia and France are also currently missing under the Trump administration.
"An ambassador is not just a guy who entertains dignitaries," Krieg said. "If you don't have someone who will lead a diplomatic mission overseas, you will basically lose all soft power and any leverage over these countries, and they will not take you seriously."
Tillerson's current team is missing a chief financial officer to oversee the cuts to the department, a representative on nuclear nonproliferation, along with important posts like under secretary for arms control and international security affairs, and dozens of other similar positions.
Having a chief financial officer for the entire department is essential, says Neumann—especially during such a large reorganization. "You need a chief financial officer to bring guidance and foresight to the secretary, to know what the questions are: like if I fire X number of people, what does that cost, what does it save me?" he said.
When asked if these positions will be staffed soon or in the future under Tillerson's plan, a State Department official told Newsweek that the department continues "to have a deep bench of experienced career professionals serving in key positions that are highly capable and able to help the secretary lead the department."
If you want to maintain significance and the superpower status that "America has already arguably lost," Krieg says, "you have to start projecting soft power early on. You cannot do that if a lot of the undersecretary positions and very senior ambassador positions are not filled."
Undersecretaries are on-the-ground experts around the world who provide guidance "when there is a decision to make," says Neumann, calling their absence a "serious problem" since the Secretary of State relies on their expert advice.
"Without having a specialist undersecretary, you're basically entering into a conflict completely blindfolded," Krieg says. "They're your eyes on the ground."
The State Department's budget expanded by $8.7 billion under the Obama administration from 2013 to 2016 "for a very good reason," he added, since "the world we're living in is more complex than it used to be."