America Vs. Leggings: A Brief History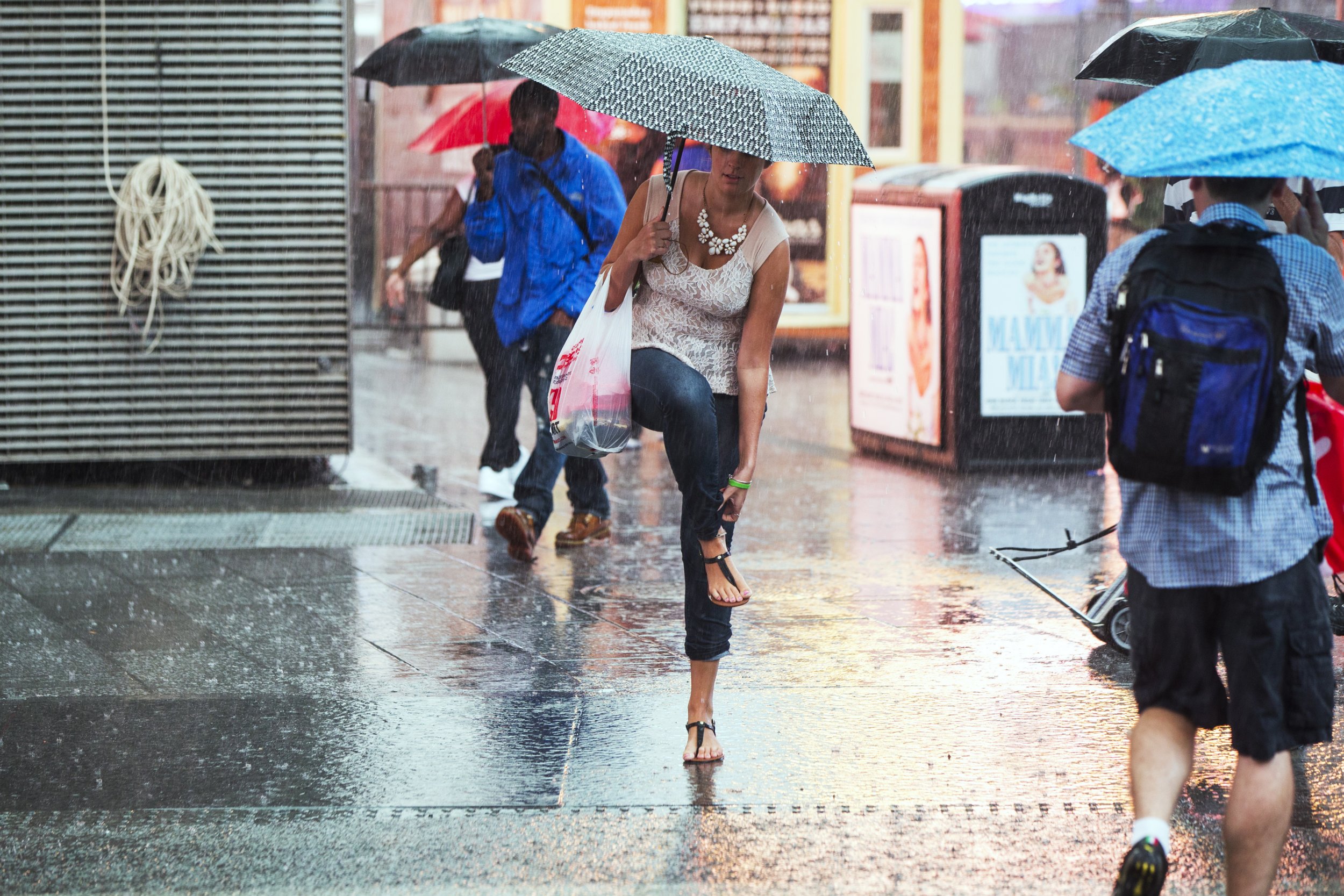 One of the internet's favorite pastimes—getting mad at an airline on social media—erupted in full force over the weekend after United Airlines refused to let two teenage girls board a flight because they were wearing leggings.
The girls were stopped by staffers at Denver International Airport, who said their clothing was inappropriate and went against the company's dress code. A 10-year-old girl was also wearing leggings but was allowed to board after putting a dress over her leggings. Leggings and other iterations of stretchy pants have long been ubiquitous across the U.S. and are commonly worn at airports and on flights.
Celebrities were quick to call out the airline, whether it was Sarah Silverman threatening to change her United Airlines flights for an upcoming tour or William Shatner tweeting a photo of himself wearing only leggings on the set of Star Trek.
Related: United Airlines defends decision to bar girls wearing leggings from flight
Delta Airlines tweeted a direct dig at United on Monday, posting with a winking face emoji that "you can wear your leggings" on its flights. Many Twitter users also pointed out the hypocrisy of United's tweeting of a photo of a woman practicing yoga and wearing yoga pants to promote International Yoga Day last year.
United responded on Monday with a blog post titled "To our customers…your leggings are welcome!" The airline said that because the three passengers were "pass riders"—friends or relatives of United staff who receive heavily discounted or free air tickets—they were considered representatives of the airline and thus were expected to follow the employee dress code.
"We regularly remind our employees that when they place a family member or friend on a flight for free as a standby passenger, they need to follow our dress code," said United. The lengthy Flight Attendant Uniform Appearance Standard guide from United makes no mention of leggings. However, in United Airlines's Contract of Carriage, "passengers who are barefoot or not properly clothed" are allowed to be removed by United for "safety" reasons.
United Airlines isn't the first organization involved in controversy regarding young women and girls wearing leggings. In recent years, a number of U.S. schools have enacted dress codes considered by many to be "sexist"; the reasons cited by school administrators often include the suggestion that leggings are "distracting" to boys.
In 2013, Kenilworth Junior High School in Petaluma, California, banned leggings. In a cringe-worthy quote to ABC News, the school's principal said, "When girls bend in leggings, the threads spread, and that's really when it becomes a problem." "Distraction" in the classroom was cited as the reason for the ban. A similar ban for a very similar reason—that leggings are too distracting for boys—was enacted at Haven Middle School in Evanston, Illinois, in 2014.
Then there was Devils Lake High School in North Dakota, which used clips from Pretty Woman—a film about a lovable prostitute with a heart of gold—to enforce its dress code in 2014. The school reportedly compared students' leggings to attire worn by Julia Roberts's character in the film.
In 2015, Cape Cod Regional Technical High School in Massachusetts said it was preparing students for the working world by enacting a dress code that banned yoga pants and other tight-fitting trousers unless a separate piece of clothing was worn on top. Hats, tank tops and visible undergarments were already part of the ban. Despite a backlash, the dress code is still in place.
In 2016, Booker T. Washington High School in Pensacola, Florida, cracked down on leggings, and students launched a petition in protest. And in Ohio, the Lakewood City School district said its revised dress code allows for leggings and yoga pants to be worn if "the garment worn on top covers the buttocks." As part of the dress code overhaul, the minimum skirt length was hiked from "slightly above the knee or longer" to "mid-thigh or longer."
And who can forget the letter from Alan Sorrentino, a concerned citizen of Rhode Island who last year wrote to his local paper that women over 20 should stop wearing yoga pants? In response, a group of tight-pants-wearing women organized a demonstration outside his house.
The latest leggings controversy started in earnest on Sunday after Shannon Watts, founder of Moms Demand Action, a nonprofit aimed at reducing gun violence, tweeted about the United incident. On Monday, Watts said she'd received criticism of her "looks, intelligence, parenting, patriotism" and said people had tried to hack into her social media accounts and email. In a Medium post about the incident, Watts said the United Airlines policy "sexualizes young girls."
Heather Poole, a flight attendant and author, defended United's policy on Twitter, saying that because the girls were traveling on employee passes, the airline had the right to refuse them. She also pointed out that boys and men traveling on the passes are not allowed to wear flip-flops or shorts.