American Family Stranded in South Africa Amid Omicron Restrictions Fight for U.S. Return
A family from North Carolina was stranded in South Africa for days fighting to get a flight home to the United States as several countries places travel restrictions on the nation due to the Omicron variant.
Lauren Kennedy Brady told WNCN-TV, a Raleigh-based television news station, that she, her mother, daughter and niece traveled to Africa to achieve one of her "bucket list" goals after the COVID-19 pandemic stalled her original plans.
After several countries announced travel restrictions on South Africa—where the Omicron variant was first discovered—and its neighboring countries, Brady said her family has not been able to find a connecting flight back to Raleigh, WNCN reported.
The travel restrictions have been implemented by countries—including the United States—in hope of slowing the spread of the Omicron variant and giving scientists more time to learn about its implications.
Scientists continue to assess the threat posed by the variant but they remain uncertain about how fast it spreads, how effective vaccines are against it and whether it causes more severe illness compared to the other variants. The World Health Organization (WHO) classified it as a variant of concern on Friday.
The U.S.'s travel ban does not apply to American citizens, who are still able to travel home.
But the flurry of flight cancellations and struggles finding a connecting flight means Brady tried to book a flight home since Friday with no success, the station reported.
"We went from having two flights to zero flights and then after that we booked, I don't know, we probably booked 10 flights in total," Brady told the news station. "It hit us like a ton of bricks and of course every other traveler is going through this right now. Those borders just slammed shut and it has wreaked a lot of havoc clearly and a lot of confusion."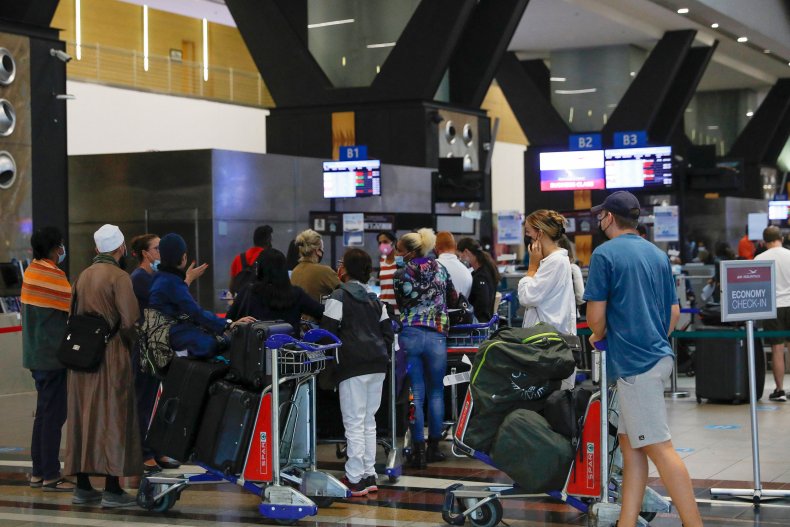 Brady said her family, who is fully vaccinated and recently tested negative, stayed in their Johannesburg hotel room while they waited for a flight, according to WNCN.
"Hour by hour it's changed, and the countries are closing their borders to people who don't have a European passport," she said.
The family managed to book a flight home by Monday, WRAL-TV reported.
Even as more countries place travel restrictions on South Africa, some leaders have condemned the actions. The nation's Ministry of International Relations and Cooperation said: "This latest round of travel bans is akin to punishing South Africa for its advanced genomic sequencing and the ability to detect new variants quicker."
Newsweek reached out to the U.S. Department of State for comment Monday morning but did not hear back in time for publication.