American Hellfire Missiles Heading to Ukraine Amid Push Into Kherson
American-made Hellfire missiles are being sent by Norway to Ukraine amid a push by its armed forces to retake the city of Kherson and the Russian-occupied province where it is the administrative center.
"Norway will donate Hellfire missiles to Ukraine. The donation includes approximately 160 missiles, launching pads and guidance units. Ukraine will also receive night-vision equipment drawn from Armed Forces inventories," the Norwegian Ministry of Defense said Thursday in a statement.
The Hellfire missiles from Norway were manufactured by American-based Lockheed Martin. The Scandinavian country's donation comes as the Ukrainian Armed Forces are battling Russian troops in an attempt to regain control of the Kherson province. The Russians occupied the region shortly after President Vladimir Putin launched the military assault on Ukraine in late February.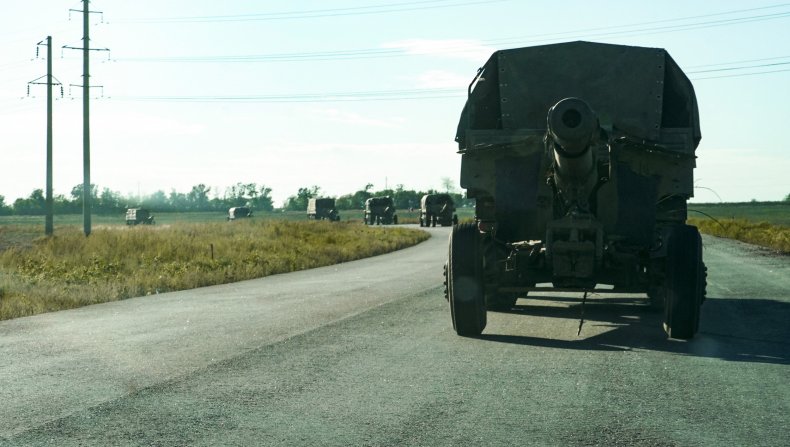 Speaking to reporters this week, Pentagon press secretary Pat Ryder said the Ukrainians have "continued offensive operations" in the Kherson region and "continue to make some forward movement."
"We are aware that they have retaken some villages," Ryder said, according to CNN.
In a statement about the donated Hellfire missiles, Norwegian Minister of Defense Bjørn Arild Gram said, "This is a weapon that Ukraine has asked for, and it will prove useful in their fight against Russian invasion forces. The missile is easy to operate and can be used against both land and sea targets."
Gram added, "So far, we and our allies have donated military systems and equipment from our own stocks. In the future, we will need to cooperate closely with the defense industry in order to maintain necessary deliveries of military equipment to Ukraine. This will also ensure that Ukraine receives more modern and efficient equipment."
Speaking to Newsweek in August, Peter Rutland, a professor of Russian, East European and Eurasian Studies at Wesleyan University, said that "retaking the occupied territory of the Kherson province on the west bank of the Dnieper would be a major psychological and political win for Kyiv."
"The city of Kherson is the only provincial capital to have fallen into Russian hands. It would also make it much harder for the Russians to launch an offensive to take Odesa," Rutland said.
On Wednesday, the Ukrainian Defense Intelligence unit of the country's Defense Ministry posted an audio recording of a call between a Russian military member and his wife. The man was heard discussing Kherson and said, "All the bridges are destroyed. We're in a total mess here."
In addition to the Hellfire missiles, the U.S. has supplied Ukraine's forces with HIMARS, or High Mobility Artillery Rocket Systems, which have proved effective in the fighting against the Russians.
Newsweek reached out to the Ukrainian Foreign Ministry for comment.