U.S. Sending Ukraine More HIMARS Ammo After Strikes on 400 Russian Targets
The U.S. is sending Ukraine more ammunition for its High Mobility Artillery Rocket Systems (HIMARS), American-supplied weapons that a top U.S. general said have been used for strikes on more than 400 Russian targets in the ongoing war.
The HIMARS ammo was included in the new $675 million Ukraine security assistance package that was announced Thursday. Also on Thursday, General Mark Milley, the chairman of the U.S. Joint Chiefs of Staff, told reporters at the Ramstein Air Base in southern Germany that Ukraine was achieving "real and measurable gains" in using the HIMARS.
"For example, the Ukrainians have struck over 400 targets with the HIMARS and they've had devastating effect," Milley was quoted by Reuters as saying.
The U.S. has so far sent Ukraine 16 of the HIMARS, and the systems have gained widespread attention in recent months as officials from both countries have touted their effectiveness against Russia. A senior U.S. defense official told reporters in July that Ukraine had used the HIMARS to take out more than 100 "high value" Russian targets. Milley's remark on Thursday shows that Ukraine has continued to leverage the weapons against Russia in a war that has stretched on for more than six months.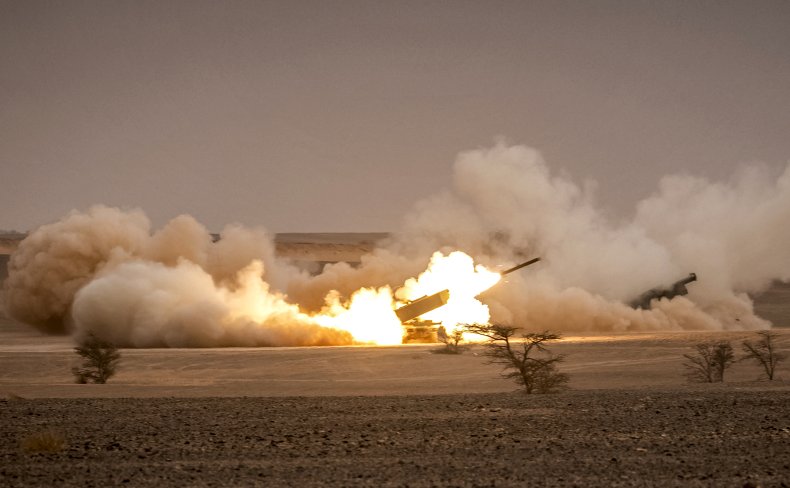 In addition to the HIMARS ammo, the new U.S. security assistance package includes four 105mm Howitzers and 36,000 105mm artillery rounds, high-speed anti-radiation missiles, 100 Armored high-mobility multipurpose wheeled vehicles and 1,000 155mm rounds of remote anti-armor mine systems, according to a Defense Department release. Small arms and small arms ammunition, anti-armor systems, grenade launchers, armored medical treatment vehicles and night vision devices are also being sent to Ukraine.
Since the start of Russia's war on February 24, the U.S. has committed more than $14.5 billion in security assistance to Ukraine, the release said.
Oleksii Reznikov, Ukraine's defense minister, thanked President Joe Biden and Defense Secretary Lloyd J. Austin III for the new aid on Twitter Thursday.
The allocation of more HIMARS missiles to Ukraine could be especially important after retired United States Marine Corps Colonel Mark Cancian predicted to Newsweek in August that the supply of HIMARS missiles provided by the U.S. to Ukraine could run out within the following three or four months.
"[Three to four months is] a pretty wild guess, but I don't think that's crazy," said Cancian, a senior adviser with the Center for Strategic and International Studies. "Some people have estimated a month or so. I don't think they're firing them that fast."
He added that it may come to a point where the U.S. will have to cut back on the number of missiles sent to Ukraine because supplies will be running low, and this may lead to a series of discussions inside the Pentagon.
"The military will probably want to hold on to more; the civilian officials will probably want to release more, and they'll come to some sort of agreement on what is an acceptable level of risk," he said.
The Defense Department release stated that the U.S. would continue to work with allies and partners in order to provide Ukraine with "key capabilities."
Newsweek reached out to the defense ministries of Russia and Ukraine for comment.