Ukraine Could Run Out of Critical HIMARS Missiles in Months: Expert
Retired United States Marine Corps Colonel Mark Cancian predicts that the supply of High Mobility Artillery Rocket Systems (HIMARS) missiles provided by the U.S. to Ukraine to combat Russian aggression will be depleted within the next three or four months.
"[Three to four months is] a pretty wild guess, but I don't think that's crazy," Cancian, a senior adviser with the Center for Strategic and International Studies, told Newsweek. "Some people have estimated a month or so. I don't think they're firing them that fast."
"We will get to that point where the U.S. will have to reduce the number of missiles provided because the stocks will be running low. I think there will be a series of discussions inside the Pentagon," Cancian added. "The military will probably want to hold on to more; the civilian officials will probably want to release more, and they'll come to some sort of agreement on what is an acceptable level of risk."
Cancian, who spent over seven years working on Department of Defense (DoD) strategy and war funding at the Office of Management and Budget and did two tours in Iraq, said, "The number of rockets [produced by the U.S.] is relatively limited." He said that the U.S. has produced about 50,000 guided rockets since they began production in 2004 and will buy about 5,800 this fiscal year.
On July 25, the Defense Department said a new security package consisting of about $175 million in equipment pulled from existing U.S. military stocks, in addition to $95 million in equipment from the Ukraine Security Assistance Initiative, included four additional HIMARS systems—providing Ukraine with a total of 16.
"My guess is we used maybe 25,000 to 28,000 [HIMARS missiles]—DoD does not publish numbers—but you just make a guess from what was in the war funding....That would let us give Ukrainians about a third," Cancian said. "We've done that with the Stinger and Javelin, giving them about a third of the inventory."
Giving Ukraine about a third of the inventory would provide the country with up to 10,000 missiles, according to Cancian. That would allow the U.S. to help Ukraine but still withhold enough for America's own purposes.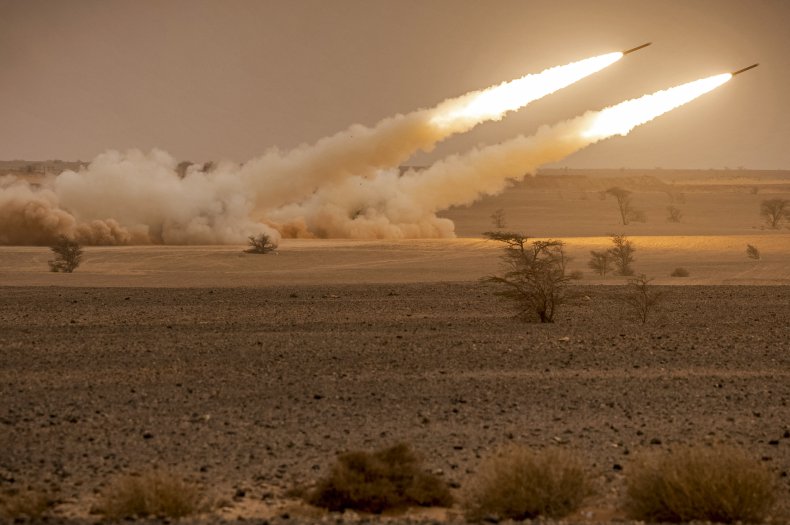 Lockheed Martin referred Newsweek to the DoD for questions about the time it would take to replenish the stock of missiles that were sent to Ukraine.
A senior Defense Department official told Newsweek, "We are working around the clock to fulfill Ukraine's priority security assistance requests, delivering weapons from U.S. stocks when they are available, and facilitating the delivery of weapons by allies and partners when their systems better suit Ukraine's needs."
Cancian told Newsweek that Lockheed is "trying to increase production levels [of missiles], but it takes quite a while. Usually, it's about 18 to 24 months." He said the HIMARS launcher, first fielded by the Army in 2010, is not in production and would likely take longer to produce.
It remains unclear how many HIMARS the U.S. actually has. After originally being introduced at Fort Bragg, North Carolina, in 2005, about 250 units had been produced for the Army and Marine Corps by 2009.
Per an unclassified budget document from April, the U.S. bought about 5,800 rockets from Lockheed Martin in the current fiscal year. In fiscal year 2024, the budget proposes about 4,700 purchases, and between 3,500 and 4,000 per year after that.
"But that is just a plan" and could be increased, Cancian said.
Republican Senator Marco Rubio of Florida, in a recent Daily Beast article, mentioned supply and demand in regards to weaponry provided to Ukraine.
When asked if Rubio believes the limited amount of HIMARS/long-range artillery currently available puts the U.S. in a compromising or difficult position because there's only so much to go around, or if it makes the U.S. more vulnerable in terms of its own military capabilities, a Rubio spokesperson referred Newsweek to an op-ed from May following a $40 billion Senate bill advancing military, economic and humanitarian aid to Ukraine.
"Much of that spending is incredibly important," Rubio wrote in May. "Not only will it provide direct security assistance to Ukraine, but it will also replenish depleted U.S. military weapons stockpiles and support American troops deployed to NATO countries earlier this year. Nevertheless, President Joe Biden should not assume Congress will rubber stamp his next request. America cannot afford an endless, undefined commitment."