American weapons have stopped Russia gaining air superiority in the Ukraine war, the Pentagon has said.
Ukraine has used the M142 High Mobility Artillery Rocket Systems, or HIMARS, to strike dozens of Russian command-and-control sites, ammunition depots, and other targets as it begins a counter-offensive to take back the key southern city of Kherson.
In a Pentagon briefing on Friday, an unnamed senior military official praised Ukraine's use of the HIMARS and its army's ability to both shoot down Russian aircraft and stop Moscow's forces from targeting Kyiv's planes.
"We know that they've been able to strike surface-to-air missile locations and to destroy some SAMs," the official said, according to Air Force magazine.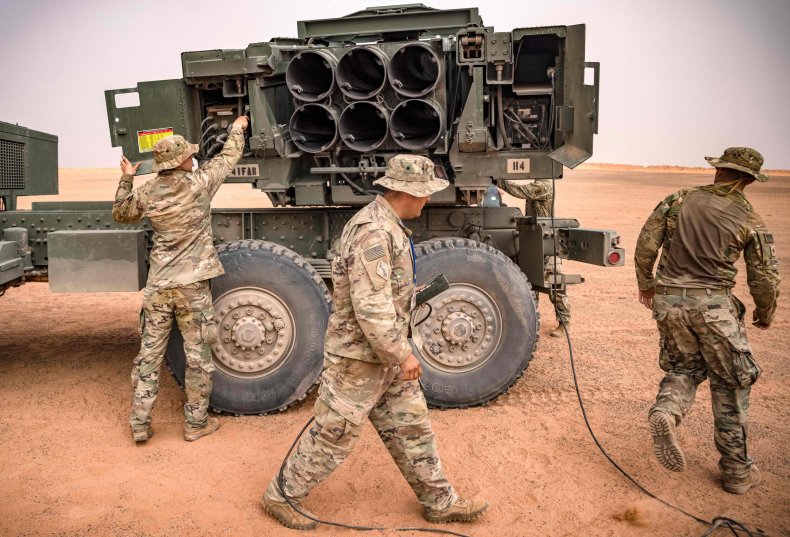 "The fact that the Russians continue to not have air superiority certainly says a great deal about Ukrainians' kind of will," the official added.
The U.S. has delivered 12 HIMARS to Ukraine and will provide an additional four. However, Ukrainian defense minister Oleksii Reznikov has said his country would need "at least 100" HIMARS to reverse Russian gains in the Donbas region.
Meanwhile, Kyiv has also been calling for the U.S. and its western allies to provide combat jets and the training to fly them.
This month, U.S. Air Force chief of staff, General Charles Q. Brown Jr. said this was under consideration, referring to Gripen jets from Sweden, the French-made Dassault Rafale and the Eurofighter Typhoon made by a number of countries.
Ukrainian Air Force officials have said they want their pilots to be trained on the American F-16 fighter jet, and when asked why training on them had not yet been given, the Pentagon official said that a decision had not been made on aircraft provision.
"We're looking into this question," the official said, "it is important to identify what the platforms are and will be and make sure that you're providing the right kind of training."
In the meantime, the U.S. will help transfer "significant spare parts" to keep Ukraine's Soviet-era MiG and Sukhoi jets flying, the publication reported. Newsweek has contacted the Ukrainian Defense Ministry for comment.
It comes as British defense officials said that Ukraine has successfully repelled small-scale Russian assaults near Donetsk city in the Donbas region.
The U.K. Ministry of Defence (MoD) said that Russian forces had likely established two pontoon bridges and a ferry system over the Dnipro River near Kherson to make up for Kyiv destroying nearby bridges in recent strikes using U.S. supplied rockets.
With Kherson the focus of Ukraine's counter offensive, the Ukrainian military said on Saturday it had killed scores of Russian soldiers and destroyed two ammunition dumps in fighting in the region.
Ukraine said more than 100 Russian soldiers and seven tanks had been destroyed in fighting on Friday in the region and that rail traffic over the river has been cut, potentially further isolating Russian forces west of the river from supplies in Crimea and further east, Reuters reported.