U.S. and Allies May Give Ukraine Fighter Jets in NATO Challenge to Russia
Ukraine may be given Western fighter jets and pilot training to help its forces fight Russia, according to a senior American military figure.
Moscow has air superiority over the Ukrainian air force's assortment of Soviet-era aircraft like MiG-29s and other Cold War-era planes.
But the U.S. Air Force chief of staff, General Charles Q. Brown Jr., acknowledged that the U.S. and its allies were considering providing Ukraine with new planes.
Such a move would step up Western involvement in the war and mark a departure from when the Biden administration ruled out a deal in which Poland's MiG fighters were to be given to Ukraine in exchange for U.S.-manufactured F-16s.
It would also be a more direct move by NATO allies to challenge Russian aggression following months of U.S. efforts, in public at least, of trying not to escalate the war in Ukraine.
Rejecting the Polish plan in March, the then Pentagon spokesman John Kirby said U.S. intelligence believed transferring MiG fighters to Ukraine "may be mistaken as escalatory" and "could result in significant Russian reaction that might increase the prospects of a military escalation with NATO."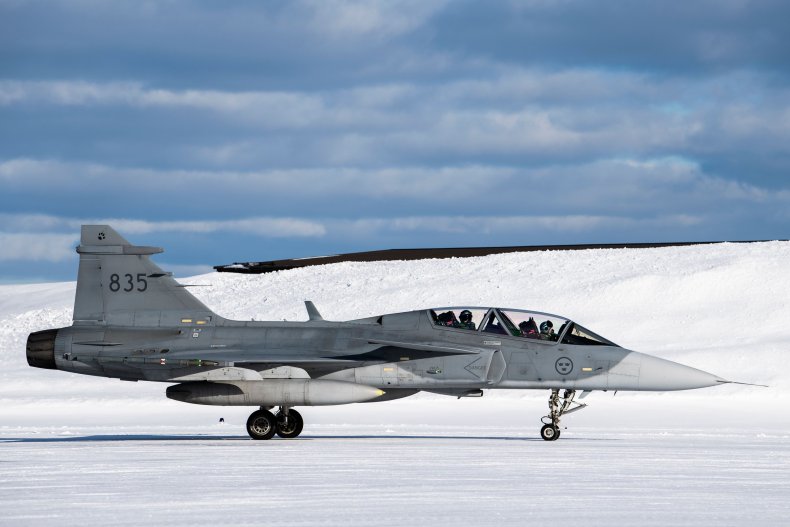 But Brown told the Aspen Security Forum in Colorado on Wednesday that there were a "number of different platforms that could go to Ukraine," as he named Gripen jets from Sweden, the French-made Dassault Rafale and the Eurofighter Typhoon made by a number of countries.
When asked whether the U.S. would be prepared to provide Ukraine with American fighter jets, Brown responded, "I can't tell you exactly what it's going to be," military news website Defense One reported.
He said on Wednesday, "we have an aspect and a responsibility, like we do with all our allies and partners, to be prepared to train them."
Brown had told Reuters earlier that the U.S. and its allies wanted to help Ukraine build up its air force.
It followed a move by the U.S House of Representatives last week to put forward a measure that if passed, would authorize $100 million to train Ukrainian pilots and maintainers of U.S. combat aircraft.
In March, soon after the start of Vladimir Putin's invasion, Ukraine flew around 56 fighters for up to 10 hours a day, according to a senior U.S. defense official. Since then, Kyiv has pushed for more F-15s and F-16s.
While not commenting on the proposed legislation before U.S. lawmakers, Brown told Reuters that it would be a "little harder" to transition a Ukrainian pilot from a Soviet system to a U.S. fighter aircraft than the two to four months it takes to train an American pilot.
However, he said that NATO allies' experience of training Ukrainian pilots could "help them figure out how to best make that transition."
Chairman of the Joint Chiefs Gen. Mark Milley told a news conference he held on Wednesday with Defense Secretary Lloyd Austin "there's been no decisions" on whether to provide Western jets or train Ukrainian pilots but that officials are considering "a wide variety of options."
Newsweek has contacted the Pentagon for comment.