The Pentagon has closed the door on a proposal to provide Ukraine with fighter jets, explaining that the transfer would risk escalating the war and the focus should be on supplying more useful weapons to fend off Russian forces.
Ukraine's President Volodymyr Zelensky had repeatedly pleaded for the U.S. and other countries to provide his country with warplanes to defend its skies if they will not impose a no-fly zone.
Last week, Secretary of State Antony Blinken said the U.S. was looking at a proposal for Poland to supply Ukraine with Soviet-era fighter jets, which Ukrainian pilots are trained to fly, and in turn, backfill Poland's needs with American F-16s.
But the Polish government dismissed that idea, saying it would not send its fighter jets directly to neighboring Ukraine or allow its airfields to be used.
On Tuesday, Poland surprised the U.S. with an announcement that it was prepared to hand over all 28 of its MiG-29 fighter jets to a U.S. air base in Germany and they could then be flown to Ukraine.
That plan collapsed as the Pentagon dismissed it as not "tenable."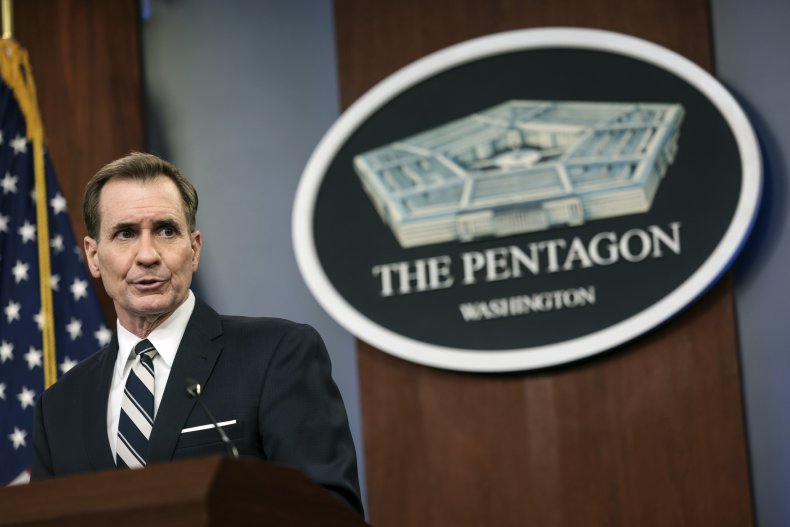 On Wednesday, Pentagon press secretary John Kirby told reporters that Defense Secretary Lloyd Austin had discussed the proposal with his Polish counterpart that morning.
"Secretary Austin thanked the minister for Poland's willingness to continue to look for ways to assist Ukraine," Kirby said. "But he stressed that we do not support the transfer of additional fighter aircraft to the Ukrainian Air Force at this time and therefore have no desire to see them in our custody, either."
Kirby pointed to three reasons that Austin had rejected the offer, starting with the view that it is better to provide Ukraine with the weapons "they need most to defeat Russian aggression," particularly anti-armor and air defense systems.
"We along with other nations continue to send them these weapons and we know that they're being used with great effect," he said.
Kirby went on to say that the Ukrainian Air Force has "several squadrons of fully mission capable aircraft."
Adding to that inventory "is not likely to significantly change the effectiveness of the Ukrainian air force relative to Russian capabilities," he said.
Finally, the U.S. intelligence community has assessed that transferring MiG fighters to Ukraine "may be mistaken as escalatory" and "could result in significant Russian reaction that might increase the prospects of a military escalation with NATO," Kirby said. "Therefore, we also assess the transfer of the MiG-29s to Ukraine to be high risk."
Kirby said the Biden administration is talking with other countries about "alternative options" for supporting Ukraine's most urgent defense needs. Those could include surface-to-air missiles and portable air-defense systems, he said.
Meanwhile, Marek Magierowski, Poland's ambassador to the United States, indicated the Polish government understood why the proposal was rejected.
"We were acutely aware of all technical, legal, and diplomatic consequences of such a move—which was risky, of course," Magierowski said on CNN.
"Our American partners rejected this proposal, because they have come to the conclusion that it was too escalatory. Well, we understand this, and I believe that we can continue coordinating our joint efforts with our American partners, and with other NATO members in order to help the Ukrainians defend themselves as effectively as possible."