Dylan McDermott's Favorite Thing About His 'AHS' Return? Fitting Into His Original Wardrobe
Dylan McDermott first portrayed the character of Dr. Ben Harmon in 2011 when he starred in season one of American Horror Story, "Murder House."
Since then he has taken multiple roles in the franchise, much like his fellow co-stars. But it is Ben he has returned to the most, first in the show's eighth season, "Apocalypse," and most recently in spin-off American Horror Stories in the finale "Game Over."
It may have been a decade since he originally portrayed the character, but to McDermott it feels like only yesterday that he first stepped out on the set of "Murder House."
Speaking with Newsweek about his return, the actor admitted it is "bizarre" to him that so much time has passed since American Horror Story's debut season.
But he claimed his favorite thing about returning to the role of Ben in the spin-off's finale was still being able to fit into his original wardrobe.
"It's so bizarre that it's been 10 years [since] going back to Murder House," he said over Zoom. "You know what I was most happy about? That they saved my wardrobe from 10 years ago and I'm still the same size!
"Considering most people gain a pound a year in their life, I was quite pleased that I was the same size, and I could fit into the same pants!"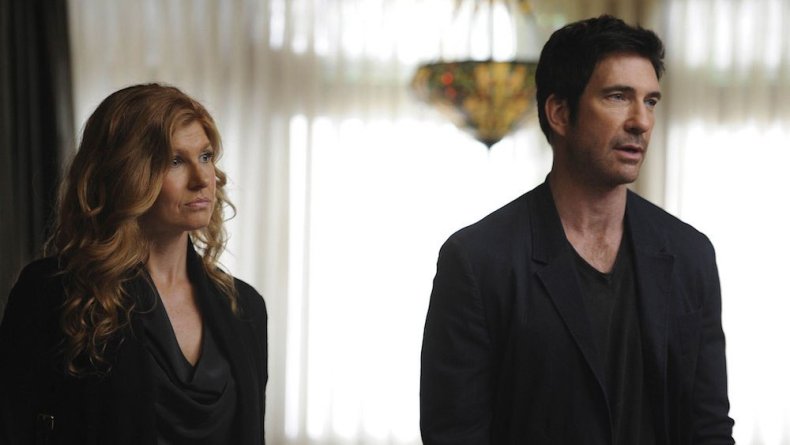 The episode sees Ben trapped in the Murder House as a ghost, unable to find peace after being killed in the haunted LA mansion a decade earlier.
While there, he encounters Michelle (Mercedes Mason) who bought the property to help find inspiration for her "Escape from Murder House" game, and he warns her that if she stays there she will be at risk of becoming a spirit just like him.
Reflecting on what it was like to get back into his character's head, McDermott mused: "Ben Harmon lives in a continued state of torture, so as each year goes by he gets more and more tortured. So, now we're seeing him and he's really at his wits end, he's smoking, he's drinking, he says it: 'I'm dead again.' What could be worse?
"As he also says in the episode, the 'record is skipping over and over again,' the same day of torture forever, so he's in his own little hell certainly. I think it only gets worse for Ben, it doesn't get better."
Before stepping out on set, McDermott was able to share what he felt his character should be like after a decade in the mansion, and luckily he and the creative team were in agreement on Ben's character growth.
"It was pretty clear-cut in terms of what we wanted to do, I wanted Ben to be sort of in that place where he's even more desperate and resigned in a sort of way that this is his fate," he explained.
"He's sort of contrite about his life, and the choices he's made and the dream that he had about his own life and what he could manage and what he could get away with essentially.
"So, I wanted him to be trying to get relief, that's why he smokes, that's why he drinks, he's just trying to find any kind of relief from the daily torture that he lives in.
"That was important for me certainly, and the scriptwriter who I'd worked with a couple of times talked about that, so we were all essentially on the same page."
McDermott stars in the episode with a number of newcomers to the franchise, like Kaia Gerber, Paris Jackson and Sierra McCormick, but the actor said he didn't feel the need to impart any advice on them as an American Horror Story alum.
"You kind of let people be who they are, and they have their own process," he said. "But there's a lot of wonderful young talent coming up, so that was nice to see and to work with them, the next generation if you will. We're passing off the torch."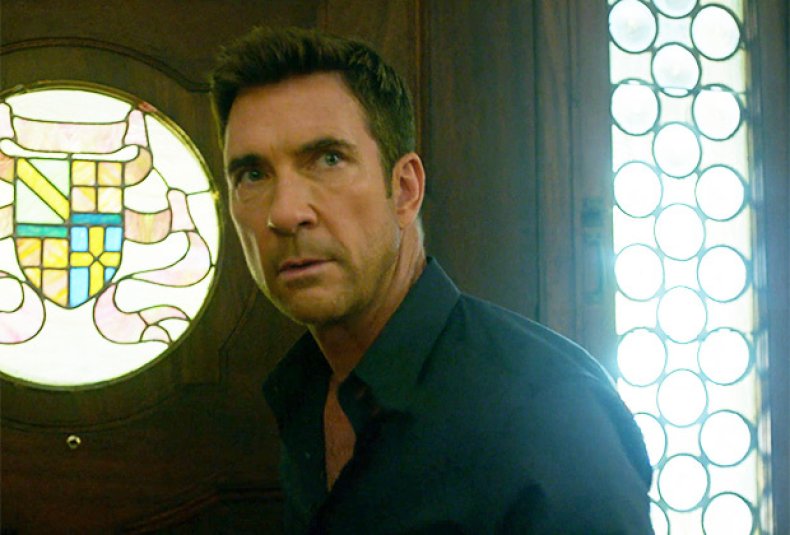 In "Game Over" the infamous Murder House is burned down and turned into condos. While it's not clear whether this is part of Michelle's game or not, McDermott said he hoped it meant Ben's ghost could finally be at peace.
"I don't know what's going to happen to Ben, if that was it. Maybe ashes to ashes and he finally did find some peace, I hope so, I think he's been tortured long enough, personally. So, we'll see what happens, you never know with the mind of Ryan Murphy," he mused.
It was Murphy who convinced McDermott to come back, though as he tells it the show's co-creator didn't need to convince him much.
"Anytime he asks me to do anything I pretty much do [it]," McDermott explained. "My pact with Ryan is I just say yes, I don't have to read it.
"Whatever he wants me to do whether it's American Horror Story or Hollywood, any of the projects that he has, The Politician, I just do it.
"I know he knows who I am as an actor, he knows my strengths and he writes to them so I know I'm in good hands.
"He's doing the most creative work on television right now and will continue to do so. The slate of projects he has upcoming is even more remarkable, so I just say yes."
American Horror Stories is available to stream now on FX on Hulu, and American Horror Story season 10 will air on FX from August 25.