All the 'AHS' References and Easter Eggs in 'American Horror Stories'
American Horror Stories ended on Thursday August 19 with its finale "Game Over", airing seven episodes in total in its first season.
The show, which is once again helmed by Ryan Murphy and Brad Falchuk, is a direct spin-off of American Horror Story, and it features stories that are largely self-contained.
While it is its own series, American Horror Stories references its predecessor in multiple ways, whether they be obvious to viewers or not, and now Newsweek can reveal the Easter eggs in the show.
The show's double-bill premiere "Rubber (Wo)man" Part 1 and 2 saw the return of the infamous Murder House that appears in American Horror Story Seasons 1, "Murder House", and 8, "Apocalypse".
The most obvious Easter egg is the aforementioned LA mansion, which is one of the original show's more iconic locations.
The episodes follow two dads, Michael (Matt Boemer) and Troy (Gavin Creel), as they move into the ghost-infested house alongside their daughter Scarlett (Sierra McCormick), only for a number of them to meet their demise at the hands of the spirits stuck inside it.
During their time in the Murder House, the characters come across a number of ghouls like the Rubber Man, a being that has been played by a number of American Horror Story characters including Season 1's Tate Langdon (Evan Peters).
The family also see the Piggy Man, a terrifying spirit of a man with a pig's head who first appeared in "Roanoke", the sixth season of American Horror Story.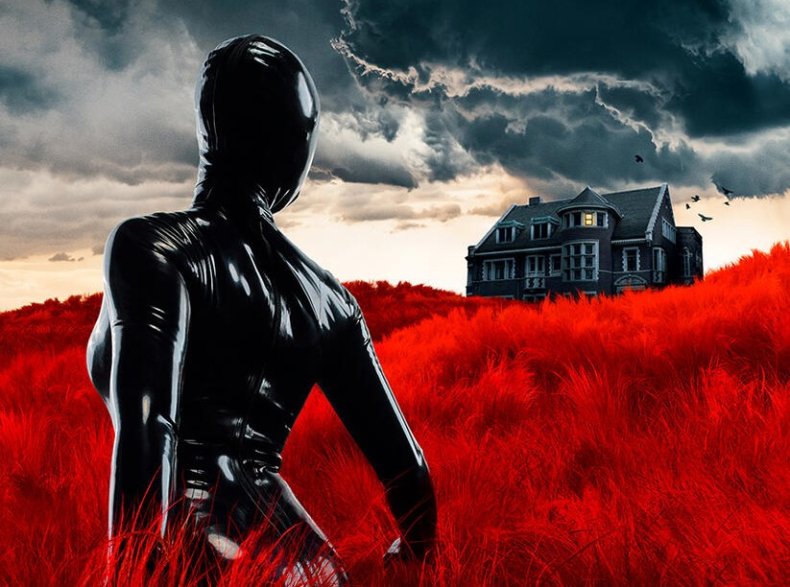 Other ghosts to make a re-apparance in the episode include The Twins, Infantata, and several nurses, all of whom were killed at one point or another in "Murder House".
Ruby (Kaia Gerber) is one of the newer ghosts to become trapped in the house, and she is seen wearing the same "normal people scare me" T-shirt as Tate had in the first season of American Horror Story.
"Drive-In" stars John Carroll Lynch, who played Twisty the Clown in "Freak Show", in the fourth season of American Horror Story.
In American Horror Stories he plays the director of the forbidden film Rabbit Rabbit, and when his house is burned down there is a brief glimpse of Pennywise the Clown from It which is likely a reference to Lynch's killer character.
The show's fourth episode "Naughty List" follows a group of YouTube stars who unleash the wrath of a killer dressed as Santa.
While it doesn't have any obvious references to its predecessor, the episode does see a character go on a killing spree at Christmas like Leigh Emerson (Ian McShane) did in "Asylum", the show's second season.
"Ba'al" tells the story of a woman summoning a demon to have a baby, and stars AHS alum Billie Lourd as the lead, Liv Whitley.
Liv is not the first character to try and have a child using dark magic, as Cordelia Foxx (Sarah Paulson) tried to do the same in "Coven", American Horror Story's third season.
"Feral" sees an estranged husband and wife try to find their son ten years after he went missing in a National Park.
It stars Cody Fern as a park ranger, and the Australian actor made his debut on American Horror Story as Michael Langdon, who appears in "Apocalypse" and is the demonic baby Vivien Harmon gives birth to in "Murder House".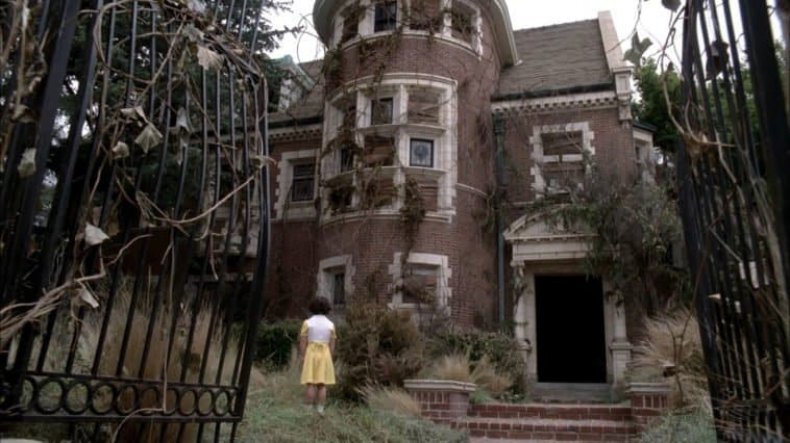 The finale, "Game Over", returns to Murder House and features characters from "Rubber (Wo)man" Part 1 and 2, as well as "Murder House's" Ben Harmon (Dylan McDermott) and Adelaide Langdon (Jamie Brewer).
Beauregard Langdon's red ball is seen multiple times in the course of the episode even if the character is not, and it appears briefly at the very end when it rolls along the floor of Michelle's (Mercedes Mason) home.
Michelle's son, who is testing out an "Escape from Murder House" game designed by his mother, also makes a reference to "Coven" when he asks if she could include the Supreme as a character.
American Horror Stories is available to stream on FX on Hulu now. American Horror Story Season 10 will air weekly on FX from August 25.