'American Idol' 2021: Who Is In the Top 10 and What Are They Singing on Disney Night?
American Idol is back after missing an episode last week due to the Oscars, and the show is ready to reveal its Season 19 top 10. The nine contestants already through to the next round will be joined by the winner of the comeback twist, and, after a trip around Walt Disney World, they are all going to sing some of the greatest hits from the Mouse House.
Who is the top 10 of American Idol 2021?
So far, nine of the American Idol Top 10 contestants for Season 19 have been announced. They are:
Grace Kinstler, 20, from Chicago, Illinois
Caleb Kennedy, 16, from Roebuck, South Carolina
Hunter Metts, 22, from Franklin, Tennessee
Chayce Beckham, 24, from Apple Valley, California
Alyssa Wray, 18 from Perryville, Kentucky
Deshawn Goncalves, 20, from Cleveland, Ohio
Casey Bishop, 15, from Estero, Florida
Cassandra Coleman, 24, from Columbia, Tennessee
Willie Spence, 21, from Douglas, Georgia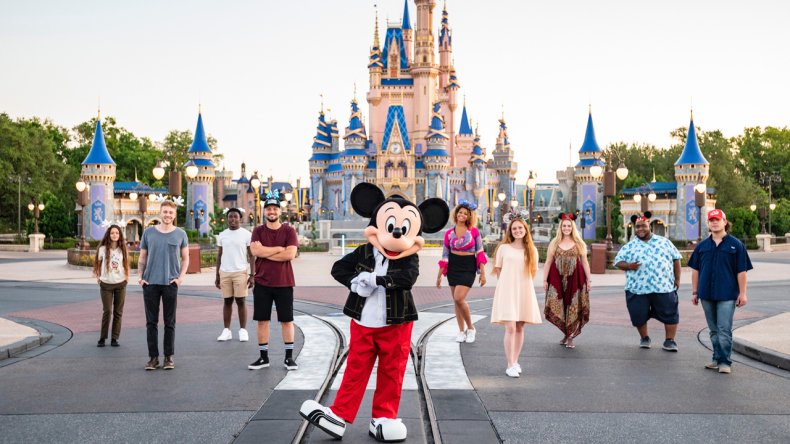 Joining them will be one of the 10 contestants who took part in the comeback special on April 19, all of whom are ex-Season 18 contestants being offered a second chance. Who that is has not been announced, with fans voting until April 26. In the running are Cyniah Elise, Nick Merico, Aliana Jester, Franklin Boone, Faith Becnel, Arthur Gunn, DeWayne Crocker Jr., Makayla Phillips, Olivia Ximines and Louis Knight.
At time of writing, Gunn's rendition of "Iris" by the Goo Goo Dolls is the most watched of any of the comeback performances on YouTube, which could bode well for his chances, especially when combined with the large fanbase he acquired by going further than any of the second-chance contestants of last year's season.
What are the American Idol contestants singing on Disney night?
ABC has announced what the 10 contestants will be singing, but not who will be singing what—likely to prevent people guessing the returning contestant based on the type of song they will be doing.
The Disney classics being performed on the American Idol 2021 Disney Night are the following:
"A Dream Is a Wish Your Heart Makes" from Cinderella
"Remember Me" from Coco
"Real Gone" from Cars
"When She Loved Me" from Toy Story 2
"Go the Distance" from Hercules
"Baby Mine" from Dumbo
"When You Wish Upon a Star" from Pinocchio
"Into the Unknown" from Frozen II
"You'll Be in My Heart" from Tarzan
"Circle of Life" from The Lion King
John Stamos, star of Disney+'s Big Shot and The Little Mermaid Live will act as guest mentor. Also performing are Sofia Carson and Jon Batiste, who will be singing "It's All Right" from Disney's Soul, the score for which this week won Batiste an Oscar.
By the end of the episode, the show will have its top seven. Though Grace Kinstler had the best odds to be named the eventual winner for much of the show, Willie Spence edged in front of her in mid-April to become the favorite, with odds of 11/1 (per Gold Derby). Kinstler is at 13/1, while Casey Bishop is at 14/1. Whichever comeback contestant ends up returning, their odds are currently very long at 66/1.
American Idol Season 19 airs Sundays and Mondays at 8 p.m. ET / 7 p.m. CT on ABC.