'American Ninja Warrior' Exclusive: Watch Alum Josh Levin's Semi-Final Run
It has been four years since Josh Levin last stepped out onto American Ninja Warrior, but the Harvard graduate is back to earn a spot in the National Finals in Las Vegas.
In an exclusive clip shared with Newsweek from Monday, July 25's semi-final episode, Levin tries to prove his time away from the obstacle course has not hindered him.
The second semi-final course for American Ninja Warrior Season 14 might be its toughest yet with athletes trying to make it past tough obstacles like Shrinking Steps, Lunatic Ledges, and Clockwork.
Competitors also tried their hand at Hopscotch, Warped Wall, Salmon Ladder, Box Office, before choosing Dragonback or Spin Zone at Split Decision, before then going up against Spider Trap.
As explained in the clip, only the Top 15 can advance to the National Finals so Levin needed to aim for the eighth or ninth obstacle to guarantee himself a place in the finals in Las Vegas.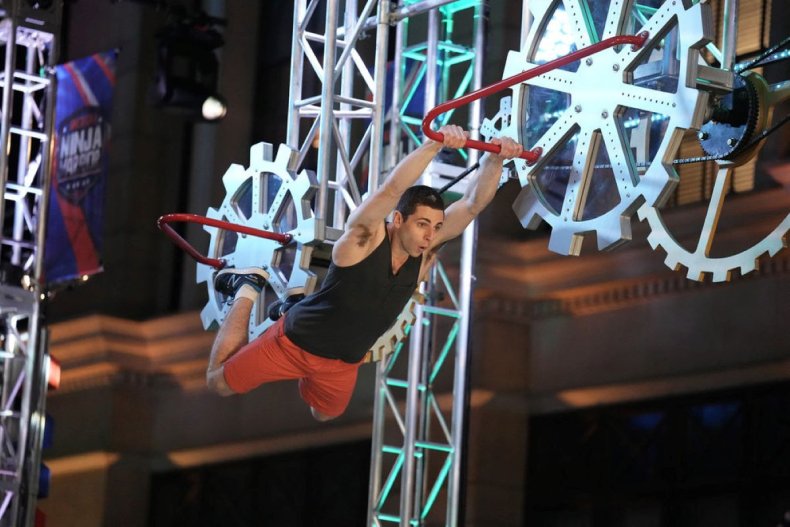 The clip shows Levin making it past the first few obstacles with relative ease, his experience as a professional rock climber helping him on stages like Clockwork.
His skills were particularly helpful at the Hopscotch and Box Office obstacles, which required him to hold onto and jump to ledges and boxes that became increasingly more difficult to reach.
Levin then made it past the Warped Wall to the second half of the obstacle course, where he managed to clear both Salmon Ladder and Box Office.
At Split Decision, Levin chose to go for Dragonback which is where he had his first fall in a semi-final round of American Ninja Warrior.
The ANW alum hails from Menlo Park, California, and since graduating from Harvard University he has been teaching at Synapse School, a K-8 independent school in the San Francisco Bay Area, where he helps make obstacle courses for young athletes with disabilities.
Levin last competed on the show in Season 10 in 2018, choosing to focus on training for a spot on the U.S. national climbing team for the 2021 Tokyo Olympic Games rather than return to the show, until now.
He previously competed on three seasons of American Ninja Warrior, reaching Stage 2 of 4 of the National Finals every time. Prior to his run on the 2022 semi-finals, he had a perfect streak in the qualifying and semi-finals rounds of the show.
Levin hopes to make it through to the National Finals once again in the 2022 edition of the show, and with the run he had being described as "the best run of the night so far," he may well advance to the last round. The results will be revealed when the episode airs.
The second Semi-Finals of American Ninja Warrior airs on NBC at 8-10 p.m. ET/PT on Monday, July 25.