Some Americans to Get $45,000 Under New Bill
Newly introduced legislation could provide some Americans with up to $45,000 by the time they turn a certain age.
Earlier this month, Democratic Senator Cory Booker and Representative Ayanna Pressley announced a plan to reintroduce the American Opportunity Accounts Act, which is also known as "baby bonds."
"U.S. Senator Cory Booker (D-N.J.) and U.S. Representative Ayanna Pressley (D-MA) today reintroduced the American Opportunity Accounts Act, legislation that would create a federally-funded savings account for every child in order to make economic opportunity a birthright for everyone in America and help close the racial wealth gap," Senator Cory Booker's office said in a statement.
The reintroduction of the legislation comes as the inflation rate has decreased since the high of 9.1 percent in June. However, the current annual inflation rate (6.4) is higher than the 2 percent target rate outlined by the Federal Reserve.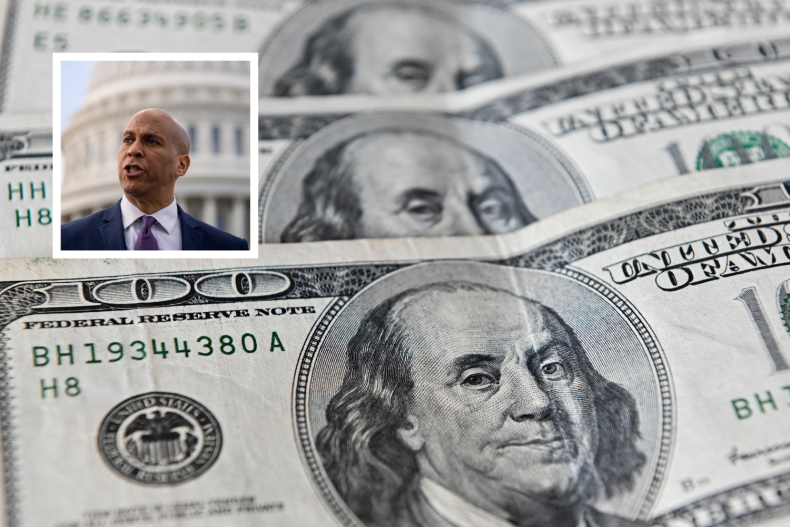 According to Booker's announcement, the legislation would set up a savings account when a child is born and immediately start with $1,000. Following the initial deposit of $1,000, the savings account would receive more money each year, depending on the family's income.
"These funds would sit in a federally insured account managed by the Treasury Department, achieving roughly 3 percent interest. Account holders may not access the money until they reach age 18 and will only be able to use the funds for allowable uses like homeownership and higher education — the kind of human and financial capital investments that changes life trajectories," Booker's office said in a statement.
Under the legislation, for a family of four with an income of $25,100 or less, the federally-funded account would reach $46,215 by the time the child turned 18. For a family of four with an income of less than $56,475, the account is estimated to reach $12,815, by the time the child turns 18.
"Americans today are having a harder time accessing homeownership, higher education, and a secure retirement than their parents did just a generation before them," Booker said in the statement. "'Baby Bonds' would fix our broken tax code by providing every American child with startup capital for their life, and helping to drive down the wealth inequality that holds American families back from their full potential."
Newsweek was directed to Booker's statement after reaching out to his office for comment.
Pressley also issued a statement on the legislation saying, "Baby Bonds are one of the most effective tools we have for closing the racial wealth gap and breaking the cycles of poverty and trauma that have prevented Black and brown folks from thriving in this country, so it is no surprise that this idea has gained traction in states across the country."