Biden Celebrates Inflation Report Despite Elevated Prices
President Joe Biden celebrated January's inflation report on Tuesday, but it's unlikely Americans are seeing immediate effects as the price of goods remains high.
Monthly inflation rose 0.5 percent from December to January, according to the U.S. Bureau of Labor Statistics, a higher increase than the 0.1 rise in November and December. However, annual inflation slowed to 6.4, continuing a seven-month decline from its peak of 9.1 percent in June.

Although annual inflation is still significantly higher than the Federal Reserve's 2 percent target, Biden celebrated the report as an economic win for the country, calling it "good news" for both families and businesses.
"There is still more work to do as we make this transition to more steady, stable growth," he said, adding that "there could be setbacks along the way."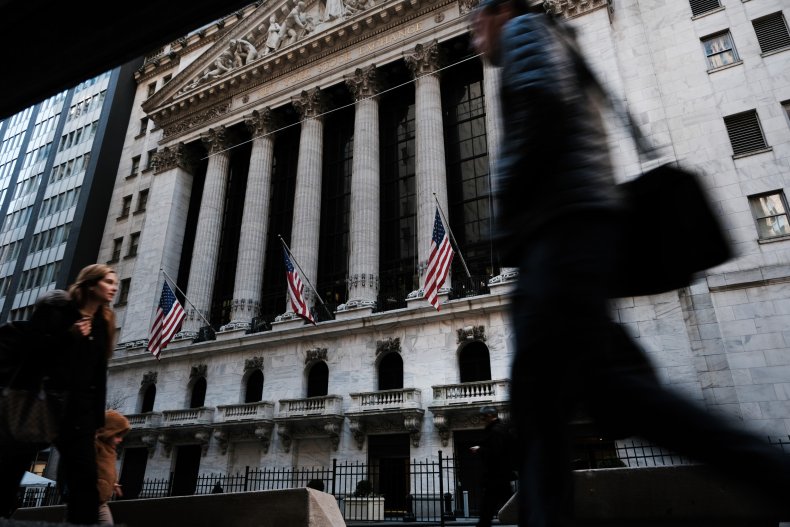 While annual inflation continued to cool, monthly inflation climbed significantly. January's inflation rose by 0.5 percent, an increase attributed to the rise in food, shelter and energy costs, according to the Labor Bureau. The increase outpaced expectations of economists surveyed by Dow Jones, which expected to see a 0.4 percent increase in January's inflation, CNBC reported.
The index for shelter contributed to nearly half of the monthly inflation increase, the Labor Bureau said. The energy index increased by 2.0 percent over the last month and food prices increased 0.5 percent, a figure the White House attributed to an increase in egg prices, "likely reflecting supply shortages from the avian flu."
Gas prices were also up 2.4 percent. The current national average for a gallon of regular gas is about $3.41, down from $3.49 a year ago, according to AAA.
Dean Baker, senior economist at Center for Economic and Policy Research, told Newsweek that the seasonally adjustment prices change every year but saw large changes this year because of the unusual patterns of the COVID-19 pandemic.
"So what that meant is we had the seasonally adjusted prices, inflation ended up being higher through the end of 2022," he said.
Because of this, Baker said many economists expected to see higher inflation numbers in January. But for most Americans, the good news about the annual inflation rate "doesn't change what people feel when they buy their gas or go to the store."
While the December report was more optimistic about inflation, Baker said January's report shows inflation still is slowing, but "it's not slowing as much as what the fall data look like."
This comes after Biden touted economic achievements in his State of the Union (SOTU) address on February 7, when he said "inflation is coming down" in the U.S., including food and drug prices, while take-home pay has gone up.
While speaking in Wisconsin earlier this month, Biden said, "inflation has fallen six months straight."
Baker said the full impact of Biden's policies have yet to be felt.
"They've been effective, and we aren't seeing that in prices yet," he said. "There'll be somewhere down the road."
For example, there has been an "explosion" in investment in clean energy, like electric cars and solar panels production, Baker said. But the the actual production and employment boosts are going to come "later this year at soonest," he added.
Republicans have been quick to jump on the latest inflation numbers, blaming Biden and accusing the president of lying during his SOTU address. They noted a 14.4 percent inflation increase since Biden took office.
"President Biden is in denial and has no plan to stop the inflation he started," House Ways and Means Committee Chairman Republican Jason Smith of Missouri said in a statement. "In his State of the Union address to the nation, the President promised more of the same reckless spending, welfare for the wealthy, and Green New Deal handouts that have made everything from gas to groceries unaffordable for working Americans."
Florida Senator Rick Scott said in a statement that "it's never been more clear that it's time for real change in Washington. We need structural spending reform now. We need accountability now."
Biden said Republicans in Congress are intent on repealing the Inflation Reduction Act, but he said doing so "would make inflation worse."
"I will stand firmly against any effort to make inflation worse and increase costs for families," he said. "Today's data reinforces that we have made historic progress and are on the right track, and now we need to finish the job."
White House Press Secretary Karine Jean-Pierre said during a press briefing that Biden's economic plan is working and is giving people "a little breathing room."