Joe Biden's Chances of Winning in 2024 Boosted After State of the Union
The odds of both Joe Biden being selected as the Democratic Party's 2024 presidential nominee and securing re-election to the White House were raised by a leading bookmaker following his State of the Union address to Congress on Tuesday.
In his speech, Biden vowed to "finish the job" on the economy following a fall in inflation and to defend American "sovereignty" after a suspected Chinese spy balloon was shot down off the coast of South Carolina on Saturday.
In response, British bookmaker Betfair improved its odds of Biden being the 2024 Democratic presidential nominee from 4/5 to 4/6 and boosted his chances of winning the 2024 presidential election from 7/2 to 14/5.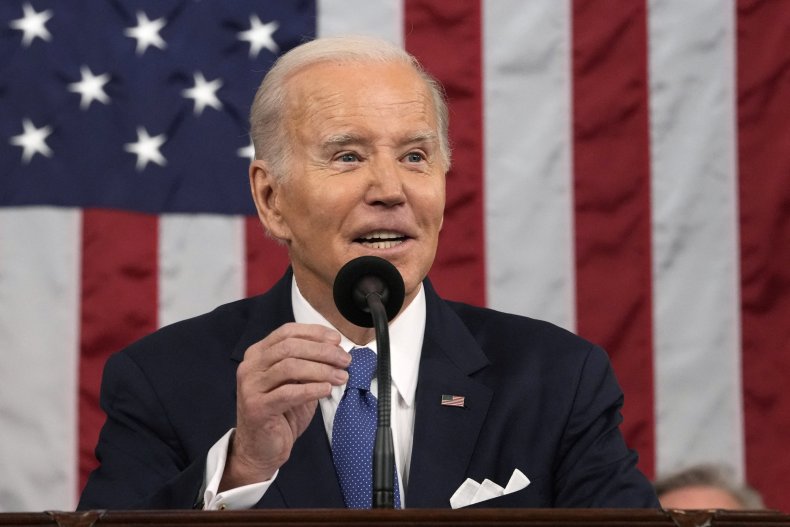 Speaking to Newsweek, Betfair spokesperson Sam Rosbottom said: "While Joe Biden has been the favorite to be the Democratic Nominee on Betfair Exchange for some time, following his State of the Union speech we have seen his odds shorten even further, and he is now into 4/6 having been around 4/5 when reports about documents being found at his home were published last month.
"Looking at his chances of winning another term in the White House, we have seen Biden's odds shorten significantly from 7/2 to 14/5, making him the favorite to win the election next year, ahead of Ron DeSantis at 7/2 and Donald Trump at 4/1."
During his address, Biden was heckled, including by some GOP politicians after saying that "Republicans want Social Security and Medicare to sunset."
Georgia Representative Marjorie Taylor Greene yelled that he was a "liar," while House Speaker Kevin McCarthy could be seen shaking his head.
In response to the Republican anger Biden said: "So folks, as we all apparently agree, Social Security and Medicare are off the books now."
This sparked cheering from Democrats in the room, with Biden adding: "We got unanimity!"
Biden's speech received some praise from an unexpected quarter when former President Donald Trump posted on his Truth Social website that his 2020 opponent should "get credit" for his address.
Trump wrote that his successor "worked hard tonight, it's not a natural thing for him, it never was, and never will be, but you've got to give him credit for trying."
The Republican, who is seeking a White House return in 2024, added: "He ended up the evening far stronger than he began."
However, Meena Bose, executive dean of Hofstra University's Peter S. Kalikow School of Government, Public Policy and International Affairs, told Newsweek Biden will struggle to get much of his agenda through a divided Congress, particularly on abortion and police reform.
She said: "I think the prospect for legislation in a divided Congress—particularly a hostile, polarized Congress—are very slim.
"Clearly, the White House priorities are not what you see the leadership in both chambers of the 118th Congress are planning to pursue," she said.