Joe Biden's State of the Union Highlights—Three Surprising Moments
President Joe Biden delivered his second State of the Union speech to a joint session of Congress on Tuesday night and there were some unexpected moments in the traditional address.
The president used the opportunity to tout his administration's achievements and to take aim at his Republican opponents, which was widely expected, but Biden also clashed with GOP hecklers during his remarks.
Biden's speech was his first address to Congress since Republicans took the majority in the House of Representatives and recently-elected Speaker Kevin McCarthy sat behind him on the dais along with Vice President Kamala Harris.
Here are three surprising moments from Biden's State of the Union address.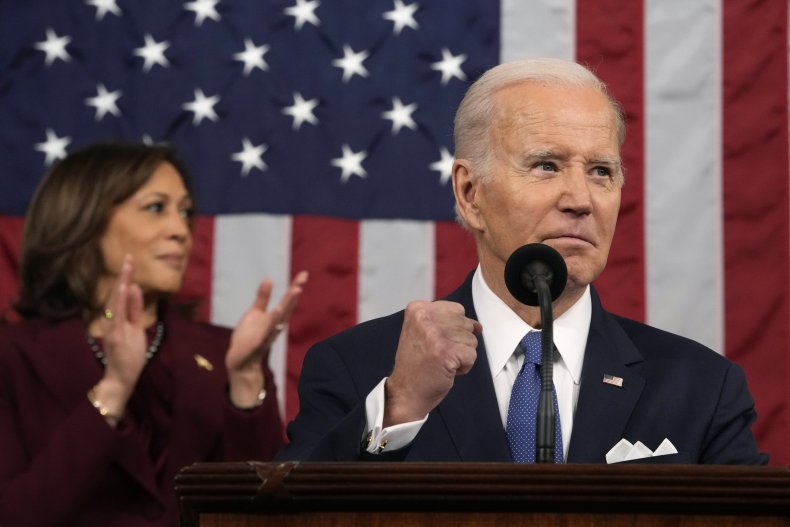 The Chinese Balloon
Biden's speech came amid criticism of his handling of a suspected Chinese spy balloon that traveled across the U.S. last week before being shot down off South Carolina on Saturday.
There was speculation about whether Biden would mention the balloon during his remarks but in the end he made no direct reference to the issue, though he did discuss his administration's policy toward China.
"Today, we're in the strongest position in decades to compete with China or anyone else in the world," Biden said.
"I am committed to work with China where it can advance American interests and benefit the world. But make no mistake: as we made clear last week, if China's threatens our sovereignty, we will act to protect our country. And we did," he said.
That last remark is likely a reference to the decision to shoot down the balloon.
The U.S. Will Need Oil 'For at Least Another Decade'
One moment that elicited some laughs from Republicans was when President Biden said that the U.S. would need oil for at least another 10 years. That remark appears to have been a departure from his prepared speech.
"Have you noticed big oil just reported its profits, record profits?" Biden said. "Last year, they made $200 billion in the midst of a global energy crisis. I think it's outrageous. Why? They invested too little of that profit to increase domestic production, and when I talked to a couple of them. They say, 'We're afraid you're going to shut down all the oil wells, all the oil refineries anyway, so why should we invest in them?'"
"I said, 'We're going to need oil for at least another decade,'" the president said, prompting some laughter.
"And beyond that. We're gonna need it," he added.
Biden Responds to Republican Hecklers
At one point in his speech, some Republicans in the chamber interrupted the president when he accused members of the GOP of wanting to cut Social Security and Medicare.
Representative Marjorie Taylor Greene shouted "You lie, you lie!" and "Liar!" and she was joined by other Republicans who shouted "no" as Biden pushed back against their objections.
Biden said he was not "saying it's a majority" of Republicans who support the idea but he added: "Anybody who doubts it, contact my office. I'll give you a copy. I'll give you a copy of the proposal."
He then suggested that Republicans in the chamber had essentially agreed not to cut Social Security and Medicare because of their reaction.
"So folks, as we all apparently agree, Social Security and Medicare is off the books now, right?" Biden told the chamber after the noise died down and was met with applause from across the room.
"We got unanimity!" Biden shouted over cheers in the chamber.
Last year, Republican Senator Rick Scott proposed a plan that would have made Medicare and Social Security vulnerable to cuts as it would have required Congress to reauthorize the programs every five years . That plan was widely criticized and was rejected by Senate Minority Leader Mitch McConnell.
Nonetheless, Biden has repeatedly used Scott's proposal to criticize Republicans and warn about potential cuts to the programs.
Newsweek has asked the White House for comment.