Joe Biden's Reason for Not Shooting Down Balloon Raises Questions
President Joe Biden's initial decision not to shoot down a suspected Chinese spy balloon is being questioned by some, who say it could have been dealt with earlier while it was going over Alaska.
The balloon initially entered U.S. territory on January 28 near Alaska's Aleutian Islands, before moving into Canadian airspace for a period and then re-entering U.S. territory on January 31.
On Monday, President Biden told reporters that he had wanted to shoot down the Chinese balloon after it entered the U.S. from Canada, but the object had already been in U.S. airspace over Alaska.
Biden said that it had always been his plan to shoot down the balloon and told journalists: "Once it came over the Uni- into the United States from Canada, I told the Defense Department I wanted to shoot it down as soon as it was appropriate."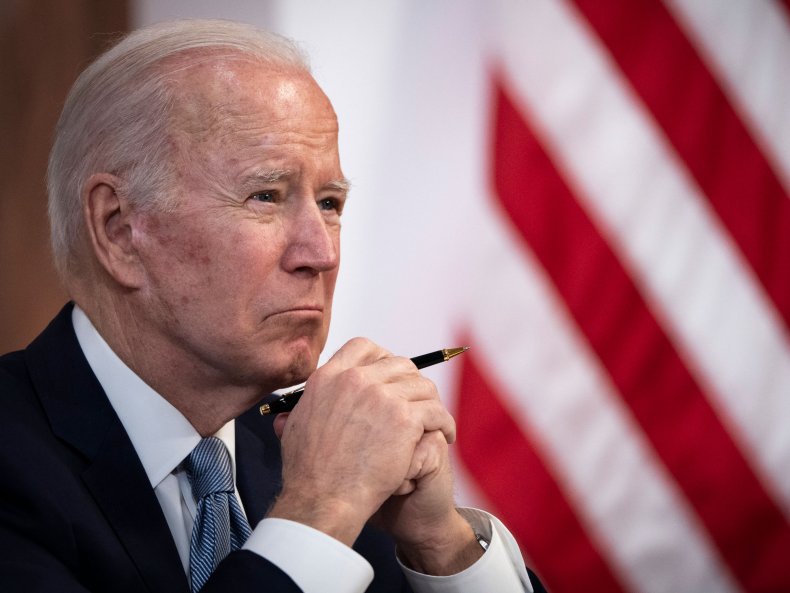 He added that: "They concluded we should not shoot it down over land, it was not a serious threat, and we should wait until it got across the water."
Some critics of the president's response have raised questions about why it wasn't shot down before it went into Canadian airspace.
"If the Biden Admin was concerned about falling debris, they could have shot the Chinese balloon over the sparsely populated Aleutian Islands in Alaska," tweeted Republican Representative Andy Biggs on Monday.
Before the balloon was shot down off Myrtle Beach, South Carolina on Saturday, the administration had cited the danger of falling debris. General Mark Milley, chairman of the Joint Chiefs of Staff, and Secretary of Defense Lloyd Austin both advised against shooting the balloon down while it was over land because of the threat from debris.
Philip Wegmann, White House reporter with RealClearNews, tweeted on Monday: "Biden ordered CCP spy balloon destroyed when it flew into U.S. 'from Canada'" and shared a timeline of the balloon's journey.
"Could they not spot the spy balloon over the Aleutian Islands or Alaska? Was an operation over the Pacific not possible?" he added.
"One can fairly ask why the balloon wasn't shot down over rural Alaska or the Northern Territories (VanHerck said he wanted to collect intel from it)," tweeted Dan Lamothe of The Washington Post, pointing to a Monday briefing by General Glen VanHerck, commander of North American Aerospace Defense Command and U.S. Northern Command.
"One can fairly ask about the gaps in U.S. 'domain awareness,'" Lamothe added.
General VanHerck said at Monday's briefing that "the domain awareness was there as it approached Alaska."
"It was my assessment that this balloon did not present a physical military threat to North America, this is under my NORAD hat," VanHerck said. "And therefore, I could not take immediate action because it was not demonstrating hostile act or hostile intent."
VanHerck's comments have also raised questions, with former National Security Adviser John Bolton telling CNN on Monday: "When it was first sighted near Alaska on the 28th of January, according to press reports – NORAD, the North American Aerospace Defense Command, apparently decided it was not threatening. I'd like to know how they know."
A White House spokesperson told Newsweek in a statement on Tuesday: "With a successful strike, President Biden sent a forceful message to China that this was unacceptable while using their maneuver against them so that we gained more intelligence.
"Meanwhile, he protected our own sensitive information as we tracked their balloon's path and acted accordingly. And he accomplished all of this while keeping civilians safe from any harm. That's what the American people expect from their commander in chief."
The White House also pointed to comments from retired military and national security experts who have praised the Biden administration's response.
Former National Security Advisor H.R. McMaster told CBS News: "Let's blame the Chinese Communist Party [CCP]. Let's stop pointing fingers at each other. We're on the same side."
Retired admiral and former Chairman of the Joint Chiefs Mike Mullen told ABC News on Sunday: "What I've seen in reports is the president made a decision on Wednesday to shoot it down, and then basically turned it over to the military to pick the time and place."
"It's very clear to me that the intelligence value of this from a standpoint of what it was getting was not worth the risk of killing an American on the ground, and it's a substantial package in terms of its size. And even in the less dense areas of the country, there was that possibility. And I know that's why we waited to this point to take it down," Mullen said.
Update 02/07/23 10:32 a.m. ET: This article was updated to include a statement from the White House and additional comment.