Marjorie Taylor Greene Leads GOP Heckles During Biden's State of the Union
Representative Marjorie Taylor Greene repeatedly heckled President Joe Biden during his State of the Union address, leading the GOP charge to disrupt the president's speech to the nation on Tuesday.
Greene and other Republican members of Congress lost their composure and started to loudly boo after Biden accused them of planning to cut Medicare and Social Security at one point during the speech.
The congresswoman could be seen rising from her seat multiple times and shouting in Biden's direction, with some of her comments being picked up by TV microphones in the House chamber.
"You lie, you lie!" Greene shouted toward the president. "Liar!"
Other Republican hecklers could be heard shouting "no" as Biden pushed back on their indignation. The president clarified that he was not "saying it's a majority" of Republicans who backed the plan, which he said was proposed by individuals he was "politely not naming."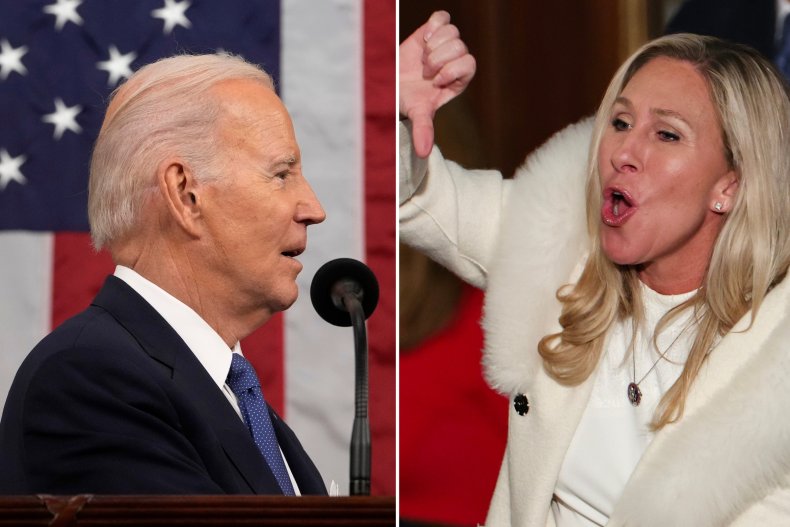 "Anybody who doubts it, contact my office," Biden said. "I'll give you a copy. I'll give you a copy of the proposal."
Last year, Republican Senator Rick Scott did propose a policy that would have made Medicare and Social Security vulnerable to cuts every five years, although Senate Minority Leader Mitch McConnell and other Republicans were quick to shoot down the suggestion, according to The New York Times.
Biden put Republicans on the spot over the policy on Tuesday, asking them to "show seniors" that they would never cut the programs "by standing up" during his speech. Most agreed to the president's request.
"So we all agree," Biden said. "Social Security and Medicare are off the books."
Greene could also be seen heckling Biden later in the speech as he was speaking about the opioid crisis and paying tribute to a victim of fentanyl.
"Close the border," Greene yelled, according to The Hill. "It's coming from China."
Senator Ted Cruz was seen shaking his head as Biden spoke. Another Republican lawmaker was reportedly heard shouting "it's your fault" at the president.
Greene and fellow "MAGA" Representative Lauren Boebert repeatedly heckled Biden when he delivered his first State of the Union address in 2022.
Boebert was booed after interrupting Biden's speech to claim that he was responsible for the deaths of U.S. soldiers as he spoke about the cancer death of his son, veteran Beau Biden.
Earlier on Tuesday, Greene brought a large white balloon to the Capitol in an apparent attempt to taunt Biden over his handling of the recent Chinese spy balloon incident.
The stunt backfired, with online commentators quickly making comparisons between the congresswoman and the evil balloon-carrying clown "Pennywise" from Stephen King's It.
Despite vigorously heckling the president throughout his 2023 speech, Greene did not appear to have brought the balloon into the House chamber during the address.
Newsweek has reached out to the White House for comment.