Marjorie Taylor Greene Compared to Evil Clown After Biden Balloon Taunt
Republican Representative Marjorie Taylor Greene of Georgia is being compared to the evil clown "Pennywise" from Stephen King's It after taunting President Joe Biden with a balloon.
Greene shared to Twitter a video of herself carrying a large white balloon through the halls of Congress hours before Biden was set to deliver his second-ever State of the Union address on Tuesday. The congresswoman captioned the tweet, "It's just an innocent balloon."
The stunt was in reference to the Biden administration's handling of the recent Chinese spy balloon incident. The president, following the advice of top Pentagon officials, decided against shooting down the balloon before it flew over the country last week. It was eventually shot down off the Atlantic Coast on Saturday afternoon.
On Monday, a number of conservatives had suggested on social media that GOP lawmakers should bring balloons to Biden's State of Union in protest of the balloon incident, including some who directly appealed to Greene.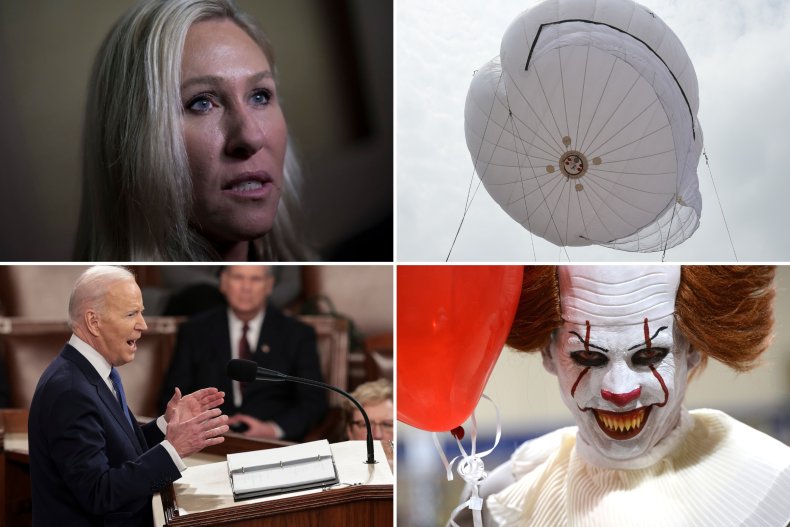 It was unclear whether Greene was planning to attempt to bring a balloon into the House chamber during Biden's speech.
However, her decision to taunt the president with the balloon before the address appeared to backfire somewhat. Some were quick to compare her and King's evil clown character, who is often depicted carrying red balloons.
"Like Pennywise, but without the charm," sports journalism editor Ben Estes tweeted.
"You look like an evil clown, you act like one too," user @humminbirdbaby tweeted alongside an animated gif of Pennywise.
"Pennywise's most frightening form yet," tweeted author Ilise Carter.
"Marjorie Taylor Greene running around with a balloon is much more horrifying than Pennywise, the clown from IT," tweeted Scott Dworkin, executive director of The Democratic Coalition.
"Any resemblance is purely coincidental ...," political strategist and commentator Ana Navarro-Cardenas tweeted above side-by-side images of Greene and Pennywise.
"If Marjorie Taylor Greene brings a balloon to the SOTU hope she ready to be called Marjorie Taylor Pennywise forever," @Hammancheez tweeted.
"'Pennywise' Marjorie Taylor Greene is an evil clown," tweeted @martyandchris. "... & Kevin McCarthy put her on the Homeland Security Committee."
"Pennywise is shaking in his clown shoes," TV writer Caissie St. Onge tweeted.
When contacted for comment on the backlash to Greene's balloon taunt, Nick Dyer, the congresswoman's communications director, did not directly address the issue and instead criticized Newsweek for mentioning the tweets.
During an interview with right-wing news outlet Right Side Broadcast Network on Tuesday, Greene said that she decided to bring the balloon to the Capitol because Biden had allowed "China to traverse the United States with a Chinese spy balloon" and allegedly gather intelligence from U.S. institutions.
Defense officials have said that multiple Chinese spy balloons also flew over U.S. territory during the administration of former President Donald Trump, including one that reportedly hovered above Hawaii and Florida in 2019.
Newsweek has reached out to the White House for comment.