Rep. Greene's 'Jewish Space Lasers' Controversy Resurfaces After AOC Speech
GOP Representative Marjorie Taylor Greene's "Jewish space lasers" controversy has reemerged after Representative Alexandria Ocasio-Cortez defended fellow Democratic Representative Ilhan Omar in a fiery speech from the House floor.
The Republican-led chamber voted to remove Omar from the House Foreign Affairs Committee on Thursday after some accused her of antisemitism for having suggested that GOP support of Israel was funded with money from the American Israel Public Affairs Committee (AIPAC).
Omar apologized for making the suggestion after joining Congress in January 2019. During an interview on CNN last Sunday, she said that she had previously not been "aware of the fact that there are tropes about Jews and money."
Ocasio-Cortez said that Republicans were racist against women of color while defending her "Squad" colleague from the House floor on Wednesday. She accused the GOP of hypocrisy for giving Greene choice committee assignments despite her past support of the antisemitic "space lasers" conspiracy.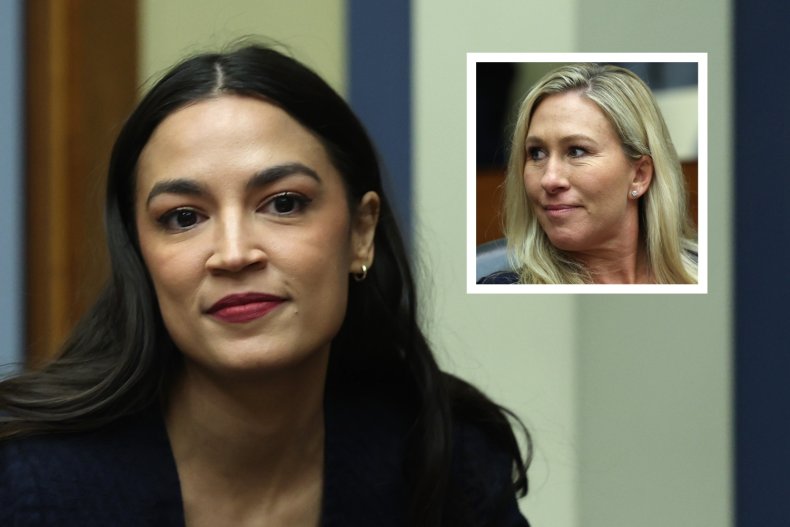 "Don't tell me that this is about a condemnation of antisemitic remarks when you have a member of the Republican caucus who has talked about Jewish space lasers and an entire amount of tropes," Ocasio-Cortez said. "And also elevated her to some of the highest committee assignments in this body."
"This is about targeting women of color in the United States of America," she continued, while adding that she "didn't get a single apology" when her "life was threatened" after GOP Representative Paul Gosar shared an animated video depicting her being killed with a sword in 2021.
Ocasio-Cortez's references to Greene's alleged antisemitism, alleged Republican racism and hypocrisy were echoed by many who criticized Omar's removal on Twitter soon after.
"Republicans are removing @IlhanMN from committees for her anti-Semitic comments," tweeted columnist Michael J. Stern. "... but they embrace @RepMTG who made insane comments about Jewish space lasers and Donald Trump who invited neo-Nazis to his house for dinner."
"Never forget the GOP's antisemitism: They stood by Trump when he accused Jews of disloyalty for voting Dem, then by @RepMTG, after her 'Jewish space lasers' lunacy," political analyst Omar Baddar tweeted. "They came for @IlhanMN b/c she dared to criticize AIPAC's harmful influence, even when AIPAC itself brags about it."
"I don't like or agree w/#IlhanOmar," tweeted political strategist and commentator Ana Navarro-Cardenas. "She's said -and apologized for- awful things. But it's a new level of hypocrisy to kick her off committees, & keep a pathological liar who pretended to be Jewish & a kook who belittled the Yellow Star & blamed Jewish space lasers for forest 🔥!"
"@RepMTG spread conspiracy theories about 'Jewish Space Lasers,'" Democratic Representative Jimmy Gomez tweeted. "@RepGosar spoke at an event hosted by a Holocaust denier. @SpeakerMcCarthy rewarded them with prized committee assignments. And Republicans want to talk about antisemitism in Congress? Miss me with that."
"Our Jewish Space lasers think otherwise," comedian Kristina Wong tweeted in response to a Greene tweet that asserted "the Democrats hate it when you force them to live up to their own rules."
Although Greene has never publicly used the exact phrase "Jewish space lasers," the controversy originated with a since-deleted 2018 Facebook post from the Georgia Republican that did reference Jewish people and lasers from space.
The post touted an antisemitic conspiracy theory that suggested the Rothschilds, a wealthy Jewish banking family who often feature in antisemitic conspiracies, were profiting off of California wildfires supposedly caused by "lasers or blue beams of light" from space.
Greene has been mocked for the "Jewish space lasers" claim for nearly all of her political career. The mockery has not come exclusively from Democrats, with fellow "MAGA" Congresswoman Lauren Boebert using the phrase while taking a shot at Greene in December.
Nick Dyer, Greene's director of communications, told Newsweek that allegations concerning "Jewish space lasers" were "fake news," while arguing that Omar being removed from House committees was "all that matters."
"It's a made-up phrase by a fake news reporter," Dyer said. "She never said that. Ilhan Omar is no longer on committees and that's all that matters."