Joe Biden's State of the Union Priorities Could Be Doomed: Experts
President Joe Biden laid out his vision for the next two years during the State of the Union, but the Republican-led House of Representatives could block several of his key priorities, experts said.
Biden emphasized the importance of bipartisan cooperation during the State of the Union Tuesday night. Despite facing jeers from some Republican lawmakers throughout the speech, he promised to work with lawmakers to pass legislation that would empower American manufacturing, enact immigration reform and benefit American consumers.
He also encouraged Congress to pass sweeping policies such as a tax on U.S. billionaires and banning assault weapons.
"The people sent us a clear message," Biden said. "Fighting for the sake of fighting, power for the sake of power, conflict for the sake of conflict gets us nowhere."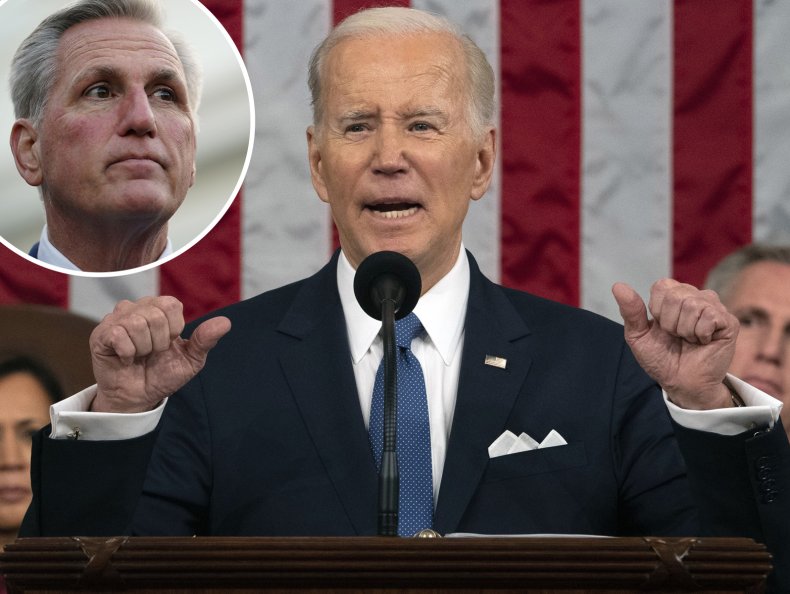 But many of the plans he highlighted during the address will likely face strong opposition in the House, where Republicans hold a narrow majority and decide what bills will receive a vote during the next two years, political experts told Newsweek Tuesday night.
Meena Bose, the executive dean of Hofstra University's Peter S. Kalikow School of Government, Public Policy and International Affairs, told Newsweek Biden's speech was "clearly structured, motivated and heartfelt." She praised Biden for the civil nature of the address and for clearly laying out his economic agenda.
However, she warned that several of Biden's goals, including efforts to codify abortion rights and pass police reform, are unlikely to make progress in Congress due to a lack of Republican support.
"I think the prospect for legislation in a divided Congress, particularly a hostile, polarized Congress, are very slim," Bose said. "Clearly, the White House priorities are not what you see the leadership in both chambers of the 118th Congress are planning to pursue."
Robert Y. Shapiro, a professor of political science at Columbia University, also gave Biden high marks, praising him for "staking out the accomplishments of his administration," including efforts to combat inflation and bolster the economy after the COVID-19 pandemic. But he also warned that Biden's goals will not pass "unless it's really innocuous."
"I'm not particularly hopeful for anything significant on the economic front, and certainly nothing significant with regard to any kind of federal legislation on abortion either way," he said. "That's just not going to happen."
Tammy Vigil, senior associate dean at Boston University's College of Communication, told Newsweek that Biden's speech "should set the foundation for cooperation on many topics," but that House Republicans "have shown very little interest in governing effectively."
Vigil commented on Biden's energy, noting that he appeared more vibrant than he has in other recent appearances. Still, she questioned whether House Republicans would want to give Biden successes "big enough" to boost a potential reelection bid.
"Unfortunately, I don't think there is much of anything Biden could have said to change that. I didn't hear anything that will persuade the Republicans to soften their general campaign against compromise and cooperation," she said.
Which Biden SOTU Policies Could Receive Bipartisan Support?
Still, there could be some room for bipartisan compromise. Shapiro said issues including the Russia-Ukraine war and energy policy have "potential" for bipartisan support. Bose noted that Republicans are also more hesitant to change programs such as Social Security or Medicare, which have "really become institutionalized."
During the speech, Biden's call to protect these programs elicited an unusual show of bipartisan support. When he called out Republicans who have previously supported efforts to "sunset" the entitlements, some members of the GOP booed, accusing him of lying. Biden said he interpreted their reaction to indicate their support for protecting these programs.
Vigil noted this moment gave Biden a "chance to create a moment of bipartisanship that no one could have scripted."
"He got the Republicans to publicly endorse his stance on protecting Medicare and Social Security," Vigil said. "It was a good impromptu moment that he took great advantage of. It was an impressive show of leadership in the moment. Probably his best moment of the night."