Joe Biden's Toughest State of the Union Address
President Joe Biden will deliver his second State of the Union address to a joint session of Congress on Tuesday as he formally enters the third year of his administration.
This will be Biden's first State of the Union speech since Republicans took control of the House of Representatives in the November midterms and comes as he faces scrutiny over his handling of classified documents.
The president is likely to tout his achievements over the past two years, including major pieces of legislation such as the Bipartisan Safer Communities Act—the first piece of federal firearms legislation in 30 years—as well as Democrats' Inflation Reduction Act, which Biden has repeatedly highlighted amid falling inflation.
Political scientists who spoke to Newsweek suggested that Biden is unlikely to discuss the ongoing probe of classified documents found at his home and former private office, but the speech is an opportunity for the president to take aim at Republicans.
Political Headwinds
With Republicans in control of the House, the Biden administration is facing a series of congressional investigations while the chances of passing major legislation have significantly diminished.
"Biden heads into his second State of the Union facing tremendous political headwinds," according to Thomas Gift, founding director of University College London's Centre on U.S. Politics.
"A lackluster approval rating, a special counsel investigation, and an obstructionist, GOP-controlled House are just some of the many barriers in front of him," Gift told Newsweek.
He added that "low expectations may prove to be a gift."
"Unshackled from the need to appease the far-left flank of his base, Biden has the chance to chart a centrist course and be the kind of tempered, pragmatic president he campaigned to be," Gift said.
Gift said that "big-ticket, legacy-defining bills are no longer on the agenda for the White House."
"Instead, Biden will be judged by how effectively he's able to fulfill his role as 'Implementer in Chief' by assuring the effective rollout of laws already passed. It's not glitzy, but it's the kind of workmanlike task that may determine the success or failure of the president's next two years," he said.
A 'Vastly Larger' Audience
The State of the Union "is generally the most important speech that a president gives in a year," according to Paul Quirk, a political scientist at the University of British Columbia, in Canada.
"Even so, it is hardly ever mentioned more than two or three days after the event," Quirk told Newsweek. "No one will try to hold President Biden to whatever he says in the SOTU speech, or use it as the benchmark for judging his success. His strategy for the speech and the effectiveness of his delivery are not, in the end, central to his prospects."
Nonetheless, Quirk said that the audience for the address "is vastly larger than those for most other presidential speeches. But it is made up primarily of people who already support the president."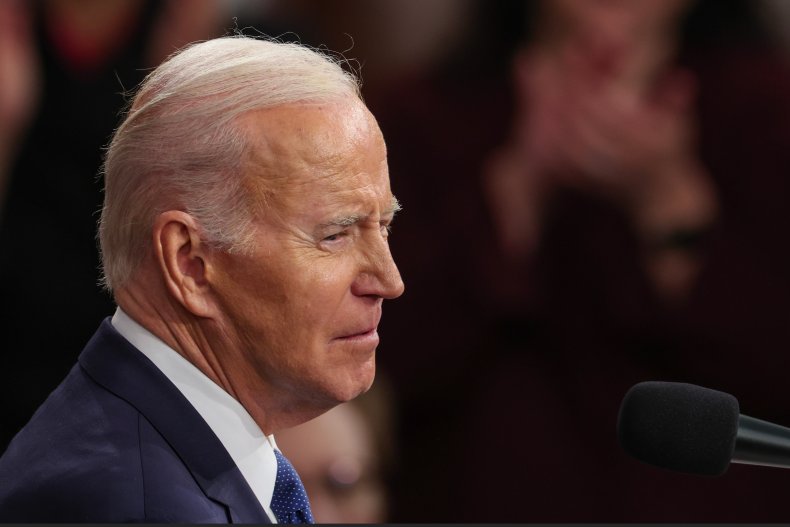 "A second group, considerably smaller, are those firmly committed to opposing him," Quirk went on. "Most of the rest are accidental viewers—who, for example, may have misplaced the TV remote. The sliver of the public who are independents or persuadable mostly have no interest in politics, and do not tune in to a SOTU address."
"The speech is one of the better opportunities for the president to define his positions, and those of his party, in order to draw contrasts with the Republicans," he added.
Laying the Groundwork
President Biden is sure to highlight his administration's achievements in the past two years but Tuesday's State of the Union is also an opportunity to look to the future.
David A. Bateman, an associate professor of government at Cornell University, told Newsweek Biden is likely to mention falling inflation, saying that "all presidents are credited or held to blame for the economy, so there's no doubt he'll take the credit."
"Expect lists of achievements, with one half the chamber standing and clapping and the other half sitting and sulking in our annual absurd tin pot political theater," Bateman said.
But Biden "also has the opportunity to lay the groundwork for what is sure to be a central political task of the next few months: convincing the public that Republican intransigence is responsible for the upcoming political fights and potential economic instability that results."
House Republicans have indicated that they will not approve raising the federal debt ceiling without a deal that could see major cuts in spending, setting up a likely conflict between the White House and the House GOP.
Bateman told Newsweek that Biden "can call for ambitious legislation with broad public support, knowing that it won't go anywhere and that he can then make the case that inaction is the fault of a Republican Congress."
"Crucially, he can demand that America pay its bills and stay open, and that 'negotiating' over those would be to put political gamesmanship ahead of responsibility," he said.
"And finally, he can let people know that the Republican plans for cutting a deficit that blew up under their watch involve reactionary policies like cutting Social Security, Medicare, Medicaid, etc.," Bateman added.
Blaming Republicans
With a fight over the debt ceiling a real possibility, Biden may use his speech on Tuesday to warn about the harms of not raising the debt limit and to criticize GOP plans for spending cuts.
"He has a bit of a fine line here," Bateman told Newsweek. "He wants to make it clear that it is Republican intransigence that will be to blame, which requires that he not appear intractable himself; but he also needs to make clear that negotiating over the debt ceiling would be destructive and that ceding to the emerging substance of Republican demands would run counter to the clear desires of the public."
"I expect he'll do it by emphasizing both a 'clean' debt ceiling bill as well as areas of possible compromise that don't involve the regressive priorities emerging from the Republican caucus," he said.
Quirk told Newsweek that Biden's "most urgent objectives for the address will probably be to ratchet up pressure on the Republicans to pass a relatively clean bill to raise the debt ceiling; and to push for continuing, robust American support for Ukraine."
"Even though 'State of the Union' implies a long-term orientation, the main import of the address will be its effect on current issues, in the short period people remember it," he said.
"There will be some suspense about whether the radical Trump loyalists in the House will maintain decorum," Quirk added.
Classified Documents and Chinese Balloons
Two of the most recent controversies facing Biden are the ongoing investigation by Special Counsel Robert Hur into his handling of classified documents and the suspected Chinese spy balloon that was shot down on Saturday.
"Some of the address will focus on current controversies," said Quirk. "Biden can't say very much about his illegal, though apparently inadvertent, possession of classified documents."
"His best defense is comparing his case to former President Trump's far more serious violations," he said.
Donald Trump's handling of classified documents at his Mar-a-Lago home is being investigated by Special Counsel Jack Smith.
"But making that comparison would look like pressuring the Justice Department to indict Trump," Quirk went on. "Biden will probably mention the Chinese spy balloon, and in that case he can draw a contrast with Trump's quiet acquiescence to multiple such balloon visits. But he probably won't dwell at length on either of these embarrassing episodes."
Bateman told Newsweek he expects "nothing about the documents, for the obvious reasons that he wants it to blow over and that there is an investigation into it whose independence and integrity the administration has every incentive to keep inviolate."
Biden will deliver the State of the Union on Tuesday at 9 p.m. E.T.