Even Donald Trump Admits Joe Biden's State of the Union Speech Was Great
Donald Trump has credited President Joe Biden for putting "into words what he felt" during Tuesday night's State of the Union speech.
Writing on his Truth Social page, the former president said his successor "worked hard tonight, it's not a natural thing for him, it never was, and never will be, but you've got to give him credit for trying."
Although Trump, who has announced his intention to run for Republican presidential nominee for 2024, was clear he did not agree with Biden "on most of his policies," he said his long-time rival should "get credit" for the address.
"He ended up the evening far stronger than he began," Trump wrote.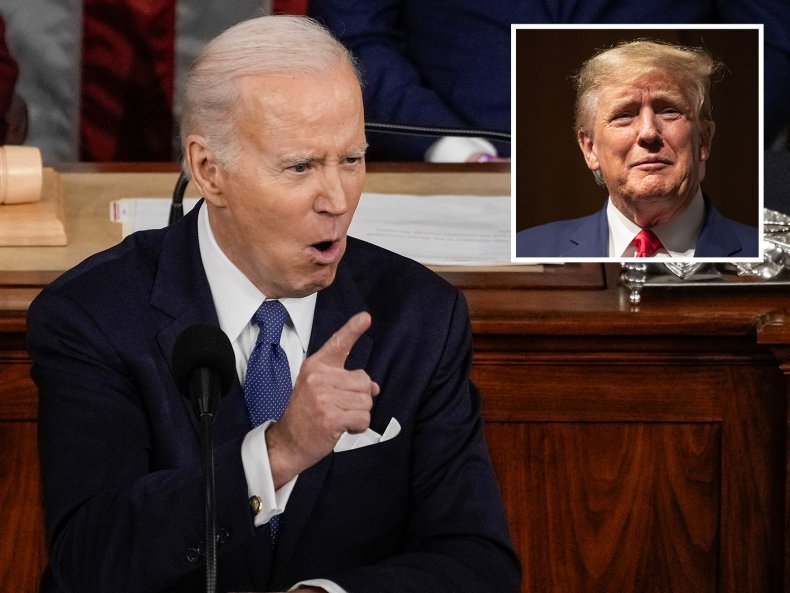 Tuesday's address marked Biden's second State of the Union speech as president. Speaking at the Capitol, he was flanked by Vice-President Kamala Harris and House Speaker Kevin McCarthy.
He called the "story of America" a "story of progress and resilience," telling his audience that the U.S. is "the only country that has emerged from every crisis we've ever entered stronger than when we got into it."
Some remarks in Biden's speech tried to speak to Republican and Democrat unity, telling "my Republican friends" that "if we could work together the last Congress, there is no reason we can't work together and find consensus on important things in this Congress as well."
"You know, we're often told that Democrats and Republicans can't work together. But over these past two years, we proved the cynics and naysayers wrong," Biden said.
"Yes, we disagreed plenty. And yes, there were times when Democrats went alone. But time and again, Democrats and Republicans came together," he added.
Yet as Biden accused Republicans of planning to cut social and medical care, a wave of booing could be heard from the audience.
Georgia Representative Marjorie Taylor Greene could be seen heckling the president, calling out "liar."
Trump, providing what he called a "play by play" of Biden's address, wrote on Truth Social that the president was "lying so much about Social Security, Medicare, and so many other things!"
Announcing his live-update reaction to Biden's address, which he said was inspired by "popular request," Trump said Biden had the chance to "rival any of the World's great orators."
"If properly done," Trump said ahead of the speech, "and if Joe has just a modestly good night, this speech has the opportunity to rival any of the World's great orators, including, Lincoln, Washington, and, of course, the late, great, Prime Minister of the United Kingdom, Sir Winston Churchill."
Following the speech, Trump released a two-minute video to speak about what he called the "real State of the Union."
"I am running for president to end the destruction of our country, and to complete the unfinished business of making America great again," he said.