American Pickers' Mike Wolfe Gives Rare Comment on Frank Fritz Amid Feud
Mike Wolfe is still showing love for former American Pickers co-host Frank Fritz amid an alleged feud.
Wolfe and Fritz fronted the History Channel reality show for over 10 years until it was announced in July 2021 that Fritz had left the show. At various points since then, Fritz has spoken out and expressed his confusion at being removed from American Pickers. Fritz has suffered from various health complications including back surgery, Crohn's Disease and a stroke, but they have not been cited as the reasons for his departure.
Wolfe let American Pickers' fans behind the scenes in a recent Instagram video. He replied to a number of comments from fans, including one in which he brought up Fritz, and paid tribute to him.
On Saturday, American Pickers creator and host Wolfe shared a video highlighting members of the crew, sharing their names and role on the show. "I can't show all the behind the scenes since the show won't air for a while but I wanted to show you the crew that makes it all possible. Some of these guys have been with me for almost 14 years," Wolfe wrote in the captions for the post.
One of the comments called for Jersey Jon, one of the show's pickers, to be removed. Wolfe singled out this comment and replied.
"Been picking with Jersey for over 20 years one of the most knowledgeable passionate real deal dudes your ever gonna meet. Give him a chance." Unprompted, Wolfe then brought up his former co-host. "Nothing will ever replace Frank we miss him. Very much like y'all do," he wrote.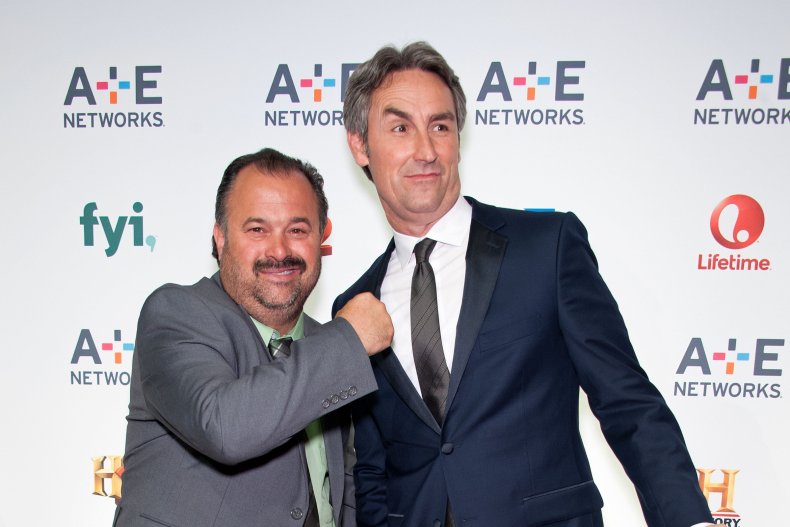 In July 2022, fans urged Fritz and Wolfe to rebuild their relationship after it was revealed Fritz had been hospitalized after suffering a stroke.
Some fans seemed worried as to the whereabouts of current co-host Danielle Colby, who wasn't featured in the video with the rest of the team. Wolfe assured a number of fans that she was back in the office when the video was shot.
Wolfe was also forced to defend the team when a number of people commented, on both Instagram and TikTok where the video was shared, that there were no women featured in the behind the scenes team.
Of the 12 people featured in the 42 second video, all of them were men.
"We have a lot of woman that work in post production @cineflixmedia and at @history," Wolfe wrote in response to one of the social media users asking if there were women on the team.