American Prisoner in Bali Christian Beasley Escaped Because He Felt 'Hopeless,' His Mother Says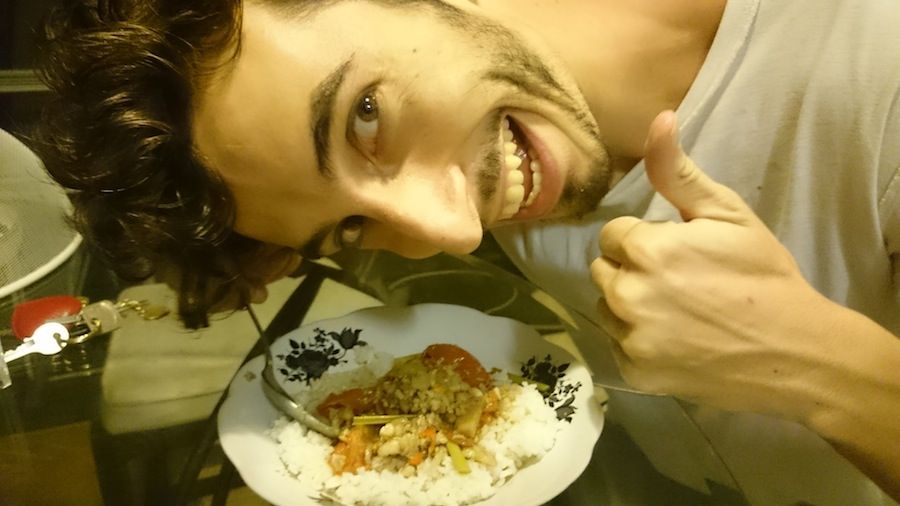 On Wednesday, American citizen Christian Beasley was paraded in front of the media. He wore a balaclava and was barefoot with wrists handcuffed and legs shackled. He was flanked by two armed guards.
The press conference had been organized by police after a five-day manhunt that began on December 11, when Beasley escaped from Kerobokan Prison, the overcrowded, understaffed and infamous institution on the Indonesian island of Bali. At the time, the 32-year-old California native had been incarcerated since August 1, when he was arrested at a local post office, having received a package containing 5.7 grams of hashish.
At the press conference, Beasley took the opportunity to tell the press his side of the story. "[In jail] they threatened me to pay protection money, that was why I left," he said, as quoted in the Associated Press.
"I need help, I really need help.... Please help me, please help me. In my country [it] is not a crime use ganja [marijuana]," he then shouted as he was escorted away.
It was not the first time Beasley had highlighted concerns about his safety. "People there want me dead," he wrote to a relative on Monday from a police station in Bali. In the email, seen by Newsweek, Beasley asked the relative to get in touch with his mother and tell her to tell the media why he escaped.
"My reasons for running (looking at four years and threats for money in jail) need to be revealed to the press," he wrote.
Related: After breaking out of prison in Bali, the first thing Christian Beasley did was find his mother
While in other jurisdictions, a suspect with marijuana in his or her system would be incriminating evidence, in Indonesia the opposite is true. A suspect with traces of drugs in their system is considered an addict, while those who show no evidence of being a user are considered to be a trafficker, a far more serious charge. As a result, Beasley is in the perverse situation of having to prove he is a marijuana user.
Beasley is facing trafficking charges after a urine test failed to show signs of cannabis use, his 70-year-old mother Rosalind Beasley told Newsweek.
But she said her son used marijuana regularly for medical purposes to help him sleep and that documents that prove this were supposed to arrive from the U.S. but were delayed, failing to reach investigators before they were due to make a recommendation to the prosecutor as to the charges Beasley should face.
Beasley's lawyers told Newsweek the evidence needed to be translated from English to Bahasa Indonesian, the local language, and by the time it was ready, Beasley had escaped from prison. The trial started in late November, with hearings held once a week. Rosalind Beasley said there had been two hearings so far and several postponements, and that the defense had yet to present its case by the time her son escaped from prison.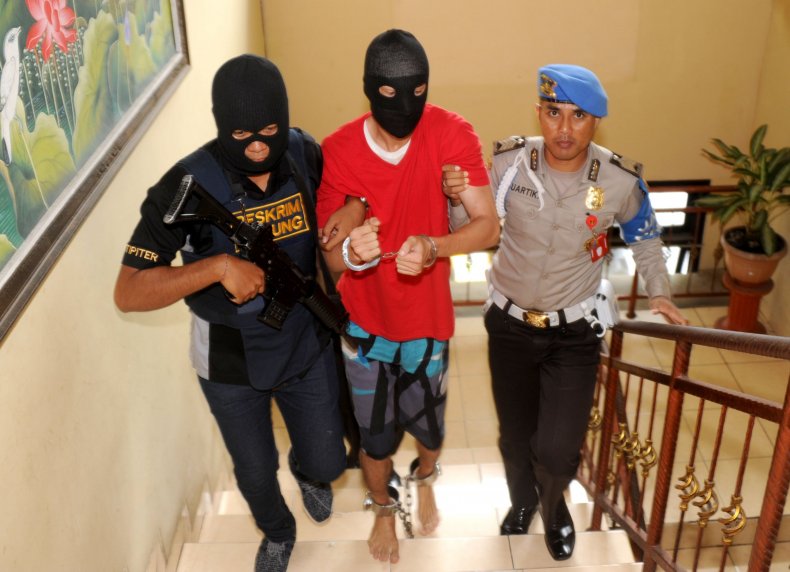 The Indonesian government has been waging a war on drugs, introducing heavy penalties for those found in possession of illegal substances that may include death sentences in the case of trafficking charges. Under Indonesian law, marijuana and hashish are considered a "Group 1" drug, ranked alongside cocaine, heroin, LSD and methamphetamines.
Sentencing depends on the exact form of the drug—i.e., whether it is in plant form or processed—and the quantity of the substance. The penalty for possession of hashish is four to 12 years in prison with fines from roughly $90,000 to $896,000. For trafficking, sentences range from five to 20 years, though some convicts face life imprisonment or even death. Indonesia's Supreme Court recommends sending drug offenders to rehabilitation whenever possible, but, as local media has reported, such facilities are critically underfunded.
"It seems terribly fallacious to consider [the urine test] such a key item to consider him a trafficker, and we were hoping to get someone to testify at trial to explain reasons why Christian's test did not contain marijuana," Rosalind said, adding that a few days had passed between Christian's arrest and the test, which—along with his slim physique and fast metabolism—were probably elements responsible for its failure to show traces of marijuana.
During the five months Beasley spent in Kerobokan before his escape, his mother was able to meet him frequently. He told her there was a lot of drug dealing in the prison.
"I asked him, and I know he honored my wishes, and he himself did not want to consume drugs, but he was being encouraged not only to consume them, but to help with selling. He refused. He did not want to take them, he did not want to help sell them," she said.
Her family, like others, were asked to pay bribes to have Beasley's charges changed and to negotiate a lighter sentence.
"One attorney said, 'This is how we do it here,' in a sort of apologetic way," she said. "There isn't a soul that does not recognize you need to put in a lot of money to have your child not spend a lot of time in prison."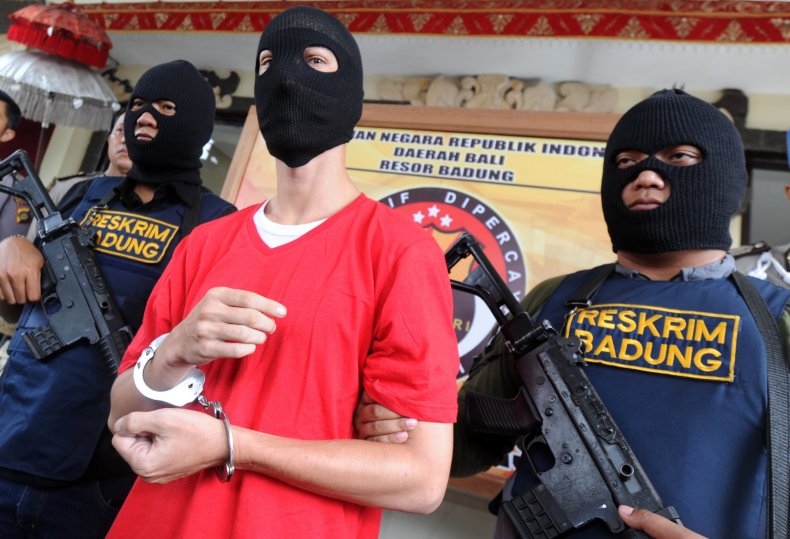 Rosalind said she did not have the money and was also mindful of American—as well as Indonesian—laws forbidding bribery.
"Money plays an enormous part in the kind of sentence you get in Indonesia," she said. "I think he felt despondent he was going to get a lengthy sentence. I'm sure he felt hopeless," she added.
Kerobokan prison's chief warden, Tonny Nainggolan, said Beasley's extortion claims were "total nonsense," Agence France-Presse reported. "There is no such thing, he made it up, we protect and guarantee the safety of the inmates and detainees in Kerobokan."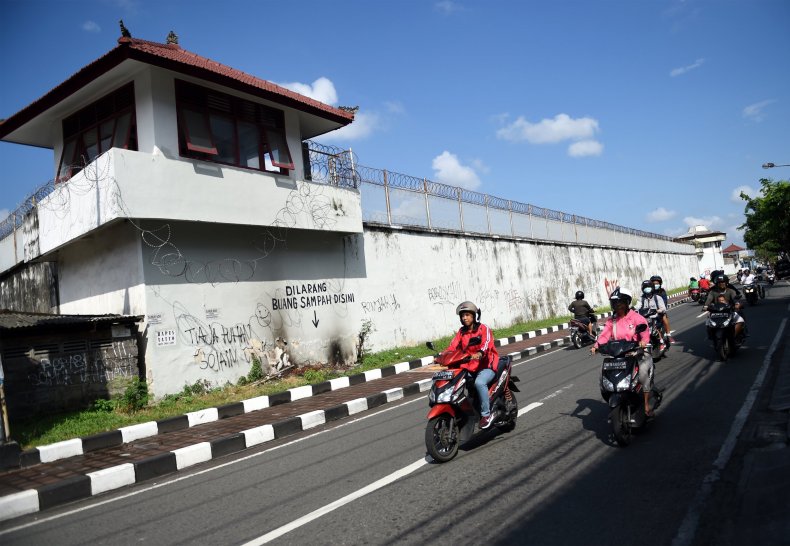 But Bali undoubtedly has issues with corruption in the judicial sector. In one high-profile case, the former chief justice of Indonesia's Constitutional Court was sentenced to eight years in prison earlier this year, as Reuters reported.
Beasley's lawyers initially told Newsweek they could not comment on whether they had ever been asked for bribes. They said they are aware it is an issue in the country but mostly in Jakarta, and that they had not seen any such instances in Bali.
When contacted on Monday, Beasley's lawyers said they had yet to see their clients, although they received assurances that he was fine. The next trial date is yet to be scheduled.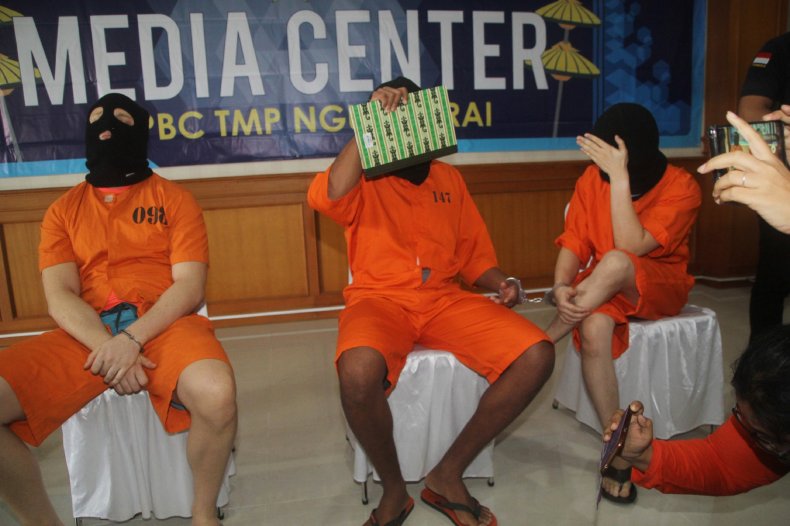 Beasley is not the only American charged with drug-related crimes. On Tuesday, police in Bali announced the arrest of three men—an Australian, a Malaysian and an American, whose identities were not revealed—in three separate circumstances, Reuters reported. Like Beasley, the men were brought to a press conference with their faces covered in balaclavas, but—unlike him—they were wearing flip-flops and their legs were not shackled.
The U.S. Embassy in Jakarta said they are following Beasley's case but could not disclose any more information due to privacy considerations. "When a U.S. citizen is detained overseas, the department works to provide all appropriate consular assistance," a spokesperson told Newsweek.
Rosalind Beasley told Newsweek she hopes her son's use of medical marijuana will emerge in the course of the trial and that he may be sent to rehabilitation rather than jail. "It was disturbing to get a message that he's concerned about his safety," she said. "I want America to say to Indonesia: Please make sure this prisoner of yours is protected adequately. Whatever it is he is afraid of, don't let anything happen to him."