American Woman Shares Her 'Terrifying' Experience of Driving in the U.K.
Driving in the U.K. is very different from driving in the U.S., and one TikTok user has shared just how big the difference is in a viral video.
With more than 600,000 views, the video by user fabandquirky was first shared on April 10. The American driver reveals what it is like to drive in the U.K., calling it "absolutely terrifying."
As memorably demonstrated by Cameron Diaz in the 2006 movie The Holiday, drivers in the U.K. drive on the left side of the road, and are also seated on the opposite side of the car.
The American ex-pat posted the video of her drive down a British country lane and said: "This is what it's like driving in the U.K., there's only enough room for one car on the road and it's absolutely terrifying."
In the U.K. standard residential streets can be as narrow as 18 feet wide, as can rural roads. In comparison, the average U.S. road is approximately 38 feet in width—making American roads more than twice as wide as their British alternatives.
Some TikTok users agreed with the driver, one commenter wrote: "Terrfying. I agree [I] hate country roads," and another commenter said: "Country roads give me anxiety."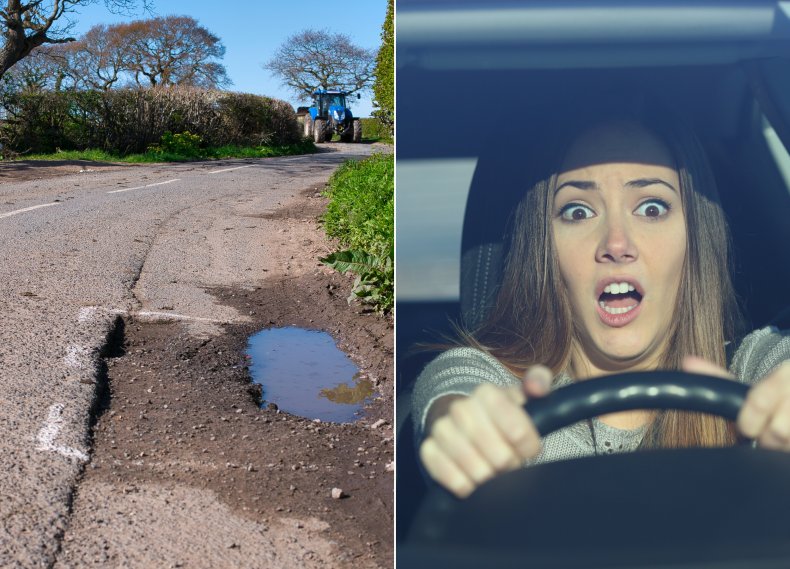 Another viewer of the viral video said: "In the U.K. everything is small."
The difference in driving experience between the two countries is also reflected in the cars favored by drivers in each nation. According to Insurify Insights, the most popular car for 2022 in the U.S. is the Honda Accord which measures up at just over 6 feet in width. While the current bestseller in the U.K. according to Auto Express is the Vauxhall Corsa, with a width of around 5.7ft.
Other cars on the two bestseller lists for 2022 include the supersized Chevrolet Silverado in the U.S.—ranked the number one vehicle choice in Maine. The Silverado is a much larger vehicle than the contrasting all-electric Mini favored by U.K. drivers.
Many commenters on the TikTok video from the U.K. joked at the woman's reaction to the road. One commenter said: "We are used to it," while another viewer said: "Let me tell you, if you can drive in the U.K., you can drive anywhere."
Another TikTok user shared their experience of taking an American on a road trip, writing: "Took my aunt from Chicago on a road trip to the coat, 2 miles later she wanted to go home. The reason? A roundabout."
Earlier this month, an unexpected driver was sent a speeding ticket after a small white dog was photographed behind the wheel of a car in Germany and given a 50 euro fine.
Newsweek has reached out to fabandquirky for comment.