A video showing American socialists flying pro-Russia flags has gone viral on social media.
The Center for Political Innovation, or CPIUSA, which describes itself as an "educational think tank focused on the construction of American socialism" and is not affiliated with the Communist Party USA (CPUSA), shared the video from the opening of a conference dubbed "Unite Against the Imperialists" in Chicago, Illinois, on its Twitter account on Saturday.
The video began with a man and woman, both wearing red berets, walking towards a stage, one carrying the U.S. flag and the other holding a Soviet victory banner.
They stand on the stage, hands held aloft as music plays— the left-wing anthem, the Internationale followed by the Star-Spangled Banner—and are moments later joined by three others who stand in front of the stage.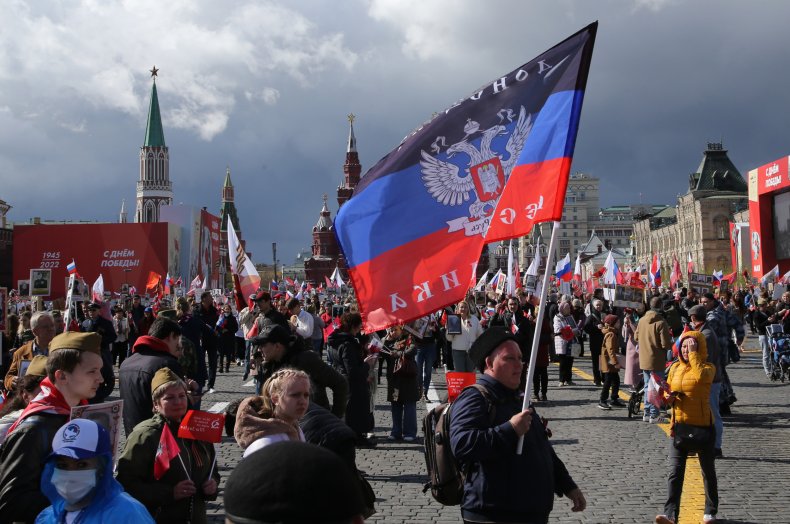 One held up China's flag while another carried the flag of the Moscow-backed self-proclaimed Donetsk People's Republic in eastern Ukraine.
The woman in the middle held up a black sign with the letter "Z" on it—a symbol that has become associated with support for Russian President Vladimir Putin's invasion of Ukraine, which began in late February.
CPIUSA's video has been viewed more than 1.3 million times since it was posted on Twitter on Friday.
"We at CPI celebrate the great moment in history where Russia, China and America stood together to defeat fascism, Those are the politics we want to revive," CPIUSA founder and journalist Caleb Maupin told Newsweek.
Maupin was included in a list of personalities who Kyiv believes are promoting the Kremlin line, Newsweek reported in July. It was compiled by the Ukrainian Center for Countering Disinformation, founded in 2021 by President Volodymyr Zelensky to study the impact of Russian disinformation. The center is part of Ukraine's National Security and Defense Council.
The video sparked a backlash, while many also mocked the scene as "cringe."
Journalist Michael Weiss tweeted that it was "quite the spectacle, even for Chicago politics."
Weiss said that Tara Reade—the ex-Senate staffer who accused President Joe Biden of sexually assaulting her, which he denied—was presented with an award "in front of the hammer-and-sickle" during the event.
Reade told Newsweek that she was "deeply honored and touched" that the organization chose to honor her.
"I deeply despise xenophobia," she added. "Russia is not the enemy. Neither is China. I believe that U.S. imperialism has done many countries of the world systemic damage to infrastructures and the violence of U.S. funded weapons has cost millions of lives."
Former Army Lt. Col. Alexander Vindman compared the event to the Conservative Political Action Conference (CPAC), which took place last week in Texas.
"There really is almost no difference between the extreme left & extreme right. I see much of the same symbology at @CPAC," tweeted Vindman, a former White House national security aide a former White House national security aide, who was a key witness in former President Donald Trump's first impeachment investigation.
"The major difference is that the far left, including the Social Democratic Party, remains fringe, whereas the Republican Party has made extremism mainstream."
"Freaks of the world, unite, yo!" tweeted Olexander Scherba, Ukraine's former ambassador to Austria.
Olga Lautman, a senior fellow at the Center for European Policy Analysis and an expert on Russia, wrote: "So basically this empty event was done by Russia and affiliated with the Kremlin intelligence arm Russia Today. Insanity."
"This is hilarious," tweeted Idrees Ahmad, an associate editor of New Lines Magazine. "American 'socialists' in Chicago have an elaborate ceremony which they end by holding up the fascist 'Z' symbol."
Update 8/9/22 at 3:46 a.m. ET: This article has been updated with comment from Tara Reade.