American Troops Prepared to Engage in War With Russia
A U.S. aircraft carrier is prepared to lead an international charge should Russia escalate attacks against Ukraine and its allies.
The USS George H.W. Bush (CVN 77), christened in 2006 and delivered to the Navy in 2009, is in the Adriatic Sea leading Neptune Strike 2022—a North Atlantic Treaty Organization (NATO) deployment that tests deterrence and defense in the Euro-Atlantic area.
Allied and partner nations taking part include Albania; Canada; Croatia; Finland; France; Germany; Greece; Hungary; Italy; Lithuania; North Macedonia; Poland; Romania; Slovakia; Slovenia; Sweden; Turkey; the United Kingdom; and the United States.
"The Neptune series is a tangible demonstration of the power and capability of the NATO Alliance in all domain operations," Vice Admiral Thomas Ishee, commander of the U.S. Sixth Fleet and Naval Striking and Support Forces NATO, said in a statement at the deployment's kickoff October 14 in Oeiras, Portugal. "Neptune Strike 22.2 is a prime example of NATO's ability to integrate high-end maritime warfare capabilities of an allied carrier strike group, ensuring our collective ability to deter and defend."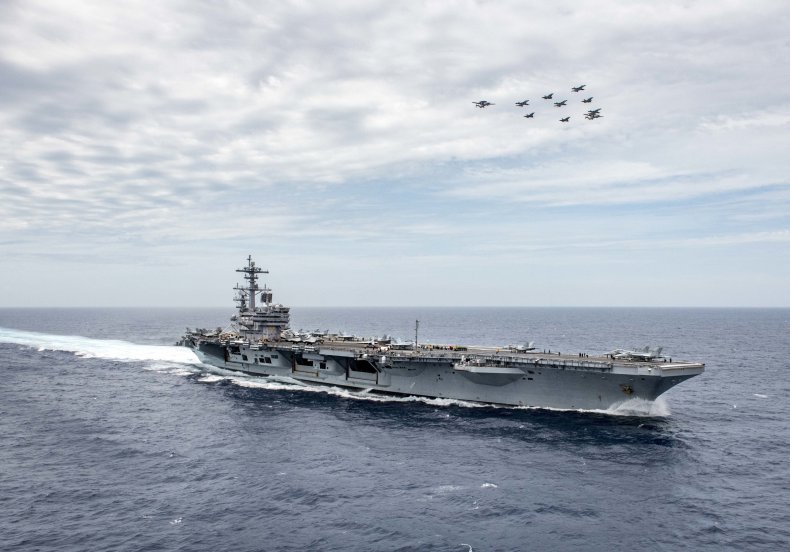 The deployment includes more than 80 aircraft, 14 ships, and about 6,000 personnel from 24 NATO allies and partners, including Finland and Sweden.
As part of exercises, U.S. Navy F-18s flew from the carrier to Lithuania in recent days, working alongside France, Latvia and Hungary.
Prior to that, the same fighter aircraft reportedly joined Canadian fighter aircraft for patrols over Romania.
U.S. Naval Forces Europe-Africa spokesperson Captain Tamara Lawrence confirmed to Newsweek on Wednesday that the carrier is participating in Neptune Strike.
"While deployed to the U.S. Naval Forces Europe-Africa area of operations, the George H.W. Bush Carrier Strike Group stands ready to respond to a variety of missions when tasked, in defense of the United States and our NATO allies and partners," Lawrence said.
When asked whether heightened tensions in the form of nuclear warfare cause increased awareness on behalf of military personnel, Lawrence said the Navy's policy involves not commenting on future operations or to "respond to hypotheticals."
USS George H.W. Bush Rear Admiral Dennis Velez told Sky News inside a large on-board hangar that said peace is always the answer, but U.S. troops remain vigilant.
"We want the war [in Ukraine] to be over and to bring stability back to the region and have a peaceful and stable Europe, but for us, we are ready," Velez said.
He said he saw two Russian warships observing NATO exercises, both entities operating under international law and on their own accord in international waters.
"It is one of the things that you just have to rely on your training," Lieutenant Cordan Mackenzie, 27, one of the F-18 pilots on board, told Sky News. "Without a doubt, I think U.S.-trained Navy pilots are the best in the world....All we do out here is train and get ready for a fight that might come and I think when it comes, pilot to pilot, I hope we are the better man in the box."
NATO Secretary General Jens Stoltenberg visited the "impressive" aircraft carrier on Tuesday, calling it "a demonstration of U.S. capability and commitment to the alliance."
"This exercise is a perfect example of the transatlantic bond, Europe and North America working together in NATO," Stoltenberg said. "It demonstrates our ability to rapidly reinforce our allies and project power across the alliance. NATO is a defensive alliance. Our deterrence prevents conflict and preserves peace.
"Our strength helps to prevent any miscalculation by sending a clear message: NATO will protect and defend every inch of allied territory."
He also warned Russia to "not use false pretexts for further escalation," in reference to Russia accusing Ukraine of preparing to drop a radiological "dirty bomb" on its own territory.
Hans Kristensen, director of the Nuclear Information Project at the Federation of American Scientists, warned that Russia may test nuclear weapons that coincide with NATO's own nuclear exercise, "Steadfast Noon."
Update 10/26/22, 2:48 p.m. ET: This story has been updated with comment from U.S. Navy spokesperson Tamara Lawrence.