Five Signs That Russia Is Preparing for All-Out War
Recent developments in Russia appear to indicate that the Kremlin is preparing for an all-out war, eight months into Vladimir Putin's invasion of Ukraine.
As Russia continues to face staggering losses and military setbacks, Putin has raised the stakes in the war that began after he launched a full-scale invasion on February 24.
He announced a partial mobilization on September 21 to enlist 300,000 reservist troops and formally annexed four partially occupied regions of Ukraine following referendums that have been condemned by the international community as illegal. He has also bombarded Ukraine this month with targeted missile strikes on energy infrastructure.
Longtime ally, Chechen leader Ramzan Kadyrov, hinted on October 19 that the war in Ukraine had entered a new phase, saying: "Everything will be different."
Below, Newsweek has rounded up five signs that Russia is preparing for an all-out war.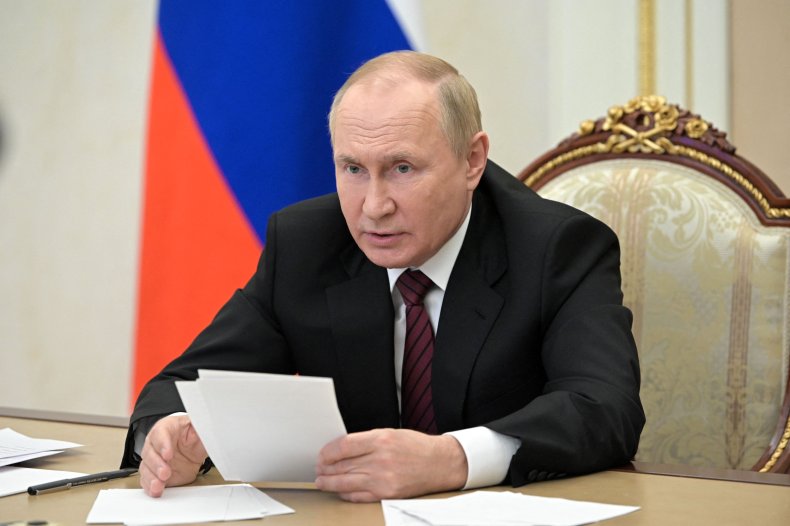 1. Economy on 'War Footing'
This week Putin put nearly half of the Russian economy on a war footing, according to analysts at the Loko Invest brokerage.
An estimated 40 percent of the economy is thought to be on a war footing, the independent Russian-language news outlet The Moscow Times reported, citing analyst estimates.
2. Bomb Shelters
Multiple reports are emerging of spaces being re-purposed into bomb shelters in Moscow and elsewhere.
The Telegram channel "Caution, Moscow" reports that Muscovites living in the north of the city are having their basements transformed into bomb shelters, citing a local resident as saying that mattresses and folding beds are being moved into the basements of homes.
On Sunday, the governor of Sevastopol, Mikhail Razvozhaev, said on his Telegram channel that local authorities intend to equip the entrances of multi-story buildings with signage giving instructions on quick access to bomb shelters.
He said they could be in the basements of houses, and said that he had already inspected the cellars of residential buildings along multiple streets.
Svetlana Kaverzina, a deputy of the Novosibirsk City Council, has prepared a bomb shelter in the basement of her house, according to Russian media.
3. Signage
Baza, a Russian Telegram channel with close links to local police, has reported that shelters are being set up in hospitals and clinics in Moscow.
In one such example, signage which says "shelter" and directs people to a cellar has been put up in a children's clinic in the city. The basement was previously used by employees as somewhere to either eat or get changed, Baza reported on October 21.
According to the news channel, similar shelters are being set up at several hospitals and clinics in Moscow.
4. Moscow Police
Moscow police officers are being taken out of the city for training to march and shoot machine guns, Baza has reported.
"Until now, we always had training in shooting, but only with a pistol and without going out of town. Now many have already gone to training grounds, fired a machine gun, thrown grenades. Others were told to prepare for exercises. Attendance is required," a police officer told Baza.
5. Emergency Evacuation Drills
The Kremlin and Russia's State Duma parliament are being prepped for a potential emergency evacuation.
State-run news agency Interfax cited the press service of Russia's Federal Security Service as saying a three-day exercise began on Tuesday and will involve the suppression of "threats of a terrorist nature" against officials, deputies and senators.
Putin 'Gearing Up'
Krista Viksnins, program assistant at the Center for European Policy Analysis' Transatlantic Defense and Security Program, told Newsweek that the recent developments suggest that "Russia is gearing up for something."
"It is apparent Russia is currently losing the war in Ukraine, so the Kremlin needs to do something drastic to change the course of things," she said.
Viksnins said that while it is "concerning" that Russia is allegedly establishing bomb shelters in Moscow, this could be part of a larger disinformation campaign aimed at leading the West to believe Russia is the victim, even though Putin began the war in Ukraine.
Newsweek has contacted Russia's foreign ministry for comment.