American Woman Trapped in Kabul in Heartbreaking Plea For Help: 'I'm Really Scared'
An American woman trapped in Afghanistan has issued a heartbreaking plea for help.
West Virginia Rep. Carol Miller tweeted a 27-second audio clip in which the woman can be heard sobbing as she shared her fears about being killed by the Taliban after the group's speedy takeover of the country amid a pullout of U.S. troops.
"Hour by hour, it's getting more difficult," she says in the clip. "Even when the cars pass by I feel like they're gonna stop by the door out there and the Taliban are gonna come in and kill us. I'm really scared."
She added: "Please just, please help me."
In a written message to Miller's office, the woman wrote that she had "no hope" of seeing her children again. "I may not hold them again," she said.
"They're going door to door looking for individuals who worked with the US military, Afghan military, law enforcement, foreigners, high rank afghans, families fo people who helped out US troops."
Miller tweeted that the woman, who was not named, had been attacked each time she tried to reach Kabul's international airport.
"Despite the danger to herself, she wants us to share this," the congresswoman added. "We must guarantee the safety of Americans and our allies before it is too late."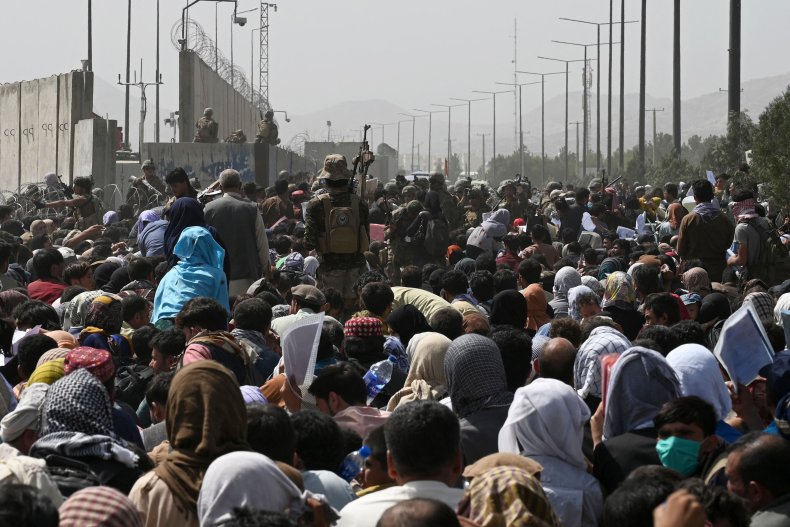 The woman—who was not named—told Fox News there are up to 20 Taliban checkpoints between where she is hiding and the airport.
She was whipped by Taliban members during one attempt to get to the airport, she said. During another, a man near her was shot in the head.
"I really have given up hope, given up on the hope of going to the airport," she told the outlet. "It's just not possible to make it through all those people."
In a direct appeal to President Joe Biden, she said: "Please, Mr. President, please evacuate us. We need help."
Biden on Friday pledged that the government would evacuate American citizens and Afghans who assisted U.S. forces from the country.
But the U.S Embassy in Kabul issued a warning on Saturday telling American citizens not to travel to the Kabul airport without individual instructions from a U.S. government representative because of "potential security threats" outside the airport's gates.
U.S officials were forced to change their evacuation strategy after learning of potential threats from the Islamic State, the Associated Press reported.
On Sunday, the British military said seven Afghans had been killed as a panicked mass of people desperate to flee the country tried to enter the airport in Kabul.
Miller's office and the White House have been contacted for comment.