Americans Asked to Leave Kabul Airport Over Security Threat After Biden Warned of ISIS Attack
Following President Joe Biden's recent warning about ISIS forces possibly interfering with U.S. evacuation efforts, the U.S. Embassy in Afghanistan has told Americans to immediately leave the Hamid Karzai International Airport in Kabul. The embassy cited possible "security threats" from local ISIS forces.
"Because of security threats outside the gates of Kabul airport, we're advising U.S. citizens to avoid traveling to the airport & to avoid airport gates at this time... unless you receive individual instructions from a U.S. government representative," the security alert read.
Biden has refused to extend his August 31 deadline for evacuating Americans, U.S. troops and Afghan allies. As a result, the U.S. has a rapidly closing window to try and help others evacuate. Biden has resisted calls to extend the deadline.
"Every day we're on the ground is another day we know that ISIS-K is seeking to target the airport and attack both U.S. and allied forces and innocent civilians," Biden said Tuesday.
ISIS-K, is an affiliate of the Islamic State. ISIS-K considers both the U.S. and the Taliban as enemies.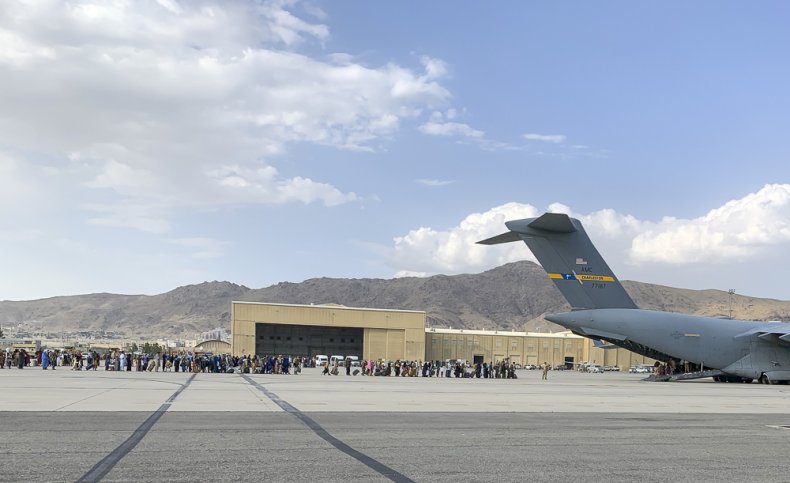 About an hour before the U.S. government's Wednesday warning about the airport, the British government issued a similar warning. Their warning mentioned "an ongoing and high threat of terrorist attack."
Worries of a possible terrorist attack have caused planes entering and departing to use evasive maneuvers to avoid potential missile attacks. Military planes have made corkscrew landings and other aircraft have fired flares upon takeoff.
It's unclear if security threats will hinder the U.S. from fully evacuating all Americans in the region before the withdrawal deadline. Around 1,500 Americans remain in the country, the U.S. State Department said on Wednesday.
Last week, the Pentagon said the U.S. military forces couldn't ensure safe entry for Americans entering the airport. Last Saturday, the U.S. Embassy also issued a similar warning over security threats. On Monday, Taliban gunfire outside of the airport killed an Afghan soldier.
The Taliban has blamed the chaotic evacuation on the U.S. military.
On Wednesday, Army Major General Hank Taylor told reporters that over 10,000 people are currently awaiting departure at the Kabul airport. "Our focus is continuing to get as many people out as efficiently and safely as possible," Taylor said.
John Kirby, a Pentagon spokesperson, said the U.S. military and its allies will continue securing the airport until the evacuation deadline. After the United States' departure, Kirby said the airport would likely fall under the control of the Taliban "and I assume with the international community."
Newsweek contacted the U.S. Embassy in Kabul for comment.