Six Days Until Deadline, Planes Departing Kabul With Evacuees Every 39 Minutes
At the Pentagon on Wednesday, Army Major General Hank Taylor said the U.S. military's mission to evacuate Americans, Special Immigrant Visa (SIV) applicants and vulnerable Afghans from Afghanistan continued to move as quickly as possible.
"Every 39 minutes yesterday, a plane departed Kabul airport," Taylor said during a news conference. "These numbers are a testament to the hard-working and brave service members carrying out this mission."
According to Taylor, in the past 24 hours, flights leaving Kabul's Hamid Karzai International Airport exceeded the previous day's flight departures. He said a total of 90 flights departed the Kabul airport yesterday, carrying approximately 19,000 people for a total of 88,000 evacuees so far since the U.S. began the withdrawal from the country.
Taylor also noted that there are more than 10,000 people currently at the Kabul airport awaiting departure. Taylor said, "Our focus is continuing to get as many people out as efficiently and safely as possible."
"We know you have questions about our current timeline and intent for departure. Our mission remains unchanged. For each day of this operation, we have carried out the direction of the president and the secretary of defense," Taylor continued. "Until that mission changes, we will continue to put forth our maximum effort to safely evacuate as many people as possible, and we will keep you updated."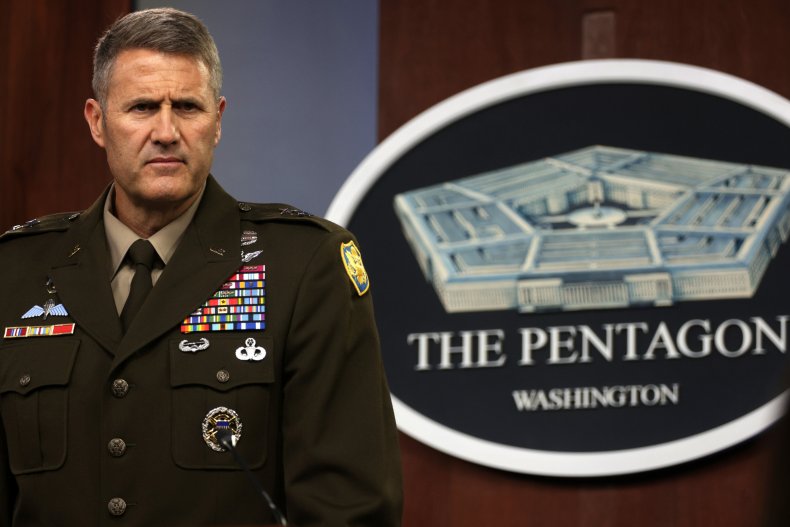 John Kirby, a Pentagon spokesperson, spoke about preserving security at the airport. He said while military operations are winding down in the country, the U.S. military and its allies will continue securing Hamid Karzai International Airport until the evacuation deadline.
"We will have to reserve some capacity in those last couple of days to prioritize the military footprint leaving, because we want to be able to keep it there as long as possible to do the job that it's intended to do," Kirby said. "We're going to continue to work the evacuation mission right up until the last day."
When asked about managing the security of the airport once the U.S. has left Afghanistan, Kirby said the U.S. will no longer be responsible for the site. He said the Taliban, "and I assume with the international community," will be in charge of the airport once U.S. military forces are gone.
Taylor noted that "the most senior commanders" from the U.S. forces are currently in constant communication with Taliban leaders that are manning checkpoints. The commanders are telling the Taliban to give airport access to individuals the U.S. wants evaluated.
Contingency plans were also discussed should an extension need to be put into place if the August 31 deadline proves to be insufficient time to evacuate all those that need to be brought out of Afghanistan.
"One of our main jobs is to make sure that the President has options. As he made clear yesterday, he wants to see this mission complete by the end of the month," Kirby said, adding that plans are being drafted should the August 31 goal not be met.
Kirby did not offer specifics regarding numbers or criteria regarding what would be required to discuss such an extension, saying only, "I'm just not going to get ahead of what the planners are doing."