A majority of Americans favor strong lockdown restrictions as President Donald Trump is pushing for the economy and schools to be reopened amid a spike in coronavirus cases, new polling data shows.
The latest AP-NORC survey found that more than half of U.S. adults wanted people to be required to stay in their homes if they weren't running essential errands, and a similar number backed the forced closure of restaurants and bars.
A requirement to wear face masks when outside was also backed by a large number of U.S. adults polled as U.S. coronavirus cases topped the 4 million mark.
Asked whether they favored or opposed a series of lockdown measures, 54 percent of Americans said bars and restaurants should be required to close in response to the COVID-19 outbreak.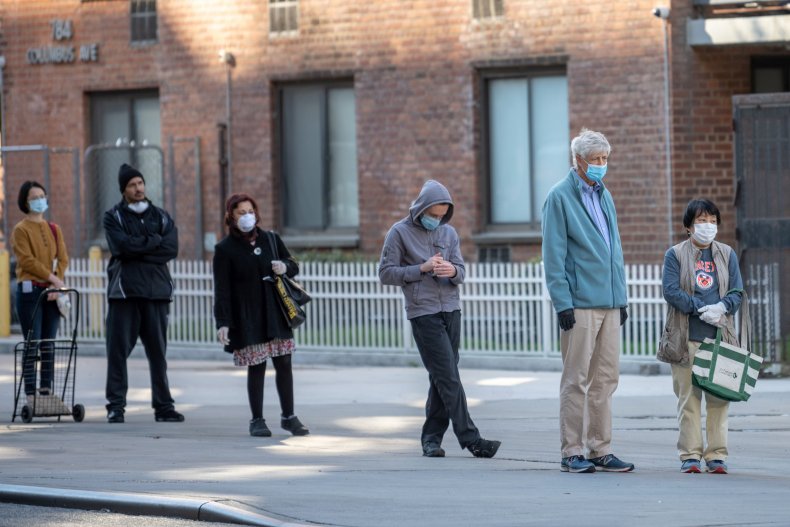 Fifty-three percent told pollsters that Americans should be made to stay in their homes unless they were on essential errands, such as buying food or medicine. When the same poll was conducted last month, 50 percent of U.S. adults said they would back the measure.
In the latest survey, pollsters found that two thirds of U.S. adults (66 percent) supported measures requiring gatherings to be limited to no more than 10 people, up from 59 percent who felt the same way in June.
A further three quarters of Americans said they supported measures requiring people to wear face masks when they're out in public. By comparison, roughly one in eight Americans said they opposed the idea.
AP-NORC pollsters also found that most Americans were more concerned about curbing the spread of COVID-19 than reviving the U.S. economy, with 72 percent saying lockdown measures should be put in place, even if they damaged the economy.
A little more than a quarter of U.S. adults (27 percent) said the economy's health was a bigger priority than curbing the spread of the virus.
Trump's administration has repeatedly pushed for the U.S. economy to reopen over the past few months, with the president first unveiling a three-phase plan for restarting the economy in mid-April.
Speaking to Fox News on Thursday last week, Trump predicted the U.S. would have "great" third quarter GDP figures and a "great year next year," despite some states reimposing lockdown measures.
"We're going to have a great year next year. We're going to have a great third quarter," he said. "And the nice thing about the third quarter is that the results are going to come out before the election."
AP-NORC surveyed more than 1,000 Americans between July 16 and July 20 for its latest poll. Its margin of error stands at 4.3 percentage points.