Trump's 3 Phase Plan to Reopen America's Economy Explained
President Donald Trump unveiled guidelines for ending lockdowns and stay-at-home orders due to the coronavirus pandemic. The three-phased guidelines, called Opening Up America Again, are for state and local authorities to follow when reopening their economies.
Though Trump has previously said that he has the authority to lift state lockdowns, the power to reopen states remains with the governors. The Opening Up America Again plan is a guideline, not an order, and state governors are not required to follow the plan.
Some states are joining forces to decide how they will begin lifting their lockdown. California, Oregon, and Washington have teamed up "to work together on a shared approach for reopening our economies," according to a statement. An East Coast group, made up of Massachusetts, New York, New Jersey, Connecticut, Pennsylvania, Delaware, and Rhode Island, will also work together to develop a reopening plan.
According to an introduction to the guidelines, the plan is "based on up-to-date data and readiness, mitigates risk of resurgence, protects the most vulnerable," and is "implementable on statewide or county-by-county basis at governors' discretion."
Before beginning the three-phase process, Trump recommends that the states must meet the following criteria:
A downward trajectory of influenza-like illnesses and COVID-19 syndromic cases reported within a 14-day period.
A downward trajectory of documented cases or positive tests as a percent of total tests, within a 14-day period.
Hospitals are treating patients without crisis care and have a robust testing program in place for at-risk healthcare workers, including emerging antibody testing.
Once states meet these criteria, Trump recommends that they begin the first stage of lifting the lockdown.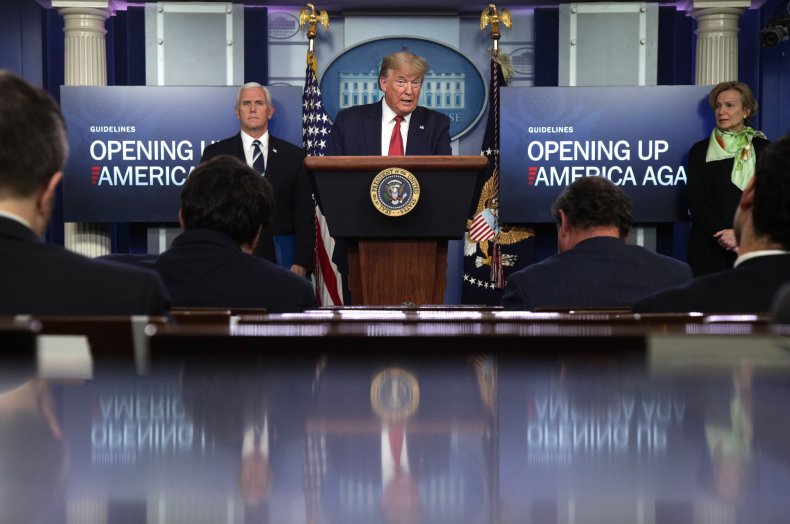 Phase One of the Opening Up America Again Guidelines
When a state enters phase one, according to the guidelines, individuals should continue to social distance when in public, and social settings of more than 10 people should be avoided. Individuals should minimize non-essential travel, and follow the Centers for Disease Control and Prevention (CDC) guidelines regarding self-isolating following travel.
Vulnerable individuals should continue to stay at home and members of their households should be aware that returning to work where distancing isn't practical risks passing on the coronavirus to the vulnerable person.
The guidelines define vulnerable people as "elderly individuals, individuals with serious underlying health conditions, including high blood pressure, chronic lung disease, diabetes, obesity, asthma, and those whose immune system is compromised such as by chemotherapy for cancer and other conditions requiring such therapy."
Employers should continue to encourage their employees to work remotely, when possible, and return to work in phases. Additionally, employers should close common areas, minimize non-essential travel, and consider special accommodations for vulnerable employees.
During phase one, schools, daycare centers, and camps should remain closed, and visits to senior living homes and hospitals should be prohibited. Large venues, like dine-in restaurants, movie theaters, sports venues can reopen under strict physical distancing protocols.
Gyms can reopen if they adhere to strict physical distancing and sanitation protocols, but bars should remain closed.
Additionally, elective surgeries can resume on an outpatient basis at facilities that adhere to Centers for Medicare and Medicaid Services (CMS) guidelines.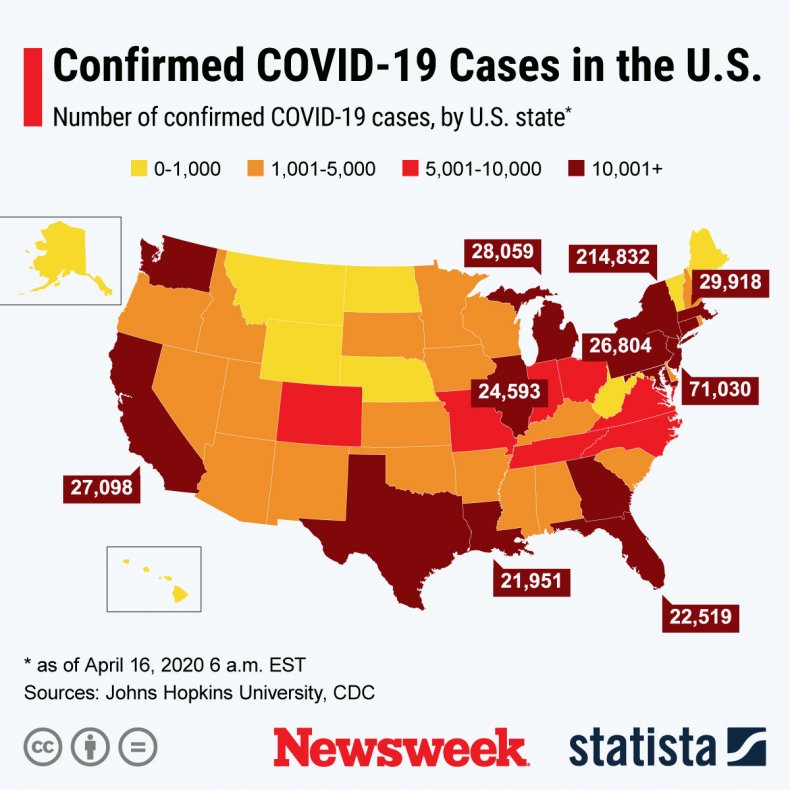 Phase Two of the Opening Up America Again Guidelines
During phase two, vulnerable individuals should continue to stay at home. Individuals should continue to social distance, but social settings of more than 50 should be avoided. Non-essential travel can resume.
Employers should continue to encourage their employees to work remotely, should keep common areas closed, and should continue to consider special accommodations for the vulnerable population.
In phase two, schools, daycare centers, and camps can reopen, and bars can open with reduced standing-room occupancy.
Phase Three of the Opening Up America Again Guidelines
Vulnerable individuals no longer have to stay at home but should practice social distancing and minimize their exposure to social settings where distancing may not be practical. Low-risk populations should minimize their time spent in crowded environments.
Employers can allow their workers to return to work in phase three.
Visits to senior care facilities and hospitals can resume, but those who interact with residents and patients must maintain high standards of hygiene. Large venues, like movie theaters and sports venues, can operate under limited physical distancing protocols. Bars can operate with increased standing room occupancy.
Guidelines to be followed throughout all phases
Continue to wash hands with soap and water or use hand sanitizer, especially after touching frequently used items or surfaces.
Avoid touching your face.
Sneeze or cough into a tissue, or the inside of your elbow.
Disinfect frequently used items and surfaces as much as possible.
Strongly consider using face coverings while in public, and particularly when using mass transit.
People who feel sick should not go to work or school and should contact and follow the advice of their medical provider.
Centers for Disease Control and Prevention Advice on Using Face Coverings to Slow Spread of COVID-19
CDC recommends wearing a cloth face covering in public where social distancing measures are difficult to maintain.
A simple cloth face covering can help slow the spread of the virus by those infected and by those who do not exhibit symptoms.
Cloth face coverings can be fashioned from household items. Guides are offered by the CDC.
Cloth face coverings should be washed regularly. A washing machine will suffice.
Practice safe removal of face coverings by not touching eyes, nose, and mouth, and wash hands immediately after removing the covering.
World Health Organization advice for avoiding spread of coronavirus disease (COVID-19)
Hygiene advice
Clean hands frequently with soap and water, or alcohol-based hand rub.
Wash hands after coughing or sneezing; when caring for the sick; before, during and after food preparation; before eating; after using the toilet; when hands are visibly dirty; and after handling animals or waste.
Maintain at least 1 meter (3 feet) distance from anyone who is coughing or sneezing.
Avoid touching your hands, nose and mouth. Do not spit in public.
Cover your mouth and nose with a tissue or bent elbow when coughing or sneezing. Discard the tissue immediately and clean your hands.
Medical advice
Avoid close contact with others if you have any symptoms.
Stay at home if you feel unwell, even with mild symptoms such as headache and runny nose, to avoid potential spread of the disease to medical facilities and other people.
If you develop serious symptoms (fever, cough, difficulty breathing) seek medical care early and contact local health authorities in advance.
Note any recent contact with others and travel details to provide to authorities who can trace and prevent spread of the disease.
Stay up to date on COVID-19 developments issued by health authorities and follow their guidance.
Mask and glove usage
Healthy individuals only need to wear a mask if taking care of a sick person.
Wear a mask if you are coughing or sneezing.
Masks are effective when used in combination with frequent hand cleaning.
Do not touch the mask while wearing it. Clean hands if you touch the mask.
Learn how to properly put on, remove and dispose of masks. Clean hands after disposing of the mask.
Do not reuse single-use masks.
Regularly washing bare hands is more effective against catching COVID-19 than wearing rubber gloves.
The COVID-19 virus can still be picked up on rubber gloves and transmitted by touching your face.