Trump Claims He Can Override State Lockdowns as Democratic Governors Make Coordination Plans
President Donald Trump on Monday claimed that he has "total authority" to override state governors' stay-at-home orders if they conflict with his plan to reopen the country's economy by relaxing the social distancing measures meant to hinder the spread of COVID-19.
While Trump and some Republican Governors have pushed for an early easing of the crippling economic restrictions that have created the deepest recession since the Great Depression, nine Democratic controlled states signaled on Monday they would set their own time table.
Governors of California, Oregon and Washington said they would work together to ease lockdowns designed prevent a flood of patients from overwhelming hospitals. They declined to set a date for reopening for business.
Six states in the northeast, including the hardest hit states of New York and New Jersey were even more circumspect.
"Study the data, study the research, study the experiences of other countries, and give us guidelines and parameters to go forward," New York's Andrew Cuomo said of his plans to work with fellow regional governors.
Later on Monday, Massachusetts Republican Governor Charlie Baker took his state into the northeast coalition, while on Friday, Texas Republican Governor Greg Abbott said he would give details of an executive order this week that would allow businesses to reopen and keep people safe.
Nearly all 50 states are currently under gubernatorial executive orders requiring residents to remain in their homes and ordering all but essential businesses to remain closed.
Under the Constitution, the federal government has wide latitude to regulate commerce between states, but the 10th Amendment states that powers which are "not delegated to the United States by the Constitution, nor prohibited by it to the States, are reserved to the States respectively, or to the people."
Because state governors—not the president—have the power to issue orders to close businesses and impose other measures within their states' borders, it has been governors who have imposed the social distancing measures recommended by public health experts, including restricting large gatherings, limiting travel within their states and prohibiting certain businesses from operating.
Collectively, those orders have contributed to unemployment claims not seen since the Great Depression, as businesses have shed employees or shuttered entirely.
Since the beginning of the COVID-19 pandemic, Trump has routinely used this federal-state division in authority to explain why his administration has not used the Defense Production Act, a Korean War-era law allowing the federal government to regulate the procurement and distribution of needed supplies during a national emergency, to aid states' efforts to procure needed supplies such as Personal Protective Equipment for health care workers or ventilators for COVID-19 patients.
He also explained his decision to not issue any sort of national stay-at-home order as resulting from the Constitution placing such decisions squarely in the hands of state governors, not the federal government.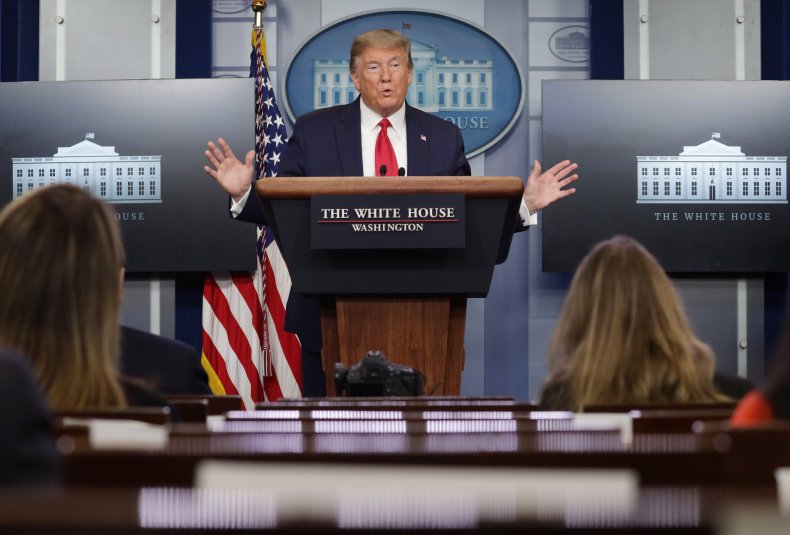 But as he looks to claim a victory in what he calls "the war against the virus," Trump has abruptly changed course. Trump first signaled this reversal in a series of tweets Monday morning in which he claimed that the idea that governors alone have the authority to lift the very social distancing measures they'd imposed to be a creation of "Fake News Media" looking to create "conflict and confusion."
"Let it be fully understood that this is incorrect," Trump tweeted. "It is the decision of the President, and for many good reasons."
When asked what provision in the Constitution gives him the power to "open or close state economies," Trump claimed that "numerous provisions" existed that conferred such authority on him.
He later added that he "allowed" governors to exercise their own authority by ordering businesses and schools closed, and offered no other explanation, writing, "I'm gonna put it very simply, the President of the United States has the authority to do what the President has the authority to do, which is very powerful."
"The President of the United States calls the shots," he declared, adding later that governors of the 50 states "can't do anything without the approval of the President of the United States."
Pressed further on how he'd react if a governor refused to follow what could be a legally dubious presidential order to "reopen" his or her state, Trump said he thought that would be "something that's not going to happen," adding later that the states on the East and West Coasts of the U.S. that have agreed to work together to reopen their economies are run by "a couple of bands of Democrat governors" who would acquiesce to his authority in the end.
"The authority of the President of the United States having to do with the subject we're talking about is total," he said.
Update 4/13/2020, 11:30 p.m.: This article was updated to include that Massachusetts has joined the northeast coalition of states.