Americans Blame Donald Trump and the GOP for Looming Government Shutdown: Poll
Americans would blame Donald Trump and the Republican Party rather than congressional Democrats for the looming U.S government shutdown, according to a new USA Today/Suffolk University poll.
Forty-three percent of those surveyed said they would blame the president and the GOP for the shutdown, while 24 percent would hold congressional Democrats responsible; 30 percent said they'd regard both sides as equally at fault.
Read more: Adam Schiff wants to know if Trump's Deutsche Bank accounts show he is "compromised" by Russian money laundering
An overwhelming majority—54 percent to 29 percent—said they opposed the shutdown that Trump had threatened unless Congress provided $5 billion funding for his wall along the U.S.-Mexico border.
The poll found a sharp partisan divide, with 83 percent of Democrats opposed to a shutdown, whereas two-thirds of Republicans supported it.
The nationwide survey of 1,000 voters was taken by landline and cellphone last week. It echoed the results of a Marist survey published Monday, which found that 69 percent of Americans did not believe funding for the wall should be a priority for Congress.
It found that 57 percent of Americans believed Trump should broker a compromise to prevent a shutdown, while 36 percent said he should refuse to compromise.
A government shutdown Friday looks increasingly likely, with the White House refusing to budge on its demand for $5 billion in funding for the wall, and Democrats firm in opposing it.
"We're going to do whatever is necessary to build the border wall to stop this ongoing crisis of illegal immigration," said White House senior adviser Stephen Miller, reported The Associated Press.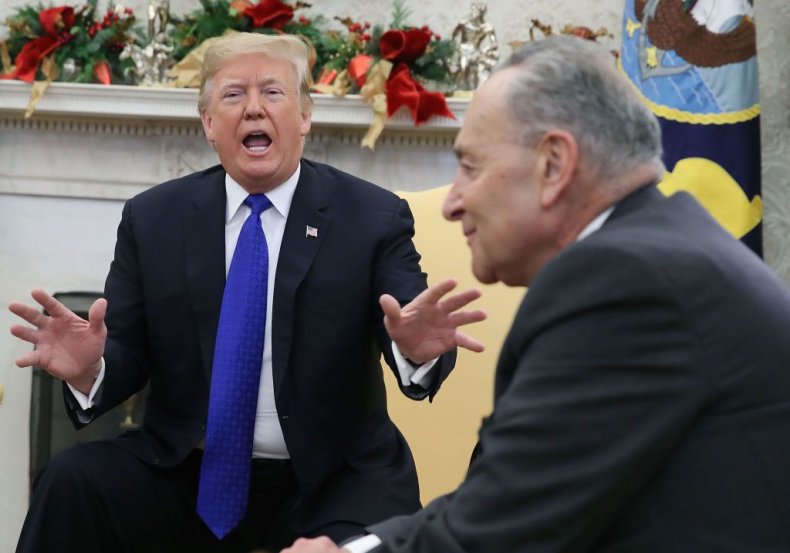 Asked if that meant a government shutdown, he said, "If it comes to it, absolutely.
"At stake is the question of whether or not the United States remains a sovereign country," Miller told CBS News's Face the Nation. "The Democrat Party has a simple choice. They can either choose to fight for America's working class or to promote illegal immigration. You can't do both."
Democrats have proposed $1.6 billion for fencing upgrades and enhanced border security, and Senate Minority Leader Chuck Schumer said Sunday it was up to Trump to decide whether the shutdown went ahead and federal government workers went home without pay during the Christmas holidays.
"President Trump should understand, there are not the votes for the wall in the House or the Senate," Schumer said on NBC News's Meet the Press. "Even the House, which is majority Republican, they don't have the votes for his $5 billion wall plan... And we should not let a temper tantrum, threats, push us in the direction of doing something that everybody, even our Republican colleagues, know is wrong."