Watch: Americans Call for Donald Trump Impeachment in New Ad Campaign Targeting Congress
With Congress no closer to pursuing impeachment proceedings against President Donald Trump, a campaign aimed at removing him from office is launching a more than $1 million national television ad campaign using voices of the American people.
The first ad, which contains footage from Tom Steyer's Need to Impeach campaign's town hall in Denver earlier this year, was set to air on cable networks nationwide starting Friday, campaign spokesman Erik Olvera told Newsweek.
Related: Trump Impeachment Parties, Featuring 'Comey Cake Balls,' Try to Entice Congress to Remove President
"My question is, why hasn't Congress started impeachment proceedings given what we know, and they probably know more," Denver resident Phyllis Hanfling said in the ad.
Another Denver resident, Cheryl Courtney, said, "Well I'm just grateful that everybody—that I'm not the only that feels that—Trump needs to be impeached."
The ad featured Need to Impeach founder Steyer, a major Democratic donor who is paying just over seven figures for the ad series to run.
"I think that if you speak to congresspeople privately, Democrats and Republicans acknowledge that this is a reckless, dangerous and lawless president. For them, political safety is what is driving them to sweep it under the rug," Steyer said of Trump. "If we don't stand up for the basic values of America, if we normalize this behavior, he will continue, and he will push it every single time he gets away with it."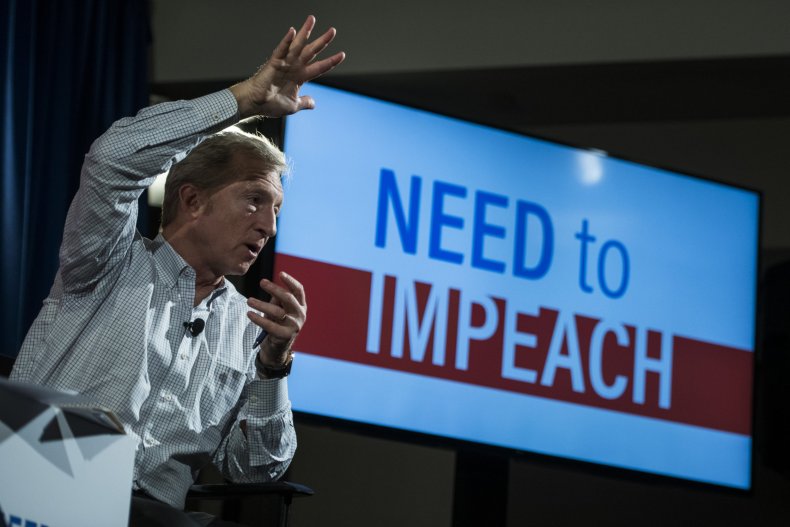 Congress has not considered initiating impeachment proceedings since January, when a forced vote in the House of Representatives failed 355-66. Even as Need to Impeach continues to collect petition signatures (now numbering more than 5.3 million) demanding Congress to remove Trump, Democratic leaders have insisted that they will wait for results from special counsel Robert Mueller's Russian investigation.
The campaign is investing in the ad series "hoping that our members of Congress will hear and listen and will start moving on the issue," Olvera said.
"What we're really doing is uplifting the voices of people across the country so the people they elected to represent them will ultimately hear them and will represent their will," he said, referencing an April 26 Quinnipiac University poll in which 71 percent of Democrats indicated they would like to see impeachment proceedings against Trump begin if the Democratic Party wins control of the House in the midterm elections.
A second ad by Need to Impeach from its town hall in Columbia, South Carolina, is slated to start airing on Wednesday.
Trump has "lied over and over again," Columbia resident Gerald McNair said in the ad.
"President Trump has made an abomination of the office," added Susan Smith of Pawleys Island, South Carolina.
The campaign, which intends to spend $40 million on its efforts this year, plans to launch a third video from its Minneapolis town hall within the next week and a half. And that may just be the start, with more town halls planned across the U.S. to reach a goal of 30 meetings by August.
"We're actually going to make a lot more," Olvera said of the commercials. "I think once people see and hear from real people in the community, they're going to get a better understanding of why this is such an important issue."