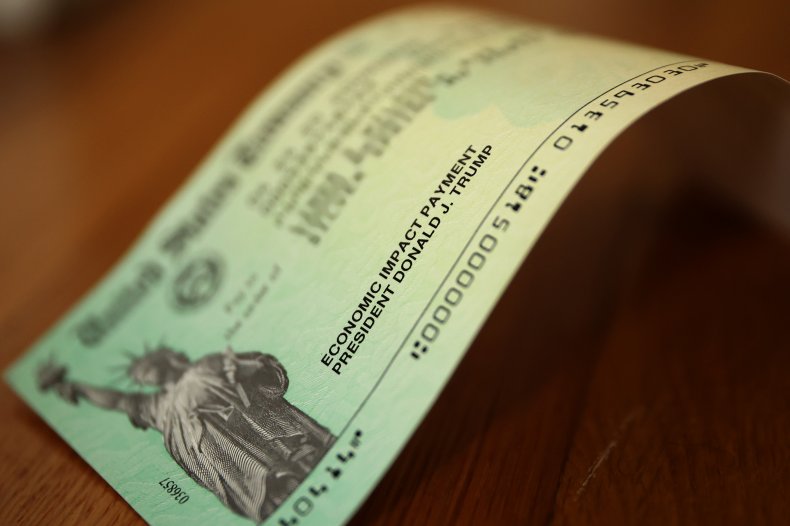 A year after most eligible Americans received—and probably spent—the first federal stimulus checks of the COVID-19 era, the Internal Revenue Service continues to sit on roughly $2.1 billion in payments that were never accepted by their intended recipients. In all, according to the IRS, of the roughly 160 million payments that were sent out in the first round of stimulus following the passage of the $2.2 trillion Coronavirus Aid, Relief, and Economic Security (CARES) Act in March of 2020, about 1.25 million have never been cashed or were returned or paid back to the U.S. Treasury.
Pennsylvanians, Vermonters, Montanans and Michiganders—three blue states and one red—were the most likely to leave their money on the table, typically $1,200 per adult and $500 for children under 17. Arizonans and Texans were the least likely to pass up the stimulus payments from Uncle Sam, according to a Newsweek analysis of data provided by the IRS in response to a Freedom of Information Act request; both states have Republican governors but split the 2020 presidential vote, with Joe Biden ultimately winning typically-red Arizona by less than 10,500 votes. (For the full breakdown by state, see the table below.)
The uncashed or returned first-round stimulus payments represent less than one percent—0.78 percent, to be precise—of the total $270 billion the IRS sent out. That small percentage has impressed observers tracking the economic impact of the effort.
"Taking the data at face value, it does indicate the IRS did a remarkable job of getting about 160 million checks out the door and doing it in a relatively timely manner, which is not easy when you're sending them to a lot of people who are not always easy to reach," says Shai Akabas, director of economic policy at the Bipartisan Policy Center, a non-partisan D.C.-based think tank. "Like any operation on this scale, an error rate of one to two percent would not be surprising. This surpasses that."
Indeed, by early May 2020, the IRS said it had distributed 130 million payments totaling $218 billion. The Treasury Department and the IRS worked through the rest of the year to reach millions of homeless, rural poor and other disadvantaged Americans to ensure that they got their checks, and by October the number of payments that had not found their recipients was down to about 9 million. The effort included connecting with homeless shelters, legal aid clinics and translating information about the payments into more than 35 languages.
As of February 2021, the IRS announced that all 160 million payments had been issued. That brought the average check to $1,687 as most payments accounted for more than one person.
There were glitches, though. In June, the Government Accountability Office said $1.4 billion had been sent to dead people by mistake. Uncashed checks were voided and survivors were asked to return the money, but those instances were not included in the new data provided, an IRS spokesperson said.
Success Breeds Success
Observers say the efforts in the first round of direct payments made it significantly easier, quicker and more accurate for the IRS to distribute the second and third rounds of stimulus payments approved by Congress, in December under the $900 billion stimulus bill and in March under the $1.9 trillion American Rescue Plan. For example, the government sent out 90 million payments within a week of the passage of the March bill; it took three weeks to hit that mark for the CARES Act payments.
"It was slower in the first round, but they got better as they went along and got faster with each round," says Rob Berger, an economic adviser and personal finance columnist for Forbes.
While CARES Act physical checks, if they were sent and lost, become uncashable and void after 12 months, recipients can contact the IRS to have them re-issued, a spokesperson said, so the number of payments still unreceived may fall further. Likewise, people who believe they didn't receive checks they were due can request the money by filling in the missing sum on line 30 of the 1040 or 1040-SR tax forms for 2020 (filing deadline: May 17, 2021); most tax software has been programmed to ask whether you received your money or believe it is owed to you.
The numbers provided to Newsweek for the CARES Act did not break out which payments were uncashed and which were returned, presumably by the post office or by recipients who did not want them. In June, concerns about how to reach the "unbanked," Americans without bank accounts, led the IRS to issue prepaid debit cards to about 2 million people. The National Consumer Law Center, an anti-poverty advocacy nonprofit, issued an alert in July, in fact, because they received reports of people throwing the card away believing it was a scam. It is unclear if some of the unused money counted in the IRS report is among those discarded cards.
The IRS did, however, provide a breakout for each state and the District of Columbia that showed the rate of uncashed checks varied modestly based on geography. In raw numbers, California, the most populous state, also has the most uncashed checks at 123,265, followed by Florida, the third most populous state, with 92,018. Least-populous Wyoming left behind the fewest, 2,559, followed by D.C. with 2,582, and Alaska, with 2,915. On a per capita basis, though, just 0.15 percent of Arizonans failed to take their money on the low end and 0.56 percent of Pennsylvanians did so on the high end.
"It's hard for anyone to know why some people didn't cash their checks or returned them," Akabas says. "There are actually some people who make donations to pay down the federal debt out of the goodness of their heart. And some people really don't want an ounce of government in their lives."
How Many Americans Said No to Stimulus Checks—and Where
Here is a breakdown of the number of first-round stimulus payments that went uncashed or were returned to the U.S. Treasury, ranked by the turndown rate in each state, from highest to lowest.
| | | |
| --- | --- | --- |
| State | Number of Uncashed Checks | Percent Per Capita |
| Pennsylvania | 72,252 | 0.56 |
| Vermont | 3,169 | 0.49 |
| Montana | 5,087 | 0.47 |
| Michigan | 46,140 | 0.46 |
| Indiana | 30,251 | 0.45 |
| Hawaii | 6,403 | 0.44 |
| South Dakota | 3,885 | 0.44 |
| North Dakota | 3,411 | 0.44 |
| Wyoming | 2,559 | 0.44 |
| Missouri | 26,279 | 0.43 |
| Wisconsin | 25,383 | 0.43 |
| Iowa | 13,725 | 0.43 |
| New Hampshire | 5,859 | 0.43 |
| Florida | 92,018 | 0.42 |
| Oregon | 17,613 | 0.42 |
| Kansas | 12,322 | 0.42 |
| New Mexico | 8,811 | 0.41 |
| West Virginia | 7,443 | 0.41 |
| Nevada | 12,354 | 0.4 |
| Maine | 5,426 | 0.4 |
| Alaska | 2,915 | 0.4 |
| Ohio | 46,383 | 0.39 |
| Washington | 30,051 | 0.39 |
| Minnesota | 22,498 | 0.39 |
| Colorado | 22,277 | 0.39 |
| Nebraska | 7.486 | 0.38 |
| Rhode Island | 4,190 | 0.38 |
| Illinois | 47,055 | 0.37 |
| Kentucky | 16,750 | 0.37 |
| Oklahoma | 15,717 | 0.37 |
| Connecticut | 13,352 | 0.37 |
| Idaho | 6,872 | 0.37 |
| Delaware | 3,675 | 0.37 |
| District of Columbia | 2,582 | 0.37 |
| New York | 72,988 | 0.36 |
| Tennessee | 24,786 | 0.36 |
| Maryland | 22,026 | 0.36 |
| Arkansas | 10,724 | 0.36 |
| North Carolina | 36,680 | 0.35 |
| South Carolina | 18,959 | 0.35 |
| New Jersey | 31,679 | 0.34 |
| Alabama | 16,859 | 0.34 |
| Louisiana | 15,927 | 0.34 |
| Mississippi | 9,928 | 0.34 |
| Georgia | 35,046 | 0.33 |
| Virginia | 28,494 | 0.33 |
| California | 123,265 | 0.31 |
| Utah | 9,961 | 0.3 |
| Texas | 88,345 | 0.22 |
| Arizona | 30,790 | 0.15 |
SOURCE: Internal Revenue Service, Newsweek analysis