Americans Are Less Comfortable Visiting Restaurants, Gyms Amid Virus Spike
Americans have become less comfortable about visiting cinemas, restaurants and gyms as the U.S. witnesses an uptick in coronavirus cases, according to new polling data.
The latest consumer comfort survey by Morning Consult found little more than a third of U.S. adults (35 percent) were comfortable with going out to eat as of Friday last week.
But when the same poll was conducted between June 9 and June 11, 41 percent of Americans said they would feel confident about eating out at a restaurant.
Morning Consult pollsters found a similar decline in comfort with going to museums over the same period, with 25 percent of Americans saying they would be comfortable going to a museum today—a five-point fall on last month.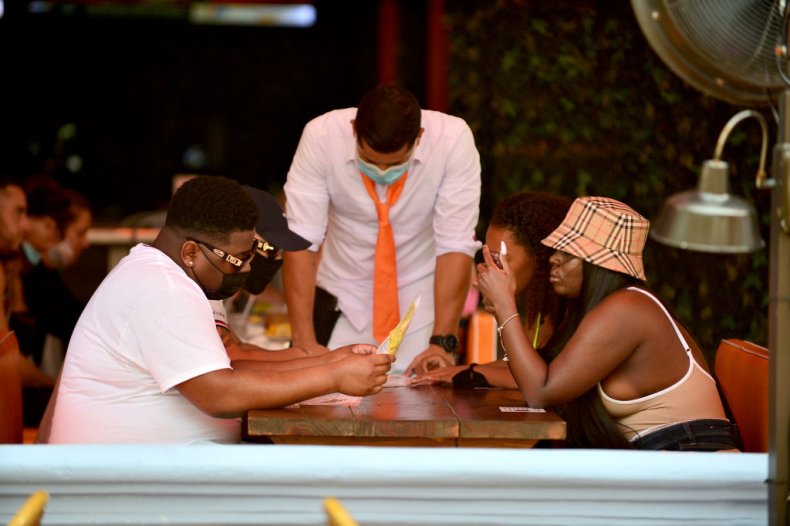 Asked if they would feel comfortable going to the movies amid the ongoing pandemic, one in five Americans said they would be happy to visit the cinema. Twenty-three percent felt the same way in early June.
By comparison, a slimmer 15 percent of U.S. adults feel comfortable going to a concert today, compared to 21 percent who felt comfortable with the idea last month.
Americans are also less comfortable about going back to their workouts, with 18 percent telling pollsters they would feel comfortable going to a gym, down four points from 22 percent in early June.
The thought of traveling abroad sparked the least confidence among polled Americans. Ten percent said they would be happy to vacation overseas, down three points from 13 percent last month.
Consumer comfort levels with going on vacation more broadly, whether inside or outside America's borders, were stagnant, with one-third of U.S. adults saying they would be happy to take a holiday.
Morning Consult surveyed between 1,501 and 2,200 U.S. adults in its consumer confidence tracker polls. Their margins of error range between 2 and 3 percentage points.
The pollster published the results of its latest consumer comfort tracker survey as the U.S. seven-day average of new coronavirus cases hit a record for the 27th straight day on Monday.
According to the Johns Hopkins University COVID-19 tracker, more than 2.9 million confirmed COVID-19 cases have been recorded in the U.S. as of Tuesday morning.
In several states hit hard by the resurgence in coronavirus cases—such as Florida, Arizona and Texas—thousands of new positive tests have been reported on a daily basis since late June.