Americans 'Must Have No Stigma' About Wearing Masks, Mitch McConnell Says
In a sharp contrast to President Donald Trump, Senate Majority Leader Mitch McConnell on Monday was clear about the importance of wearing masks to help stem the rise in coronavirus cases happening in states across the country as businesses reopen.
"To name just one example, we must have no stigma—none—about wearing masks when we leave our homes and come near other people," the Kentucky Republican said on the chamber floor. "Wearing simple face coverings is not about protecting ourselves. It is about protecting everyone we encounter."
The Senate leader's remarks come the day after a senior GOP senator urged Trump to wear a face mask to set an example and amid a steady increase in new cases, with some states seeing record daily cases and are being forced to re-close portions of their economies.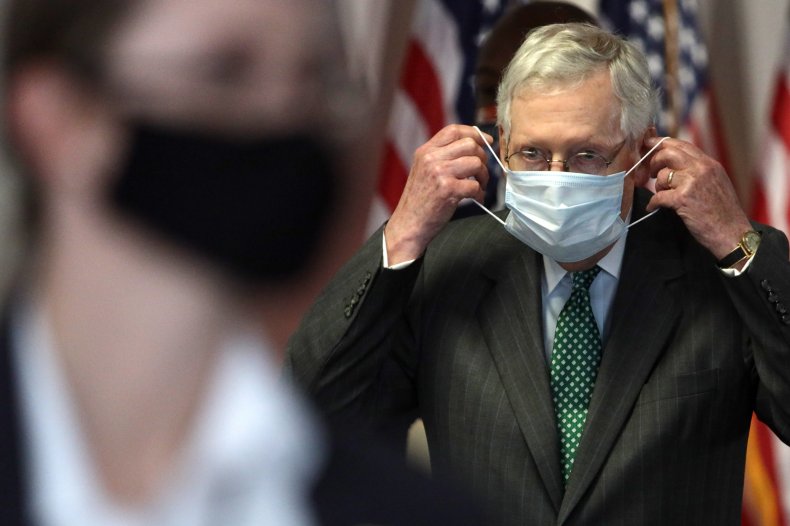 Senator Lamar Alexander, a senior Tennessee Republican who is not seeking re-election and chairs the health committee, said over the weekend it would "help" eradicate the political stigma surrounding face coverings if Trump would don one himself. The president has never been seen before wearing a mask, and he's downplayed their effectiveness and the pandemic's severity.
"If wearing masks is important and all the health experts tell us that it is in containing the disease in 2020, it would help if from time to time the president would wear one to help us get rid of this political debate that says if you're for Trump, you don't wear a mask, if you're against Trump, you do," Alexander told CNN's Inside Politics.
"I wish the president would wear a mask when it's appropriate because millions of Americans admire him, and they would follow his lead," Alexander continued. "My suggestion to the president all along and for the other political leaders is let the experts do the talking about medicine."
Though masks were not recommended at the onset of the virus' outbreak in the United States, the Centers for Disease Control and Prevention has since said they help curb the spread of the illness.
The remarks from McConnell and Alexander comes as roughly half of states are experiencing a per capita rise in infections after reopening businesses. Texas, Florida, Arizona, Mississippi, Nevada and South Carolina are some experiencing the highest per capita increases. States likes Texas and Florida have had to shutter some businesses once again. The Sunshine State has broken its record daily cases several times in the past few weeks.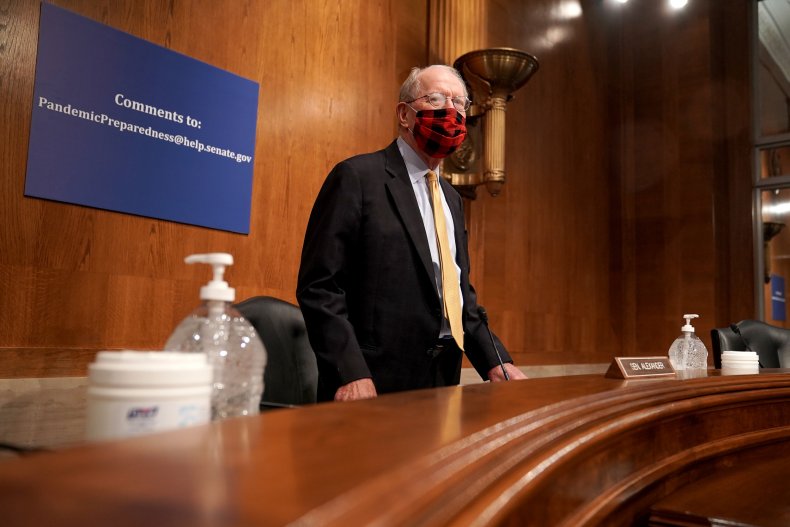 "In fact, the more we hate the pain and suffering that accompanied the strict stay-home guidelines a few months ago, the happier we should be to take responsible, small steps every day to ensure our country can stay on offense against the virus," McConnell said.
But his message is far different from Trump's, who blames the rise in cases on the country's improved testing capabilities. The president recently told The Wall Street Journal that masks are "a double-edge sword" because while it may be safer and recommended, he would subject himself to criticism for how he looks wearing them.
But Republicans, both on Capitol Hill and even in the Trump administration, are split on the idea of donning a mask in public. Vice President Mike Pence over the weekend in Texas urged people to wear masks, but the opinions of GOP lawmakers in Congress have varied widely.
Most Republican senators wear them, except for Senator Rand Paul (R-Ky.), who contracted the virus and said he believes he is now immune. (Health officials and experts have warned that the evidence on immunity is not yet conclusive.)
But in the House, an increasing number of Republicans have been witnessed by media outlets, including Newsweek, not wearing face coverings as they enter the chamber to vote.
After a closed-door lunch with GOP senators last week, which Pence attended, Senator Marco Rubio (R-Fla.) had a pointed message for anyone who was on the fence about masks: "Everyone should just wear a damn mask, like you guys are, like I am right now," he told reporters.