Republicans Split on Face Masks as Some GOP Lawmakers Urge Trump to Don One
Whether to don a face mask around others in public is a clear-cut issue for top health officials and experts when it comes to curbing the spread of coronavirus. But not so much for Republicans on Capitol Hill and President Donald Trump.
Despite the pandemic making a strong resurgence in the United States with a single-day record high of new cases on Thursday, Trump has disregarded critics who urge him to wear a mask and downplayed the severity of the pandemic. The president has even called for the U.S. to slow down its testing to decrease the amount of new cases and is back to holding campaign rallies with no social distancing regulations.
Meanwhile, GOP lawmakers are split, despite the Capitol Physician advising they wear masks in the building as some members and staffers have tested positive.
Some Republican senators have urged Trump to not only wear one and set an example for the country, but to promote the safeguard and urge the public to don masks when near others, which guidance from the Centers for Disease Control and Prevention now recommends. (At the onset of the pandemic, the CDC only advised the sick and those caring for them to wear masks, initially causing mass confusion).
"I'd prefer he do it," said Senator Marco Rubio (R-Fla.), whose state shut down bars once again on Friday as it becomes a new hotspot. "You know he's not going to do it. I'm not excusing it, obviously. I'd prefer he wore it just because people follow example."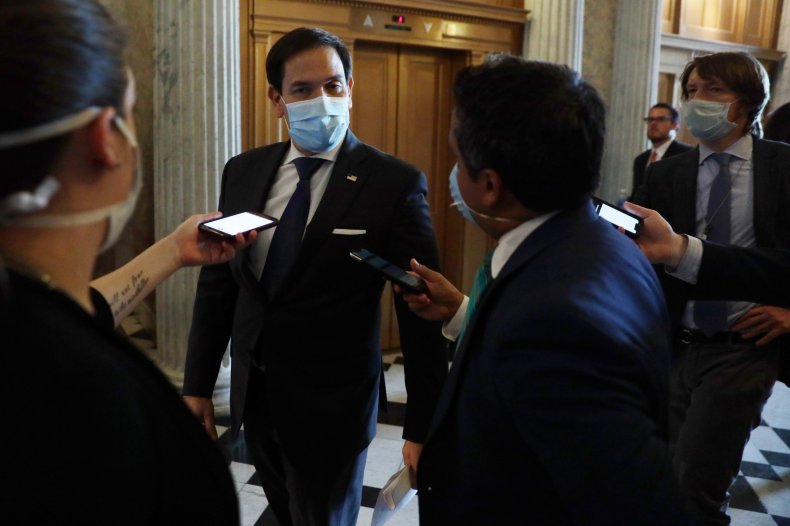 The Sunshine State lawmaker noted that Trump's lifestyle, which entails daily testing, provides him more leeway than the public.
Others suggested that while Trump should probably wear a mask, or at least not shun the practice, he won't do so.
"I mean, he obviously is not going to," Senator Mike Braun (R-Ind.) said, adding it's "not my style" to make fun of or criticize safety precautions. "I wouldn't necessarily do it that way."
Asked whether the president should promote wearing a mask to his more than 82 million Twitter followers, Senator Lindsey Graham (R-S.C.) responded: "Well, I don't think he's going to change where he's at on masks."
"He's got his own view of whether or not he should wear a mask, but my advice to people is if you're around strangers, try to stay six feet, wear a mask," the Trump ally continued. "Just use good common sense."
Senator Rick Scott (R-Fla.), speaking about the public and rising cases in his home state, said Floridians have "got to wear masks, we've got to social distance, you got to get more information out."
Most senators, Republican and Democratic alike, continue to don masks around the Capitol, aside from Kentucky Republican Senator Rand Paul. The former optometrist, who contracted the illness in March and has cited the questionable medical theory that he's now immune, told Newsweek last month that it was "conjecture" for health officials to say closing states and social distancing helped curtail the virus' spread.
The same cannot be said about mask wearing for Republicans in the House. Many of the more conservative members, including Reps. Jim Jordan (R-Ohio), Louie Gohmert (R-Texas) and Ted Yoho (R-Fla.), are frequently witnessed around the Capitol without a mask.
At an outside press conference in front of the Capitol on Thursday, few members of the conservative House Freedom Caucus donned masks or social distanced. Asked whether they'd advise the public to wear masks, Chairman Andy Biggs (R-Ariz.) said "it's up to them."
"Yep, it's up to them," added Gohmert.
The practice was so prevalent that House Speaker Nancy Pelosi last week directed committee chairs to begin requiring the wearing of masks while in committee hearings. She instructed for the removal of anyone who refused to follow the guidance.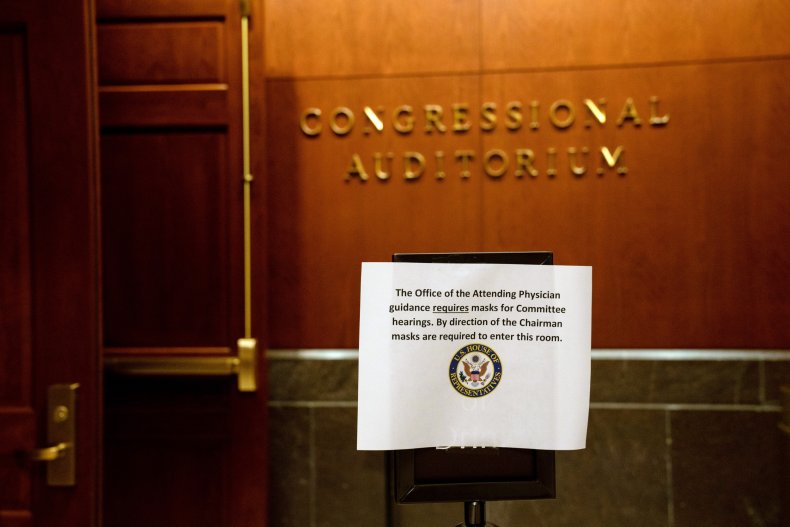 "When the president of the United States says he doesn't wanna wear a mask and understands the bad example—well, I don't know if he understands anything, but somebody over these must understand the bad example that it is to the country," the California Democrat told reporters Friday. "Science says wear a mask, test, trace, treat, keep your distance. The president doesn't support any of that, he has events that are counter to that."
At recent rallies in Tulsa, Oklahoma, and Phoenix, Arizona, the Trump campaign did not require the use of face masks or social distancing, but they did require attendees to sign a legal waiver in case supporters later contracted the virus. Since then, several campaign staffers have tested positive.
The White House's go-to line on masks has become that it's "a personal choice." Trump suggested to The Wall Street Journal last week that masks could be counterproductive and a "double-edged sword."
"People touch them. And they grab them and I see it all the time. They come in, they take the mask. Now they're holding it now in their fingers. And they drop it on the desk and then they touch their eye and they touch their nose. No, I think a mask is a — it's a double-edged sword," the president told the outlet.
Trump went on to imply that mask-wearing could even be a political statement aimed at him. Few people believe they would be criticized personally for wearing a mask in public, but Democratic voters are more likely than Republicans to feel those around them approve of the practice.
"It could be, yeah. It could be," Trump said. "But it could also be they feel better about it. I mean, I'm okay with it."