Republicans Push Local Leaders to Relax Social Distancing for States to Reopen Quicker
Republicans in Washington want their governors to pass the authority to mayors and local leaders as states begin to reopen, a move they argue would allow for a swifter relaxation of social distancing guidelines.
"To me, I never did like a one-size-fits-all," Sen. Mike Braun (R-Ind.) told Newsweek. He suggested businesses in rural parts of his state should've never had to close in the first place, including those deemed non-essential. "The biggest challenge you're going to have is all the things we don't see currently that could cascade economically down the road."
"It's antithetical to what our country stands for to have any one person decide when people open or close," Sen. Rand Paul (R-Ky.), who recovered after contracting COVID-19 himself, told Newsweek.
The push for localities to bear the brunt of the responsibility comes as the nation's states remain divided, grappling with how to resurrect their economies by allowing some industries and businesses to begin operating again amid the pandemic.
Paul pointed to Sweden as an example to argue it was "conjecture" when U.S. health officials and experts say safeguards, such as shuttering states, were necessary to flatten the curve and avoid overwhelming hospitals.
"Probably you could make the argument—and you can argue both sides—that governmental policy may have had no effect on this thing. That it basically ran its course in New York," Paul, who's an eye doctor, continued. "The science in all this isn't absolute and there are differences of opinions."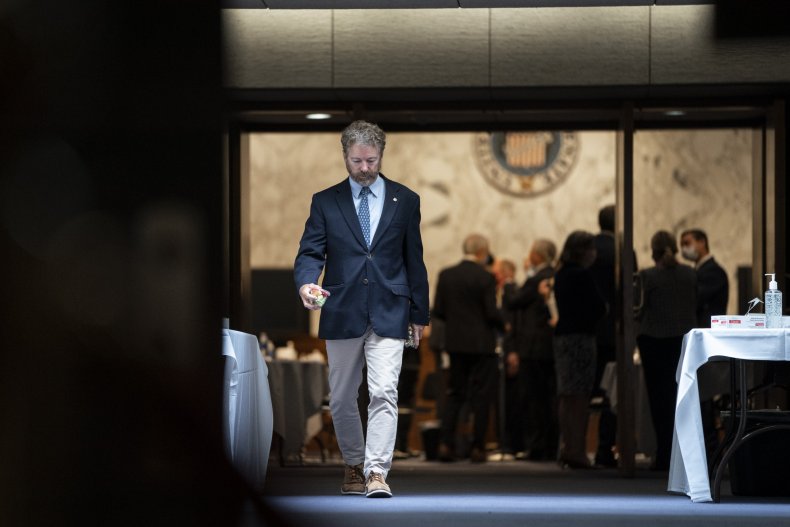 New coronavirus cases are still on the rise in 21 states. The national daily average is down slightly, but the number remains north of 20,000 people with more than a 1,000 daily deaths.
Despite the bleak numbers, nearly two dozen states—most of them led by Republican governors—have already begun to partially reopen while another half dozen will lift some restrictions in the next week. Some states have already reopened local economies on a country-by-county basis, such as Florida and Iowa. Twenty-two states and the District of Columbia remain shutdown.
Health officials, including Drs. Deborah Birx and Anthony Fauci on the White House coronavirus task force, have warned against states opening too swiftly amid fears the country's progress in containing the spread could be wiped away. A frequently cited model by the White House from the University of Washington's School of Medicine has nearly doubled its revised projection for U.S. death tolls, showing there could be 134,000 by August due to states prematurely reopening.
"That's why it's important to surveil the circumstances and then to make course corrections if things begin to get overheated," said Sen. John Cornyn (R-Texas).
Despite not meeting the White House's Phase 1 guidelines for testing, tracing and a two-week decline in new cases, states have moved ahead. And it hasn't stopped President Donald Trump himself from applauding states for easing restrictions. "Exciting to see our Country starting to open up again!" the president tweeted earlier in the day.
Trump, Republicans, conservative pundits and governors have argued the current economic scenario is not sustainable. Some states have even faced armed protesters with demonstrators ignoring social distancing and gathering in groups outside state capitals. A jaw-dropping 30 million people have filed for unemployment insurance in just six weeks since the onset of the health crisis, and Congress has dished out a total of nearly $3 trillion to try and right the capsizing ship that is the American economy.
"It's possible there will be some" deaths because of reopening, Trump told ABC News Tuesday. "We have to get our country back. People are dying the other way, too."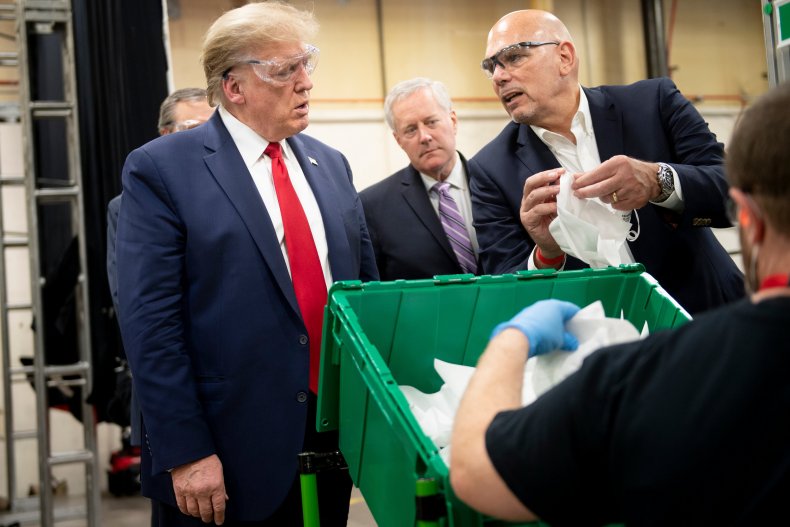 The GOP governors of Wyoming, Nebraska, Arkansas, Iowa and Missouri—Mark Gordon, Pete Ricketts, Asa Hutchinson, Kim Reynolds and Mike Parson—wrote in a Washington Post op-ed that their decisions to have limited closures was "collective proof that a one-size-fits-all approach is not the best way to address unique circumstances." Total confirmed cases are currently on the rise in three of those states: Missouri, Nebraska and Iowa.
Senator Joni Ernst (R-Iowa) pointed to her home county, which she said had one case that's already recovered, as an example for reopening less infected regions while keeping restrictions in place for harder-hit areas. Ernst praised Reynolds, her state's governor, for easing social distancing guidelines on a regional basis. Reynolds stated Monday that the "the reality is we can't stop the coronavirus."
"It's going to remain in our communities until we have a vaccine available," Reynolds said. "So, we have to learn to live with it without letting it govern our life."
Senator Josh Hawley (R-Mo.) said counties' guidelines should differ, given the varying degree of infection, and that the reopenings be gradual with partial business capacity.
"Give municipalities the ability to make those decisions in a way that is data driven and that matches the needs in their local community and is staged," he told reporters.
Hawley's Missouri colleague, Republican Sen. Roy Blunt, said that much like the "country is a big country, Missouri is a big state." The GOP leadership member said governors need to make their decisions "with consideration for parts of the state that shouldn't be treated like the rest of the states."
Conversely, Democrats have pushed for a more circumspect approach. Without naming states, Sen. Richard Blumenthal (D-Conn.) accused some with broader reopenings of "putting some people in danger."
"If we don't get the health part right, we're not gonna be able to reopen the economy or we may end up having to close it again," Sen. Michael Bennet (D-Col.) told Newsweek.
Those remarks mirrored what Ohio Governor Mike DeWine's message has been. He's cautiously rolled back his state's restrictions, making him stand out from other Republican governors. However, he's received praise and criticism for his more go-slow approach.
"These are decisions that are life and death decisions," he told Newsweek in an interview over the weekend. "We want people to understand the virus is still very much out there. It's not going away. It's not going to go away probably until we get a vaccine."