Trump Impeachment Hearings Have Done Nothing To Change Republican Minds, Poll Shows
As House Democrats presented impeachment articles against President Donald Trump on Tuesday, public support for the process has leveled off since October, according to an analysis of more than 50 national polls by FiveThirtyEight.
In light of the Democrats' investigation over the past few weeks, including several public hearings before the House Intelligence and Judiciary committees, lawmakers are moving forward with abuse of power and obstruction charges, which will be voted on sometime next week, Politico reported.
Though support shot up after House Speaker Nancy Pelosi announced the inquiry on September 24—and seemingly peaked after Trump had publicly asked two countries to investigate former Vice President Joe Biden and his son—Americans, and Republicans in particular, haven't budged much on impeachment.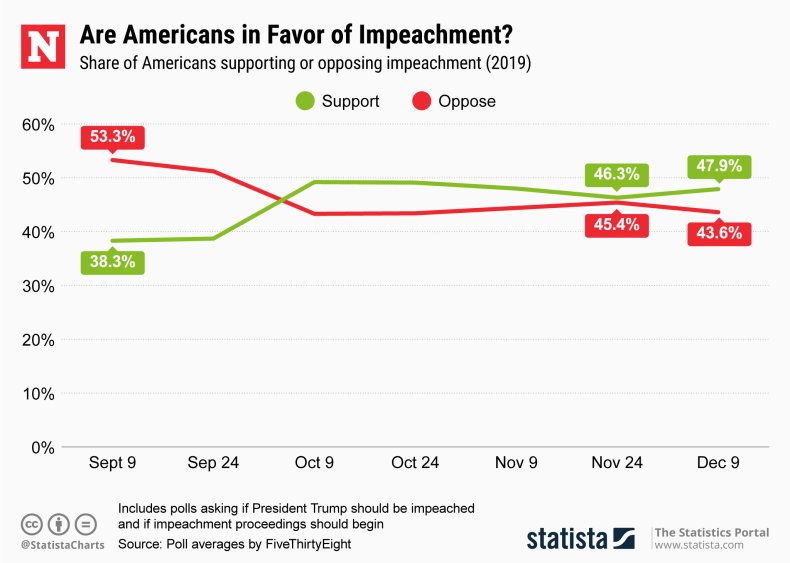 Given that GOP lawmakers, echoing Trump, have repeatedly decried the inquiry as unjustified, it's no surprise that public support for impeachment also falls squarely within party lines. According to FiveThirtyEight, just north of 9 percent of Republicans support impeaching the president, compared with nearly 43 percent of independents and 84 percent of Democrats.
That could be because Republicans are not tuning into the hearings, according to at least one survey by YouGov. While 56 percent of Democrats said they planned on watching "any part" of the impeachment hearings in a poll released November 15, only 31 percent of Republicans said the same. Independents were the least likely to watch them, at 28 percent.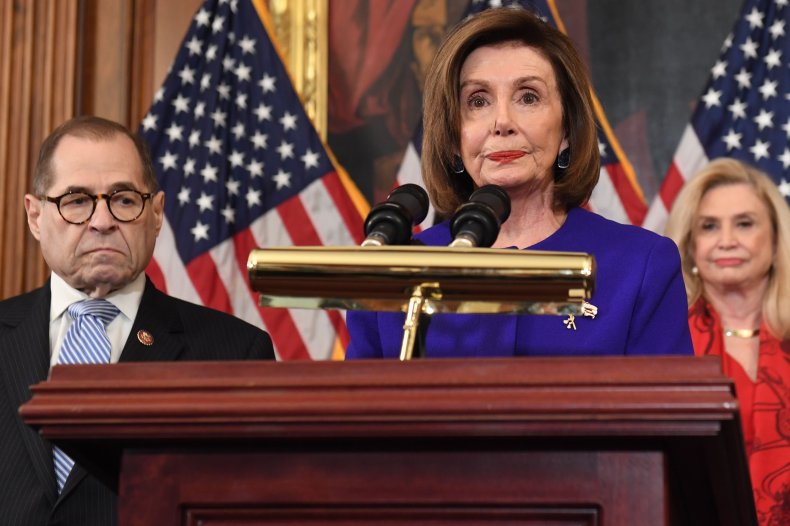 The investigation began when a whistleblower, reportedly a CIA officer, alerted the intelligence community's inspector general about Trump's July 25 phone call with Ukrainian President Volodymyr Zelenskiy. On the call, Trump repeatedly asked Zelenskiy to investigate the Bidens, according to the White House's rough transcript.
Recent House hearings featured several witnesses that said these efforts were not unique to the call and hung over U.S. foreign policy decisions. Trump not only withheld congressionally approved military aid to Ukraine but also followed up with its diplomats to ensure that Zelenskiy understood it was contingent on his acceding to Trump's request for a Ukrainian investigation of the Bidens, witnesses said.
Despite these allegations, a YouGov poll reported only 47 percent support for impeachment among 1,500 adults as recently as Monday, while just 45 percent agreed that the president withheld the Ukrainian aid in exchange for the requested Biden investigation. Slightly more than half agreed that Trump asked a foreign leader to investigate his political opponent, aid or no aid, according to the survey.
Notably, Trump also called upon China to investigate the Bidens in front of reporters on October 3.
Total support inches up to 52.4 percent when respondents were asked whether Congress should merely begin the process of impeachment, as opposed to impeaching and then removing the president from office after a Senate trial, according to FiveThirtyEight's analysis.