Americans' views on abortion are changing, but they're not all moving in the same direction.
A new poll from the Public Religion Research Institute found that Americans ages 18 to 29 were more likely to have changed their opinion on abortion rights in the last few years, and, if they had, they were more likely to have shifted in the direction of supporting a woman's right to choose. Older people, on the other hand, were less likely to report changing their minds on the abortion issue, and were more likely to report that they'd moved toward anti-abortion views, if they changed their minds at all.
When researchers asked about participants' personal beliefs—rather than their views on whether the procedure should be legal—60 percent of older respondents said they were personally opposed to abortion, while just 44 percent of younger respondents said the same.
"I think part of that is a clue to how younger people are seeing this, I think, less as a culture war, political issue, and more really as a health care issue," Robert Jones, the CEO of the institute, told NPR. "And that I think puts it in different political terrain for younger people today."
Jones said the paradigm shift has led to a "greater polarization between the generations" on abortion.
The research represents a marked change from a 2011 PRRI poll, which found that millennials were more torn about the morality of abortion, even though most of them agreed that it should be legal.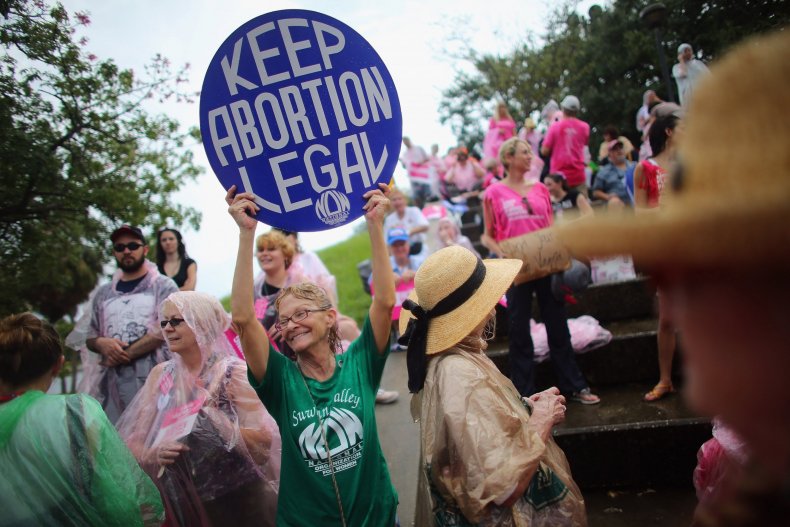 Anti-choice activists, however, maintain that their movement is young and thriving.
"Parents are passing on their pro-life views onto their children and raising up a new generation of pro-life leaders," Mallory Quigley, the communications director at pro-life organization Susan B Anthony List, told Newsweek last month. "Nancy Keenan famously stepped down [as president of NARAL Pro-Choice America] after seeing how young the pro-life movement was."
When Keenan resigned in 2012, she said it was because she thought it was time for a "new and younger leader" to take over her post. To Quigley's point, however, Keenan did point to NARAL's own polling at the time, which showed that young anti-abortion voters were more likely to consider abortion a "very important" voting issue than their abortion-rights counterparts. She didn't cite the polling as a reason for her leaving, but rather as evidence that the pro-choice movement had to approach the fight for abortion rights as an electoral one.
Reproductive rights advocates seem to have taken Keenan's advice: Since the election of President Donald Trump, organizations like NARAL, Planned Parenthood and the Women's March have sought to make abortion rights an issue at the ballot box.
In March, Planned Parenthood announced a $20 million investment in key midterm races across the country as part of a campaign called "March. Vote. Win." And just on Monday, the group rolled out another $30 million in funds along with progressive partners Color of Change PAC, Center for Community Change Action and the Service Employees International Union, in part to defeat anti-abortion candidates.
"Planned Parenthood is a winning issue," Kelley Robinson, a Planned Parenthood Votes spokesperson, told reporters last month. "Fighting for reproductive health care is an issue that wins elections. This is only the beginning of our political and electoral strategy that we really believe will protect and defend reproductive health care and Planned Parenthood in the years ahead."