'America's Got Talent': Where You've Seen Michael Winslow Before
America's Got Talent Season 16 is still airing its auditions on Tuesday nights, and the most recent episode featured an act from an '80s movie icon. On the July 13 edition of the NBC show, 62-year-old Michael Winslow appeared and showed off his skills as a sound effects creator to judges Simon Cowell, Heidi Klum, Sofia Vergara and Howie Mandel.
Winslow, who has been called "The Man of 10,000 Sound Effects," impressed the judges with what he called his "voicestumentalist" skills, as he delivered a stand-up comedy routine that saw him uncannily recreate the sound of airplanes and radios.
Who Is 'America's Got Talent' Contestant Michael Winslow?
If Winslow's face or ability with sound effects sounds familiar to you, it is likely to be through his work on a series of classic movies from the 1980s.
In 1980, the comedian made his debut in the stoner film Cheech and Chong's Next Movie, in which he made a brief appearance as what IMDb credits as a "Welfare Comedian."
His most famous role, however, came in 1984 as he appeared in the first of the Police Academy movies. In these, he plays Larvell Jones, a character that uses Winslow's ability with sound effects to great effect to play pranks on fellow Academy students and on criminals.
Among the sounds that Jones replicates in the movies include flat tires and gunfire. The character is also a skilled martial artist, who mimics the over-the-top sound effects and voice overs of kung fu movies as he fights.
Jones was one of only two characters to appear in all seven Police Academy movies, the 1997 TV spin-off and the 1988 animated series, though Winslow was replaced by former NFL player Greg Morton in the voice cast of the latter.
The 1980s also saw Winslow star in two of the decade's most iconic movies. In 1984 he provided voices for Gremlins, and in 1987 he played a radar technician in the spoof Spaceballs.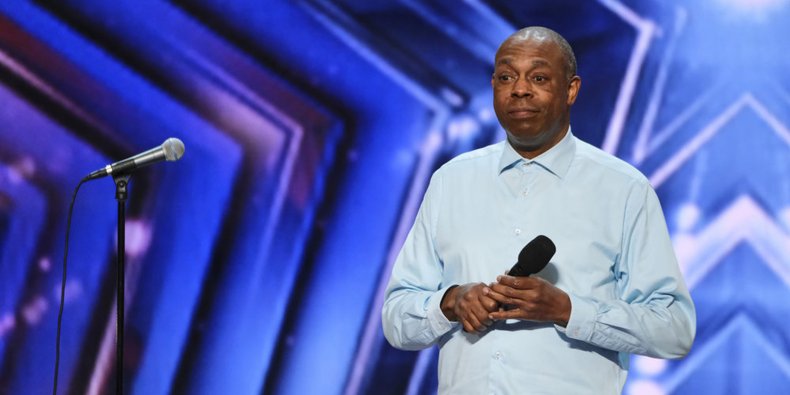 Before his America's Got Talent audition, Winslow said he had to put his acting career on the back-burner in order to raise his kids after becoming a widower. This was in 1993, when his first wife Belinda died. Between 1994's Police Academy: Mission to Moscow and 1997's Police Academy: The Series, he made just two episodes of TV as he spent much of his time caring for his children.
He has since been married twice, getting divorced in 2001 and 2014. He has two children.
Though on AGT Winslow says he had to give up on his career to raise his children, the actor has never stopped working. In the 21st century, among his appearances are voice credits on video game Grand Theft Auto: San Andreas, a role in Sharknado 3 and parts in the similarly schlocky Lavalantula and its sequel 2 Lava 2 Lantula!, which reunited him with Police Academy star Steve Guttenberg.
Winslow's appearance on AGT comes as the show blurs the line between the amateur talent that the show was designed to celebrate and more professional acts with a background in TV and film. Among the notable acts that have appeared so far in the 2021 season are actors and former ESPN hosts The Sklar Brothers, as well as Storm Large and Jimmie Herrod, members of the internationally renowned jazz band Park Martini. The latter two auditioned separately in 2021, with Herrod winning the Golden Buzzer from Sofia Vergara.
America's Got Talent Season 16 airs Tuesdays at 8 p.m. ET / 7 p.m. CT on NBC.