America's Largest Nurses Union Warns of 'Catastrophic Levels of Death and Suffering' as COVID Surges
Members of the National Nurses United (NNU), America's largest union of registered nurses, warned that there will be "catastrophic levels of death and suffering on the horizon" if the country doesn't start limiting the spread of the coronavirus.
During a virtual press conference Monday, nurses from some of the country's most hard-hit areas—Illinois, Michigan, Minnesota, Texas and Florida—shared harrowing stories about the emotional and physical strain that the pandemic is putting on hospital systems.
"We are tired, mentally, physically, and emotionally, but we do get energized when we fight back and speak up. The infections keep going up, and it feels like there's no end in sight," said Juan Anchondo, a nurse in El Paso, Texas.
Others spoke about a lack of personal protective equipment (PPE) and access to safe and effective testing.
Marissa Lee, a nurse from Florida and an NNU executive vice president, described her state and hospital system, Osceola Regional Medical Center, as a "hot mess."
Lee said that not all nurses in her medical center are equipped with N95 masks and that hospital units are not staffed safely. Patients and nurses alike are unable to get the level of COVID-19 testing that they need, she added.
"Florida is a hot mess. Florida is wide open, with no restrictions of any kind. We have already had many COVID patients, and, yes, those numbers are exponentially increasing," Lee said. "Nurses can handle stress. I am the queen of stress. What I cannot handle is not being able to care for my patients the way I know we should and can, if we have the right staffing, equipment and resources."
The nurses are demanding that the Trump administration immediately invoke the Defense Production Act to produce necessary quantities of PPE in the U.S., and for local, state and federal leaders to take stronger measures to protect the public and health care workers.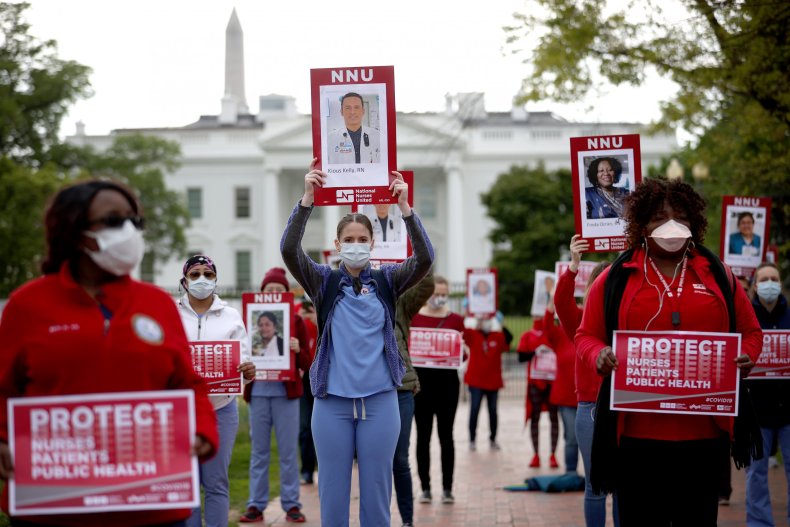 "We need leadership. We need leadership in the hospital, we need leadership in the government," said Consuelo Vargas, an emergency room nurse in Chicago.
"We need transparency, and we need everyone to listen to the nurses," she continued. "That means the hospital administration, that means the government, that means everyday citizens. You need to listen to the nurses.... Social distance. Wear a mask. Avoid large crowds. I know the holiday season is upon us. Are you willing to give up one holiday season for 10 more?"
Since January, the union has been warning of the devastating effects the pandemic could have on health care systems if the proper protocols to protect nurses, doctors and the general public are not met.
According to the NNU's latest survey of over 15,000 registered nurses nationwide, 82 percent of hospitals have done no surge capacity or planning to prepare for the winter cold and flu season.
"Nurses are anxious and scared because we know the right way to battle this virus and take care of patients," said Mary Turner, an intensive care unit COVID-19 nurse in Minnesota and president of the Minnesota Nurses Association.
"[But] it's clear our employers and the government do not support us. We're trying to care for patients despite limited supplies, limited staff, a rapid decline in hospital beds. Meanwhile, we know that we could get sick or infect our families," Turner said.
The NNU has also urged Congress to pass a second economic relief bill in order to provide assistance to businesses and individuals who have experienced income loss or need health care support amid the pandemic.
Republicans and Democrats have not passed a second relief package since the Coronavirus Aid, Relief and Economic Security Act (CARES) Act was signed by President Donald Trump in March.
"We call on local, state and federal leaders to stop politicizing what is actually a matter of public health—to issue mask mandates and to take strong measures to protect the public," said Bonnie Castillo, a resident nurse and NNU executive director. "We demand our employers invest in optimal protections. We urge the public to stay home this holiday season, to make sure that this time next year no one is missing from the dining table."
As of Tuesday, the virus has infected more than 12.4 million Americans and killed 257,929, according to data from Johns Hopkins University. At least 2,150 health care workers have died from COVID-19, including 253 registered nurses.
Newsweek reached out to the NNU for additional comment but did not receive a response in time for publication.