Second Stimulus Check Update: What We Know About Payments and Negotiations as Trump's Term Winds Down
As the U.S. reaches record-breaking numbers of COVID-19 cases and hospitalizations in the final months of President Donald Trump's administration, Americans are still waiting on another stimulus package.
For five months, Republicans and Democrats have gone head to head in Congress, striking down proposed plans and disagreeing on the amount of funds needed to soften the economic blow from the pandemic. A new round of stimulus checks has not been issued since the $2.2 trillion Coronavirus Aid, Relief and Economic Security Act (CARES) Act was signed by Trump in March.
While both sides of the aisle agree that a second stimulus deal is necessary, disputes on just how much should be allocated have resulted in a lengthy impasse.
In October, House Democrats passed the HEROES Act (Health and Economic Recovery Omnibus Emergency Solutions), a $2.2 trillion stimulus bill which would bring back $1,200 checks targeted to middle- and low-income families, as well as $600 in extra weekly unemployment benefits.
But the deal failed to gain support from the GOP-led Senate, who supported a more targeted approach, and criticized unemployment benefits as a "disincentive" to work.
In response, the White House countered with an offer of a $1.8 trillion deal—which also included funds allocated for stimulus checks—but Democratic House Speaker Nancy Pelosi struck it down, stating it didn't go far enough to address COVID-19 provisions, including testing and tracing, as well as child care.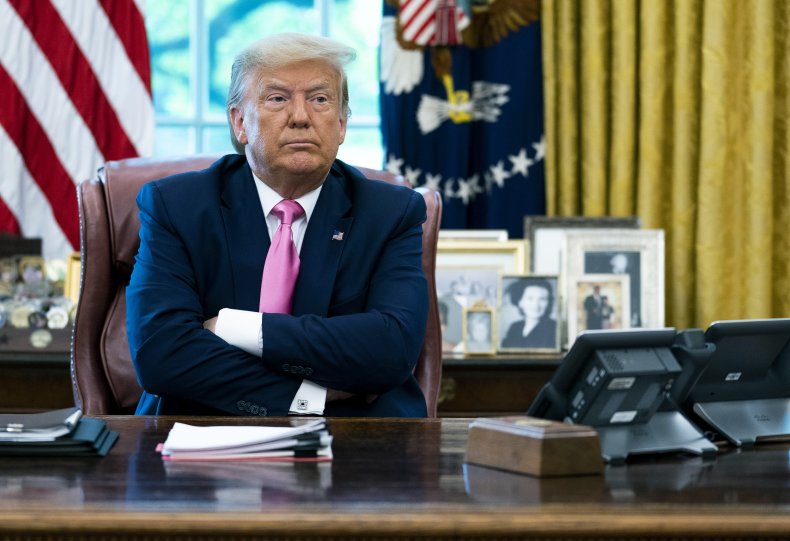 Republican Senate Majority Leader Mitch McConnell attempted to pass a much smaller deal, which had a price tag of $500 billion and did not include stimulus checks, a deal which did not gain support from House Democrats.
On Tuesday, House Democrats sent a letter to McConnell urging him to negotiate a new deal with them this week.
Though McConnell has previously stated he hopes a package will passed before the end of the year, the GOP leader responded by blaming Democrats for the deadlock, and held firm that he would only support a slimmed-down package.
President-elect Joe Biden chimed in on Wednesday, stating that he believes Republican's are refusing to work with Democrats on a stimulus bill out of fear of retribution from Trump.
"Hopefully, when he's gone, they'll be more willing to do what they know should be done, has to be done, in order to save the communities they live in," he said.
The comment implied that a second round of stimulus would likely not take place until the new administration takes over in 2021. In early November, YouGov asked about 21,100 adults whether they thought Congress would "pass a bill for a second COVID-19 stimulus package"—a majority of which responded by saying not until January 2021.
Biden has repeatedly called for a second stimulus to be passed as soon as possible, and has showed support for a second round of checks, though he has not specifically detailed who would receive them.
"For millions of Americans who've lost hours and wages, or have lost jobs, we can deliver immediate relief, and it needs be done quickly. Congress should come together and pass a COVID relief package," he said in a speech on Monday.
But the amount of stimulus spending could depend on whether or not Republicans maintain control of the Senate in January.
If the two seats up for grabs in the Georgia runoff races fall into Democratic control, the Democratic Party would lead both the Senate and the House of Representatives, a prospect that would likely make it much easier to pass a second round of stimulus.
But leading economists have urged that a second round of stimulus is necessary by the end of this year.
This week, the Economic Strategy Group, a program from the Aspen Institute which aims to promote "evidence-based solutions to significant U.S. economic challenges," called for Congress to enact further stimulus as quickly as possible.
"Amidst a resurgence in COVID-19 caseloads and continuing economic devastation from the pandemic, we urge Congress to enact legislation that focuses on the core measures necessary to provide additional fiscal relief as quickly as possible and no later than the end of this calendar year," the letter states.
The group called for Congress to provide income relief, support individuals and families, enhance benefits for households, and to assist those facing eviction and homelessness due to income loss.
On Friday, Democratic Senator Amy Klobuchar said that Congress could pass a second stimulus package "in the next few weeks," after being involved in a fresh round of stimulus talks.
"I think that it should get done in the next few weeks," Klobuchar said. I don't think we should go home at the end of the year without getting it done. I don't plan to."
To avoid a government shutdown, Congress must pass the next federal budget by December 11, which could involve a second stimulus package. Treasury Secretary Steven Mnuchin has previously stated that once a bill involving stimulus checks is passed, the treasury would be able to issue payments to Americans within weeks.
Newsweek reached out to the Trump administration and Biden transition team for additional comment, but did not receive a response in time for publication.